Hope for Wild Tigers Rises on Political, Financial Pledges
ST. PETERSBURG, Russia, November 26, 2010 (ENS) – At the International Tiger Conservation Forum this week in St. Petersburg, government leaders and ministerial officials of the 13 countries where wild tigers remain endorsed a wide-ranging plan to double the number of wild tigers by 2022.
Tiger populations have fallen by 97 percent over the past century and just 3,200 wild tigers survive in populations scattered across Asia due to poaching, conflict with people and habitat destruction.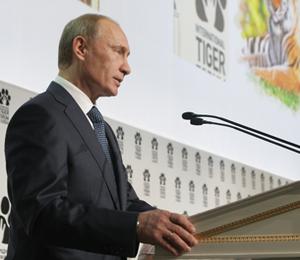 Russian Prime Minister Vladimir Putin addresses the International Tiger Forum. (Photo courtesy Office of Prime Minister Putin)
Hosted by Russian Prime Minister Vladimir Putin, governments capped a year-long political process with about US$127 million in new funding to support the plan, known as the Global Tiger Recovery Programme.
In addition, the World Bank has offered a US$100 million loan package to three tiger range countries for conservation work, and the Global Environment Facility offered to provide up to US$50 million in grant funding for tiger habitat conservation.
"While our discussion today is about the fate of the tiger, we are in fact touching on issues that are critical for the entire planet, humanity and its future," Putin told forum participants on Tuesday.
"Using the example of the tiger, we are speaking about how to preserve nature," Putin said. "We are saying that human civilization can only develop sustainably if we take a responsible attitude to nature, our common home. We all have to work hard and join forces to ensure that this attitude becomes widespread."
The Global Tiger Recovery Programme will enable the 13 governments to coordinate their efforts, attract financial, administrative and technical resources, and stimulate collaborative research, Putin said.
"I'd like to emphasize that by approving this program, our countries commit themselves to complying with environmental requirements. But the most important task will be to integrate our tiger conservation targets into long-term socioeconomic development plans," said Putin. "Achieving these objectives will require firm political will and heavy investment, financial or otherwise. But I'm sure that the motivation for such efforts is there."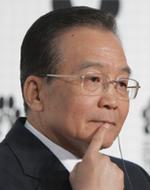 Chinese Premier Wen Jiabao at the Tiger Forum (Photo courtesy Office of Prime Minister Putin)
Chinese Premier Wen Jiabao told the International Tiger Forum, "The increase of human population, the expansion of human activities and the deterioration of ecological environment have driven wild tigers across the world to the brink of extinction."
"The first priority to solve the issue is to actively curb excessive human activities and work for harmony between human development and natural ecological systems," Wen said.
Addressing forum participants, Putin quoted, "the great humanist Mahatma Gandhi," as saying, 'In a country where tigers live well, everyone lives well.'"
"This is a true and profound remark," said Putin. "If people are capable of taking care of Mother Nature, of our splendid big cats, they can take care of their fellow human beings as well."
Radhika Lokesh, India's Consul General in St. Petersburg, announced on behalf of Minister of Environment and Forests Jairam Ramesh, that India has allocated a budget of 10 million rubles for the Global Tiger Forum, and pledges to allocate US$1 billion for village relocation away from tiger habitat.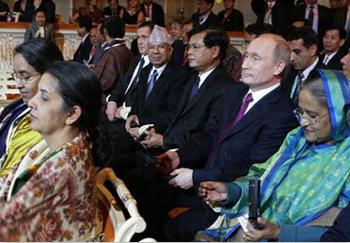 From right: Bangladesh Prime Minister Sheikh Hasina, Russian Prime Minister Vladimir Putin, other tiger forum participants, hear a concert in celebration of wild tigers, November 23, 2010. (Photo courtesy Office of Prime Minister Putin)
"With a long tradition of tiger conservation, India currently has 39 tiger reserves, and plans to add eight more," said Lokesh. "The government is now committed to securing inviolate areas for tigers and possible expansion of areas on a priority basis."
Bangladesh Prime Minister Sheikh Hasina urged the world community to help her country to protect the Sundarban and the Royal Bengal tigers. "The international community can join in our efforts to save this natural green wonder, the Sundarban," she said.
"Too often, conservation efforts languish for lack of political will," said WWF Director General Jim Leape. "At the forum here in St. Petersburg we have seen political will at the highest level – heads of government committing themselves to saving the tiger, and laying out concrete plans to turn those commitments into action on the ground."
Leape warned that wild tigers could become extinct in the wild by 2022, the next Chinese calendar year of the tiger if they are not protected. Three of the nine tiger subspecies – the Bali, Javan, and Caspian tigers – have gone extinct in the past 70 years.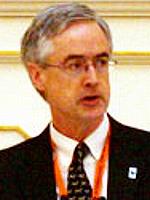 WWF's James Leape at the Tiger Forum (Photo courtesy Global Tiger Initiative)
"We have never before seen this kind of political support to save a single species," Leape said. "We now have the strategy needed to double tiger numbers and real political momentum. Initial funding commitments offered here will help get action underway. Much more funding must be mobilized in the months ahead."
In St. Petersburg, American actor Leonardo DiCaprio pledged $1 million to WWF to benefit wild tigers. DiCaprio is a member of the board of the nonprofit conservation organization. His difficult first trip to Russia involved a commercial jet plane that caught fire on November 21 and turned back to New York, and a smaller plane, rocked by Atlantic storms that ran out of fuel and had to land in Finland's capital Helsinki for refueling before eventually making it to St. Petersburg.
In a one-on-one meeting with Prime Minister Putin in St. Petersburg, DiCaprio, who is half-Russian, said he first became interested in tiger conservation when tiger experts had addressed him.
"Mr. DiCaprio has not just come to us, but simply burst through the frontline. Excuse me if you may, but in our country people usually say – that's what we call a real man," Putin said. "And I think that if people with such character would be responsible for defending nature or a tiger in this particular case, we're destined for success."
World Bank Group President Robert Zoellick, who has backed the tiger forum during the organizing period, told participants the World Bank is working with tiger range countries and nongovernmental organizations to save wild tigers.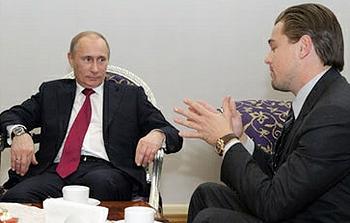 Prime Minister Vladmir Putin and actor Leonardo DiCaprio in St. Petersburg (Photo courtesy Office of Prime Minister Putin)
"First, the World Bank is working with Nepal, Bangladesh, and Bhutan, and we hope India, to finance a South Asia regional Wildlife project of approximately $100 million," Zoellick told the gathering.
Zoellick said the bank's cooperating partners include WWF, the wildlife monitoring network TRAFFIC, the the International Union for the Conservation of Nature, the International Fund for Animal Welfare, IFAW, and the Wildlife Conservation Society, among others.
"Second, we will work on a similar project with tiger range countries in Southeast Asia," said Zoellick.
Additional partners include the Convention on International Trade in Endangered Species, the international policing agency INTERPOL, the United Nations Office on Drugs and Crime, the World Customs Organization, and, regional institutions, such as the Association of Southeast Asian Nations-Wildlife Enforcement Network to stop the illegal trade and trafficking in tiger body parts.
"This could include additional finance," said Zoellick.
While delegates in St. Petersburg were pledging their commitment to sustain tigers in the wild, in Ussuriysk, Russia, a magistrate in the Primorsky Krai, a Russian South Far Eastern territory, found Sergey Burtsev guilty of killing a female tiger in June 2010.
The court imposed a fine of 150 thousand rubles ($4,800) as punishment and additional fine of 575,125 rubles ($18,400) as a compensation for environmental damage to the state. Burtsev ahd already paid $1,600, and the court confiscated two guns illegally in his possession.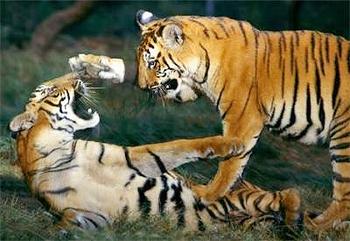 Tiger playing in Pilibhit Tiger Reserve, Uttar Pradesh, India (Photo by Samaj Kalyan Evam Vikas Adhyayan Kendra)
Poaching is a major threat to tiger conservation. Reinforcement of environmental control and punishment for illegal trade, keeping and trafficking in tiger skins and other parts was one of the proposals that WWF submitted to the Russian government this year.
"We are planning to toughen punishment for tiger poaching and for the criminal business on these animals," Prime Minister Putin told tiger forum participants.
Yet within the past two weeks, a tiger was poached in the Russian Far East, another was found poisoned in north India, and Tuesday IFAW reported that a third wild tiger was killed in the northeast Indian state of Assam.
"These tiger deaths highlight how critical it is to translate talk into action," IFAW head Fred O'Regan told forum participants. "IFAW is committed to providing enforcement training and capacity-building support to range countries dealing with the challenge of protecting tigers and the people living near tiger reserves."
"The tiger summit delivered what we hoped – the turning point in our efforts to save one of the world's best-loved species," said Ginette Hemley, senior vice-president at WWF. "Never before have we seen the world rally together to save a single species and now we all need to put in the hard work necessary to get wild tigers from the current point of crisis to healthy recovery."
The 13 tiger range countries will meet during the next six months to secure additional funding for the recovery plan, and will finalize the long-term financing of the plan in July. They will meet again in December 2011 to monitor how well the 12-year plan to save tigers is working.
At a news conference following the forum, Prime Minister Putin said, "The goals set forth in the Global Programme for Tiger Conservation cannot be achieved without the active participation of ordinary citizens. Broad public support and understanding of the process are extremely important for the success of the programme."
Copyright Environment News Service (ENS) 2010. All rights reserved.