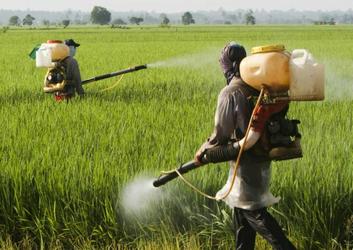 HONOLULU, Hawaii, June 25, 2018 (ENS) – Hawaii is making history. Ten days ago the island state became the first to ban the pesticide chlorpyrifos, a neurotoxin linked to asthma and seizures that damages brain development in children.
Governor David Ige signed SB 3095 into law on June 15.  The law goes into effect in July and will impose a partial ban on chlorpyrifos by January 2019. Anyone who wishes to continue using chlorpyrifos may do so only by applying for an exemption with the state. No exemption will be granted after 2022, and the use of pesticides containing chlorpyrifos is completely banned starting in 2023.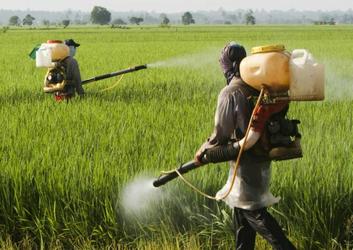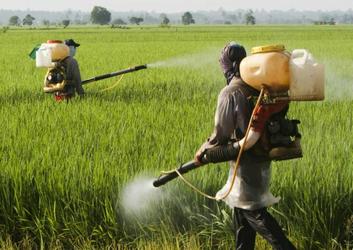 The new state law creates 100 foot no-spray buffer zones around schools and requires large-scale pesticide users to disclose the Restricted Use Pesticides they are spraying.
The mandatory reporting and no-spray zone provisions are effectively immediately with no exemptions.
Governor Ige said, "Protecting the health and safety of our keiki [children] and residents is one of my top priorities. We must protect our communities from potentially harmful chemicals. At the same time, Hawaii's agriculture industry is extremely important to our state and economy."
"We will work with the Department of Agriculture, local farmers and the University of Hawaii as we seek safe, alternative pest management tools that will support and sustain our agriculture industry for generations to come," the governor said.
The national Agency for Toxic Substances warns, "Breathing or ingesting chlorpyrifos may result in a variety of nervous system effects, ranging from headaches, blurred vision, and salivation to seizures, coma, and death, depending on the amount and length of exposure."
Chlorpyrifos has been widely used in homes and on farms. In the home, it is used to control cockroaches, fleas, and termites; it is also used in some pet flea and tick collars. On the farm, it is used to control ticks on cattle and as a spray to control crop pests.
Chlorpyrifos is a white crystal-like solid with a strong odor. It does not mix well with water, so it is usually mixed with oily liquids before it is applied to crops or animals. It may also be applied to crops in a capsule form.
The pesticide's fearsome health effects led the U.S. Environmental Protection Agency, EPA, under the Obama Administration to propose banning all of its agricultural uses, but the current administrator, Scott Pruitt, reversed this pledge in March 2017.
SB 3095 marks a new chapter for Hawaii residents, who have repeatedly demanded protection against pesticides. The world's largest agrochemical companies experiment and develop their genetically engineered crops in Hawaii.
Because the majority of these crops are engineered to resist herbicides, testing and development of these crops results in repeated spraying of toxic chemicals. Many of their operations are adjacent to schools and residential areas, putting children and public health at risk.
Voluntarily reported pesticide use data shows that these companies apply thousands of gallons and pounds of Restricted Use Pesticides in Hawaii each year.
The Center for Food Safety, CFS, provided legal and policy assistance to this effort. The Washington, DC-based NGO helped draft SB 3095, lobbied for its passage, and encouraged public participation in the legislative process.
CFS also published the first-ever analysis of pesticide use data and its relationship to field trials of genetically engineered crops in Hawaii.
Andrew Kimbrell, executive director of Center for Food Safety, said, "Hawaii is taking action that Pruitt's EPA refused to take by banning chlorpyrifos. Hawaii is courageously taking the first step towards pesticide policies that will provide for more protection for children as well as more transparency.
Kimbrell believes that other states will follow Hawaii's lead.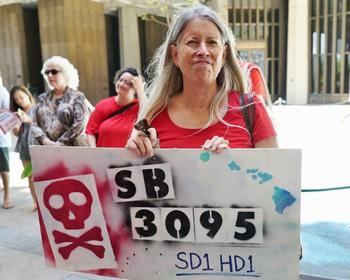 Ashley Lukens, director of Hawaii Center for Food Safety, said, "The families of Hawaii have fought year after year, against millions of dollars of industry spending, all for these basic protections from dangerous pesticides. During these dark Trumpian times, we need stories like this to remind ourselves that when we persevere, we win."
In 2013 and 2014, the counties of Kauai, Maui, and Hawaii Island passed ordinances to regulate the pesticide practices of the genetically engineered seed industry. Despite popular support, the industry responded by suing each of the counties, arguing that they lacked the authority to regulate pesticides.
CFS attorneys defended the counties in federal court, but the ordinances were overturned in 2016 by the 9th Circuit Court of Appeals. The court ruled that it is up to the state, not counties, to regulate agriculture, forcing community members to direct their pesticide lobbying efforts to the state.
Since 2015 a coalition of community members has introduced legislation each year asking for a statewide framework for no-spray buffer zones and disclosure. Thousands testified each session in support of the bill's passage.
During the legislative debate in February, Agriculture Committee Chair Representative Richard Creagan, who represents part of the Big Island of Hawaii, said, "The profits of the chemical companies are going up and the IQs of our babies, of our keiki, are going down. We have an epidemic of autism and neurodevelopmental disorders in children and chlorpyrifos is one of the contributing factors."
"The EPA banned chlorpyrifos for indoor use over a decade ago," Creagan said. "The EPA in our country had thousands of pages of damning evidence and were ready to ban chlorpyrifos for all food uses when Scott Pruitt was appointed by President Trump and scrapped that plan. Enough is enough! We cannot wait for a compromised EPA to act. It is time to ban this close cousin of the nerve agent Sarin. We are treating our babies like the Syrian dictator Assad is treating his own civilians. It is time we stop bowing to the dictates of the chemical companies."
Copyright Environment News Service (ENS) 2018. All rights reserved.