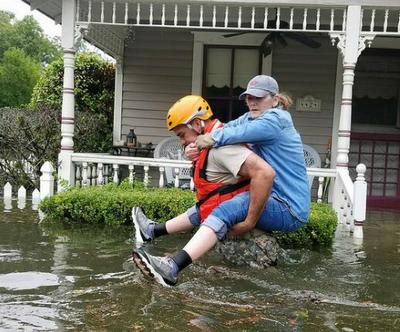 AUSTIN, Texas, August 27, 2017 (ENS) – Catastrophic and life-threatening flooding is inundating southeastern Texas, and flash flood emergencies are in effect as Hurricane Harvey, the strongest hurricane in more than 55 years, dumps record rainfall on the area. The combination of wind and water could leave wide swaths of south Texas "uninhabitable for weeks or months," warns the National Weather Service in Houston.
Hurricane Harvey made landfall on the Texas Gulf coast at 10 pm Friday night as a Category 4 hurricane, with winds of 130 mph, near Rockport, between Port Aransas and Port O'Connor. More than 6.5 million people live in the area.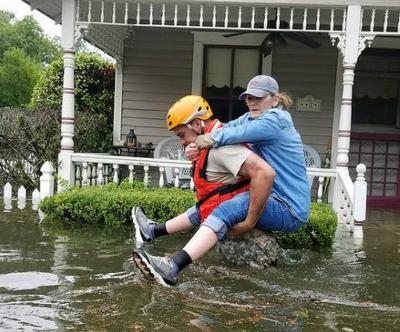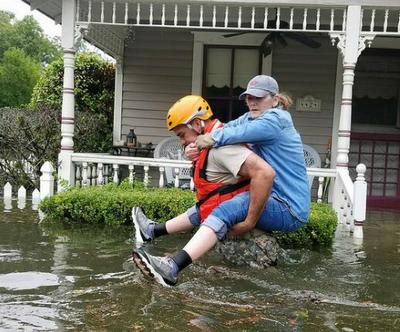 It was the first Category 4 hurricane to hit Texas since Carla arrived near Port O'Connor on September 11, 1961.
Harvey has since diminished to a tropical storm, and is stalled over southeastern Texas, dropping record rainfalls of up to 35 inches on the Corpus Christi, the Houston/Galveston metropolitan area, Rockport and Port Aransas, stranding residents who did not evacuate in their homes, many without drinkable water or electricity.
Residents were ordered to evacuate, and thousands complied, causing lengthy traffic jams along the state's highways. Others people stripped store shelves of food, water and fuel ahead of the storm.
In Houston, Harris County Sheriff Ed Gonzales reported a woman and child died in their car on Highway I-10, the only fatalities known to date. Governor Gregg Abbott told reporters today that he could not yet confirm any reports of deaths due to the hurricane.
Families are being rescued from the attics of their flooded homes, and a pregnant woman in labor has received emergency transport to hospital as boats and helicopters, both public and private are being pressed into service.
The U.S. Coast Guard is now conducting urban search and rescue in the city of Houston. Residents in need of rescue are asked to call 911 or the USCG Houston Command Center at 281-464-4851. The response lines are overwhelmed right now, so callers are asked to be patient.
"Stay calm, do not panic," the USCG advises. "Do not go to the attic, rescuers from the air cannot see you. Get to high ground immediately. Mark the roof to be seen from the air. Wave sheets and towels to be noticed from the air," the Coast Guard says.
Coast Guard Vice Admiral Carl Schultz says USCG personnel from across the country are coming to the aid of southeast Texas. "The sustained challenge over the coming days is water," he told reporters.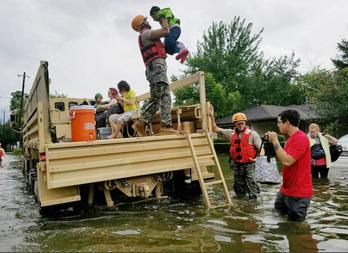 Harvey's impacts are forecast to last for days and may even strengthen again if it moves out over the Gulf and then back inland.
At the moment, Harvey is moving toward the southeast near two mph (four km/h), and a slow southeastward to east-southeastward motion is expected over the next two days, according to the National Weather Service, NWS. Forecasters say the center of the storm will move very near the coast of southeastern Texas on Monday.
Maximum sustained winds are near 40 mph (65 km/h) with higher gusts. Little change in strength is forecast during the next 48
hours.
Tropical-storm-force winds extend outward up to 175 miles (280 km) primarily over water to the east and northeast of the center.
Even though hurricane-force winds have eased, the worst impact from Harvey may be yet to come considering the amount and duration of rain in the forecast.
"Harvey is likely to be a multi-billion-dollar disaster," said AccuWeather Hurricane Expert Dan Kottlowski.
"Even though Harvey will slowly unravel this weekend, it may be still classified as a tropical storm through Tuesday," Kottlowski said.
Rainfall of up to 20 inches is expected to be common, and some locations may get three feet of rain. Flooding is likely to extend beyond cities, and may affect parts of major highways such as Interstate 10, and I-45, he said.
The combination of a dangerous storm surge and the tide will cause normally dry areas near the coast to be flooded by rising waters moving inland from the shore, the NWS warns. The water is expected to reach one to three feet from Port Aransas to High Island, including Galveston Bay, if the peak surge occurs at the time of high tide.
From High Island to Morgan City, a storm surge of one to two feet is expected.
"The deepest water will occur along the immediate coast near the area of onshore winds, where the surge will be accompanied by large and destructive waves. Surge-related flooding depends on the relative timing of the surge and the tidal cycle, and can vary greatly over short distances," warns the National Weather Service.
Brock Long, director of the Federal Emergency Management Agency, FEMA, says he is "very worried" about storm surge, or "wind-driven water," slamming coastal areas, saying it has the "highest potential to kill the most amount of people and cause the most amount of damage."
Swells generated by Harvey are affecting the coasts of Texas and Louisiana, causing life-threatening surf and rip current conditions.
Forecasters are predicting tornadoes today and tonight near the middle and upper Texas coast into southwest Louisiana.
The Federal Emergency Management Agency, FEMA, has granted Governor Greg Abbott's request for a Presidential Disaster Declaration in response to Hurricane Harvey. The declaration provides individual assistance, public assistance and hazard mitigation to Texas communities affected by Harvey to help rebuild lives in the aftermath of the devastating storm.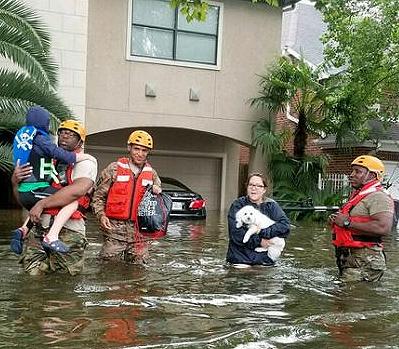 Governor Greg Abbott, briefing reporters this afternoon, said 250 highways are closed due to flooding, and some 600 boats are being used for rescue efforts.
Between state and federal personnel, said the governor, more than 3,000 people are working on search and rescue.
Other states have sent emergency personnel and equipment to help Texas, including Nebraska, Tennessee, Utah, Arizona and New York.
The Red Cross is serving more than 130,000 meals a day, the governor said. He said other food delivery operations will be in place by Monday throughout the stricken area.
A boil water notice for the city of Corpus Christi issued on August 25 has been rescinded. The public water system has taken the necessary corrective actions to restore the quality of the water for human consumption and has provided TCEQ with laboratory test results that indicate that the water no longer requires boiling prior to use. The only exception is for residents of on Padre Island who remain under a boil water notice.
Electricity is out across much of the stricken area. At least 220,000 customers  were left without power at the peak of the outages, which occurred at 2 pm on Saturday, said the utility AEP Texas.
As of 11 am on Sunday, 190,000 customers did not have electric service in Corpus Christi and the surrounding Coastal Bend area as a result of the hurricane.
The Category 4 hurricane caused significant damage to the AEP Texas transmission and distribution system throughout the Coastal Bend service territory, the utility said in a statement.
Crews have begun restoration to facilities that provide priority services such as water treatment plants and hospitals, AEP Texas said.
"Our restoration efforts will continue until we have restored power to everyone," said Tom Coad, AEP Texas vice president of Distribution Region Operations. "There may be times over the next few days where we may have to pull crews back temporarily in some areas if the anticipated rain and other inclement weather create unsafe conditions. Fortunately, we don't anticipate any weather-related problems today."
AEP Texas projects that by Wednesday at 10 pm crews will have restored power to 95 percent of the customers within Corpus Christi and the Sinton area.
Restoration dates and times are still to be determined for Rockport, Port Aransas, Fulton, Woodsboro, Port Lavaca, Lamar and Bayside, said AEP Texas in a statement. The devastation in those communities was the most extreme and will require the greatest amount of repairs.
President Donald Trump will visit Texas on Tuesday, the White House said.
Copyright Environment News Service (ENS) 2017. All rights reserved.