Gulf of Mexico Oil Spill Could Be Set Ablaze
HOUMA, Louisiana, April 27, 2010 (ENS) – U.S. Coast Guard officials are considering setting fire to an oil slick 600 miles in circumference in the Gulf of Mexico that is getting larger and closer to shore every hour.
The crude oil is spewing unobstructed from a wellhead on the seafloor about 42 miles southeast of Venice, Louisiana that was opened by the now-sunken oil rig Deepwater Horizon, leased to BP by Transocean Ltd.
U.S. Coast Guard Rear Adm. Mary Landry told reporters at a news conference Tuesday, "If we don't secure this well, this could be one of the most significant oil spills in U.S. history."
The edge of the area with visible oil is now 21 miles from the nearest point of land – Southwest Pass at the tip of the Mississippi River Delta.
The weather is forecast to be favorable on Wednesday for in situ burning, dispersant application, and skimming operations, said the National Oceanic and Atmospheric Administration, NOAA. Winds of five to 10 knots from the north will take the floating oil offshore.
But on Thursday, winds are forecast to become strong at more than 20 knots and blow from the southeast, which will tend to push surface oil towards shore, NOAA said.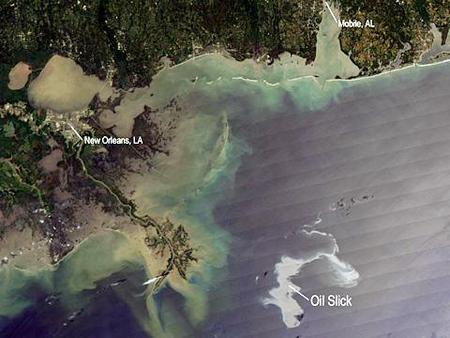 The oil slick from the Deepwater Horizon wellhead is floating off the coast of Louisiana near the mouth of the Mississippi River. (Image courtesy NASA)
To reduce the threat of oil washing ashore, patches of floating oil would be contained within booms and set on fire, despite the air pollution that would result. At the same time, containment booms and skimmer boats are working to control the massive spill entering the water at the rate of 1,000 barrels a day.
A mile beneath the surface, remotely operated subs have been unable to trigger the blowout preventer, a series of valves that sits at the wellhead. A kink in a pipe is keeping oil from flowing even more freely.
Construction has begun on a collection dome that will be deployed to the sea floor to collect and funnel oil as it escapes from the well, a method that has worked in shallower water but never has been tried at such a depth.
The first rig to be used to drill a relief or cut-off well arrived at the scene last night, and several more are planned, but officials say a relief well would take several months to complete.
On shore, staging areas in four states have been set up with oil spill response equipment at: Biloxi and Pascagoula, Mississippi; Pensacola, Florida; Venice, Louisiana; and Theodore, Alabama.
More than 29,280 feet of boom has been assigned to contain the spill, Coast Guard officials said. An additional 80,900 feet is available and 36,100 feet has been ordered.
To date, the oil spill response team has recovered 1,152 barrels of an oily-water mix.
Vessels are in place and continuing recovery operations, but most of the spilled oil may not be recoverable. Coast Guard Petty Officer Connie Terrell said, "Our equipment can't pick it up. It breaks down on its own."
The Transocean, Ltd. oil rig exploded April 20 and sank off the coast of Louisiana April 22 for reasons that are as yet unknown. There were 126 people on the Deepwater Horizon when the incident occurred. Eleven are missing and presumed dead, 17 were injured, three of them critically, and one injured person remains in the hospital.
Secretary of Homeland Security Janet Napolitano and Secretary of the Interior Ken Salazar today signed an order establishing the next steps for a joint investigation into the causes of the explosion.
The joint investigation, which began on April 21, will have the power to issue subpoenas, hold public hearings and call witnesses to determine the cause of the incident.
"We will remain focused on providing every resource we can to support the massive response effort underway at the Deepwater Horizon," said Salazar, "but we are also aggressively and quickly investigating what happened and what can be done to prevent this type of incident in the future."
The explosion and oil spill come three weeks after President Barack Obama announced that he plans to open the Atlantic seaboard to offshore oil drilling, a plan to which environmentalists object.
Friends of the Earth Clean Vessels Campaign Director Marcie Keever said, "This tragedy is a stark reminder of the human, environmental, and economic costs of offshore oil drilling. Not only are oil spills extremely harmful to marine life, they also put coastal communities and local industries such as commercial and recreational fishing at risk."
More than 16,000 activists have now signed a Friends of the Earth petition to President Obama asking that he reconsider his offshore drilling approval.
"The explosion aboard the Deepwater Horizon and the oil spill should dispel any assertions that expanded offshore oil drilling is either safe or environmentally friendly," said Keever. "President Obama should be advocating for clean energy alternatives, such as stronger fuel efficiency standards and investment in public transportation, that don't perpetuate our dependence on outdated, dirty fossil fuels."
Copyright Environment News Service (ENS) 2010. All rights reserved.