Greenpeacers Occupy Survival Pod on Drillship Anchor Chain
LERWICK, Shetland Islands, UK, September 23, 2010 (ENS) – We may have been forced by legal action to end our 100-hour occupation of Chevron's giant drill ship, Stena Carron, yesterday – but that doesn't mean we've given up trying to stop its journey towards a deep water drilling site off Scotland. Just hours after we removed our survival pod from the ship's anchor chain, it left for a site in the Lagavulin oil field where it will drill an exploratory well in 500 metres of water. So this afternoon we sent out an actions team in inflatable speedboats to track Stena Carron, now in open seas 100 miles north of Shetland. At 1.30pm they managed to put four swimmers in the drill ship's path, forcing it to stop. Chevron has a tough task ahead to remove Greenpeace protesters from a drillship off Shetland after the campaigners Wednesday attached a "survival pod" to the ship's anchor chain that could allow them to live on the vessel for up to a month. The action is part of the international environmental group's Beyond Oil campaign.
Inflatable boats launched from the Greenpeace ship Esperanza towed the eight foot diameter pod to the Stena Carron drillship anchored a mile off Shetland in Bressay Sound.
Two climbers, Victor Rask and Anais Schneider, spent Tuesday night hanging above the waves in a tent suspended by ropes from the oil ship's anchor chain before the pod was attached.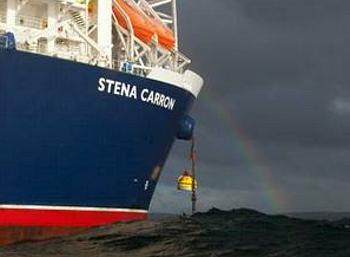 Two Greenpeacers are inside the survival pod hanging from the anchor chain of the drillship Stena Carron. (Photo by Will courtesy Greenpeace)
The 228-meter long drillship is operated by Stena Drilling and is under contract to Chevron.
Deployment of the half-ton survival pod comes the day before environment ministers from countries bordering the North East Atlantic meet in Bergen, Norway to discuss a German proposal to ban new deep water oil and gas wells.
Two activists, Timo Puohiniemi from Finland and Naveed Naz of the UK, say they are now "secure inside the survival pod," where they are protected from the elements and have supplies to last for at least a month.
The Greenpeacers today attached solar panels to the to ensure they have power to sustain their occupation.
Leila Deen of the UK said from inside the pod, "An oil disaster in the Atlantic Frontier could be even harder to stop than it was for BP in the Gulf of Mexico. But so far governments around the world refuse to face reality and stop issuing permits for ships like this to drill."
"That's why we're in this pod, hung in the anchor chain of a dangerous oil drilling ship just meters above the sea and equipped with supplies to last for a month," said Deen. "The pod has everything you need, bathroom, kitchen, hospital … and housemates," she said.
"We will continue to block risky oil exploration until the government puts back a moratorium on new deep sea drilling," said Deen.
Northern Constabulary has told reporters that they will not remove the pod.
Chevron issued a conciliatory statement Tuesday, saying, "We fully acknowledge and respect the right of Greenpeace or anyone else to express their views by peaceful and lawful action. However, we are deeply concerned about activities that put people at risk."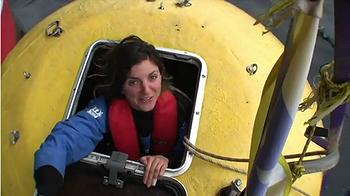 Leila Deen of Greenpeace UK at the opening in the top of the survival pod (Photo courtesy Greenpeace UK)
"Chevron's first priority is always safety. We are confident that our deepwater operations are safe. Like Greenpeace, we share the expectation that the energy we all need should be produced safely and with respect for the environment."
The drill ship was supposed to be sailing for a site in the Lagavulin oil field before drilling an exploratory well in 500 meters of water in the Atlantic Frontier off Shetland, Greenpeace said.
Chevron would say only, "The Stena Carron is currently taking on supplies and doing routine work in preparation for moving to its next location. The schedule for this move is currently undetermined."
Some Shetland residents are critical of the Greenpeace action. "Please go home. You are endangering the lives of those on the vessel to which you are attached. You've just lost a Greenpeace Supporter and are TOTALLY out of touch with the? majority of people living in Shetland who obviously know more about deep sea drilling and UK safety measures than you do," one resident wrote on the Greenpeace UK comments blog.
Another commenter wrote, "You aren't wanted here. Not only are you endangering the crew on the Stena Carron,? but you are putting the shoreline at risk. Leaving a 700ft ship in a position where it is unable to use it's anchors in an emergency is foolish and reckless. UK oil drilling is not comparable to Deepwater. Go home, little rich girl. Have you seen the weather forecast for the coming week by the way? An anchorless ship in force 8 winds? That close to the coast? Foolish."
Force 8 winds are considered gale force winds of 62 to 74 km/hour (39-46 mph).
Greenpeace said in a statement, "Harsh weather conditions west of the Shetlands, in what is described by the UK Government as 'a particularly challenging location,' have so far deterred major exploitation of oil, but recently energy firms have lobbied for and received tax breaks to make production more attractive."
"The process by which exploration and production licenses are issued by the UK government to the industry is being 'streamlined,' Greenpeace said. "As a result, Chevron, BP and other oil majors have announced their intention to push further into the region west of Shetland, drilling wells in riskier deeper water and more remote locations than ever before."
Greenpeace is threatening legal action against the Cameron Government in an effort to stop the granting of new permits for deep water drilling off the UK.
Last month Greenpeace lawyers wrote a letter before action to ministers – the precursor to seeking a judicial review of the decision to push ahead with new deep water drilling before lessons from the BP disaster have been learned.
At the end of August, Greenpeace activists from the Esperanza on the same mission – to stop deepwater oil drilling – scaled another Stena drill rig, the Stena Don in the North Sea. They suspended themselves in platform tents from the underside of the rig for two days before the bitter weather drove them out. The climber ascended to the rig platform September 2 where they were taken into custody and transported to Greenland.
Copyright Environment News Service (ENS) 2010. All rights reserved.