Greenpeacers Hang 'Quit Coal' Banner from Connecticut Power Plant
BRIDGEPORT, Connecticut, February 17, 2011 (ENS) – Five Greenpeace activists who climbed the Bridgeport Harbor Generating Station coal elevator this morning have been arrested.
The climbers hung a large banner reading "Shut it Down – Quit Coal," to publicize the group's demand for the closure of the coal and oil-fired power plant owned and operated by Public Service Enterprise Group, PSEG.
The Greenpeacers arrested are John Deans, Aliyah Field, Chandler McGaw, Nicholas Simmons, and Lauren Thorpe.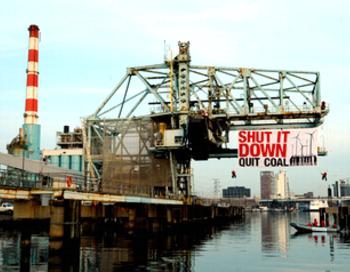 Banner hung by Greenpeace activists at the Bridgeport Harbor Generating Station (Photo courtesy Greenpeace)
"Breathing clean air and living in a safe environment should be a basic human right, not a privilege reserved for those who don't live near a coal plant. The time has come to take action to expose this injustice, shut down this plant, and demand better for the people of Bridgeport," said Thorpe.
Keiller MacDuff, spokesman for the group, said that she and others on the ground were stopped by police by the side of the road and are consulting with their attorney. They have not been charged.
Greenpeace calls the generating station "an inefficient plant that endangers the health of Bridgeport residents, including the children attending the six schools located within a one mile radius."
Greenpeace coal campaigner Robert Gardner said, "Bridgeport residents have lived in the shadow of this coal plant for far too long. Clean energy, efficiency and common sense policies will let the citizens of Fairfield County breathe free as well as create sustainable green jobs for generations to come."
Nationwide, smokestack pollution from coal-fired power plants kills more than 13,000 people per year according to the Clean Air Task Force – a rate of one person every 40 minutes, Greenpeace points out.
Coal pollution is responsible for 20,000 heart attacks, 217,600 asthma attacks, and 1,627,800 lost work days in the United States annually, says the advocacy organization. It is also the largest single source of global warming pollution in America.
"The Bridgeport plant alone emits over three million tons of the greenhouse gas carbon dioxide," Greenpeace said in a statement accompanying the action.
In addition to contributing to global warming, the plant emits 2,800 tons of toxic sulfur dioxide, 2,200 tons of nitrous oxide, and 50 pounds of mercury annually.
"Much of the coal burned at the plant is imported from notorious human rights violating coal operations in Indonesia," Greenpeace claims.
"It's clear the poorest people in Connecticut are suffering disproportionately in order for PSEG to profit," Gardner said.
The protest comes as the Greenpeace ship Arctic Sunrise undertakes the East Coast leg of the Coal Free Future Tour. The Arctic Sunrise is currently on its final stop of the tour in Boston, Massachusetts.
Copyright Environment News Service (ENS) 2011. All rights reserved.
© 2011 – 2012, Jim Crabtree. All rights reserved.