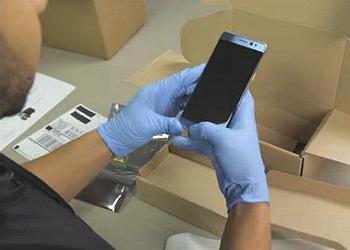 SEOUL, South Korea, October 31, 2016 (ENS) – Samsung Electronics Co., faced with the discovery that the lithium ion batteries in its Galaxy Note 7 smartphone could ignite, has recalled 2.5 million of the devices from 10 countries. Greenpeace wants Samsung to retrieve tons of precious metals from the waste phones.
After the Galaxy Note 7's launch in August, Samsung received 92 reports of the batteries overheating in the United States alone, including 26 reports of burns and 55 reports of property damage, according to the U.S. Consumer Product Safety Commission.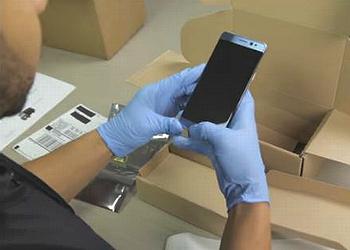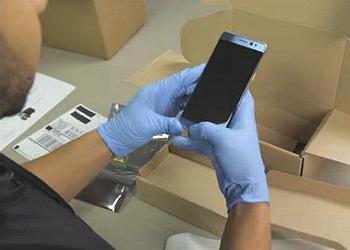 Initially, Samsung decided to recall all of the Galaxy Note 7 phones sold and offer replacements or refunds.
But by October 10, at least five of the replacement Galaxy Note 7 phones also had caught fire, and Samsung now is asking all users to shut down the phones. As of October 13, Samsung is recalling all Note 7s, including replacement units.
Consumers who have Galaxy Note 7 devices can exchange them for another model of Samsung smartphone, or receive a refund.
But compensation is not what concerns the environmental advocacy organization Greenpeace, which warned today that, "Samsung's lack of transparency on the disposal of its Galaxy Note 7 leaves tons of precious minerals at risk of being discarded into the environment."
Greenpeace cites calculations by Oeko-Institut, a research and consultancy institution based in Germany, find that the 4.3 million Galaxy Note 7 smartphones that Samsung produced contain more than 20 metric tons of cobalt, more than one ton of tungsten, one ton of silver, 100 kilograms of gold and between 20 and 60 kilograms of palladium.
Greenpeace says these materials could be recovered, but instead they will end up harming the environment if Samsung does not repurpose or reuse them.
Samsung has said that it will not recycle the returned phones but has not said what it will do with them.
"Samsung now has an opportunity to set an example for the industry – will it recover and reuse the precious metals and other valuable materials in these 4.3 million devices and avoid an environmental disaster or will it simply dump them?" said Jude Lee, senior IT campaigner at Greenpeace East Asia.
"We are launching a global petition challenging Samsung not to dump the phones and instead take this chance to totally rethink how it designs and produces its products," said Lee.
The company has produced 4.3 million devices and sold 1.8 million in 10 countries including: Australia, Canada, China, Mexico, New Zealand, Singapore, South Korea, Taiwan, the United Arab Emirates and the United States.
"Samsung has a unique opportunity to recover the resources that have produced the recalled phones," said Elizabeth Jardim, senior corporate campaigner for Greenpeace USA. "But all electronics and smartphone manufacturers should learn from this incident and design products that can be more easily repaired, recycled or reused."
In August, Greenpeace released the results of a consumer survey which found that many respondents believe that phone manufacturers should be responsible for providing people with the means to recycle their phones.
Over half of those surveyed agree that manufacturers are releasing too many new models every year.
Greenpeace is calling on Samsung not to dump or burn the Galaxy Note 7 devices and minimize the environmental impact by finding alternative ways to reuse the resources.
The environmental group is asking Samsung to publish its plan for dismantling and disposing of the Galaxy Note 7 phones.
Copyright Environment News Service (ENS) 2016. All rights reserved.