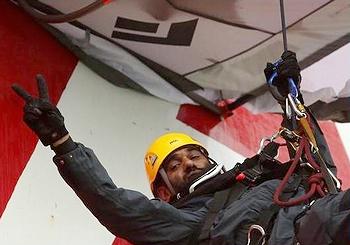 MOSCOW, Russia, August 24, 2012 (ENS) – A team of six Greenpeace International activists, led by Executive Director Kumi Naidoo, boarded Gazprom's 'Prirazlomnaya' Arctic oil platform early this morning to demand that the Russian company abandon its Arctic drilling plans.
At 4am local time the activists set off in three inflatable speedboats from the Greenpeace ship Arctic Sunrise and scaled the platform via mooring lines. They are perched in various locations on the platform, interrupting operations. They have hung a banner reading, "Don't Kill the Arctic".
The activists say they are out of reach and have enough supplies to last for several days.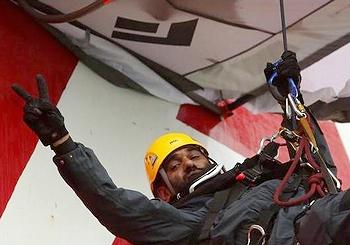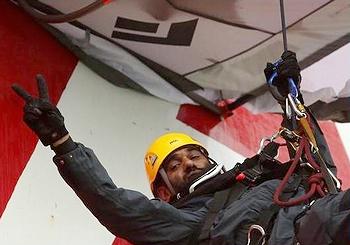 Speaking from a "portaledge" slung below the platform, Naidoo said, "We climbed Gazprom's rusting oil platform backed by over a million people who have joined a new movement to protect the Arctic. We are here on their behalf. We are also standing shoulder to shoulder with the Russian Indigenous Peoples, who just last week signed a joint statement opposing offshore oil drilling in this area, which is near their traditional territory."
In an open letter to the Russian people posted today on the Greenpeace website, Naidoo wrote, "Just last week Greenpeace Russia uncovered a startling secret: the emergency plan for oil spill mitigation of Gazprom Neft Shelf, a Gazprom subsidiary, has expired, meaning any drilling they do here would be illegal under Russian legislation."
The expiration means that the Gazprom platform is operating without an official oil spill response plan. Gazprom's response plan was approved in July 2007 for a period of exactly five years. The Russian Ministry of Emergency admitted to Greenpeace in a letter that a new spill plan has been neither submitted nor approved.
"Like Shell's reckless plans to drill in Alaska, it's not a question of if an oil spill will happen, but when," Naidoo said. "The only way to prevent a catastrophic oil spill from happening in this unique environment is to permanently ban all drilling now."
Russian energy giant Gazprom plans to begin full commercial drilling operations by early next year, becoming the first company to start commercial oil production in the offshore Arctic.
Greenpeace Russia told the Russian news agency Itar-Tass that water cannons are being used against the activists.
"Two helicopters landed on Prirazlomnaya during the action. It is possible their passengers would detain the activists. Meanwhile, oil rig personnel are trying to wash the activists off the rig. The activists say they hold the ground but they are wet and cold," said a Greenpeace Russia spokesperson.
The Prirazlomnaya oil rig personnel have prepared rescue equipment in case the Greenpeace activists on the rig need help, the rig manufacturer, Sevmash defense shipyard in Severodvinsk, told Itar-Tass.
A Gazprom spokesperson told the news agency, "They were offered to climb to the oil rig deck for a constructive conversation but they refused to do that."
"During my time in Moscow last week," wrote Naidoo in his open letter, "I met with the Federal Minister of Environment and Natural Resources and his senior advisers. I met with several journalists and civil society activists, and had the privilege of speaking with Indigenous Peoples representatives on whose traditional territory much of Russia's onshore oil drilling is carried out, with disastrous results."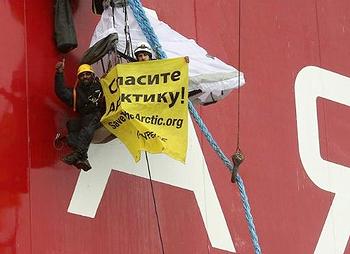 "Together with Greenpeace Russia, we presented data from esteemed Russian scientists, the same ones often hired by the oil industry, that confirmed those fears: Gazprom and emergency services could not cope with an oil spill disaster here."
"The scientists calculated 60,000 different scenarios if an oil spill were to occur at this platform, and their research showed very clearly that in fact it would take the company days to mount a serious response. Meanwhile, the toxic oil would reach the shores of three protected wildlife and nature reserves in just 20 hours," Naidoo wrote.
He wrote, "I took part in this peaceful action today to declare – together with Russians and citizens around the world – an end to the madness that is putting the profits of an elite few above the interests and safety of the rest of us."
The Prirazlomnoye field was discovered in 1989 in the shallow Pechora Sea in Russia's northwest. The field is located on a shelf 60 kilometers (40 miles) off the shore  of the Varandey settlement at the water depth of  about 20 meters (65 feet).
Gazprom says the Prirazlomnoye field contains 72 million tons of oil reserves, from which the company hopes to achieve an annual production level of 6.6 million tons.
The Arctic is one of the most extreme and hostile environments to drill for oil on the planet, Greenpeace says. "The Gazprom drill site is covered by thick sea ice for nearly two-thirds of the year, whilst temperatures as low as -50˚C are not uncommon. The Pechora Sea is often battered by fierce storms and during the long northern winter is plunged into months of almost total darkness."
Despite such extreme conditions, Gazprom has released only a summary of its oil spill response plan to the public, the activists point out, warning, "Yet even this document shows that the company would be completely unprepared to deal with an accident in the Far North, and would rely on substandard clean-up methods, such as shovels and buckets, that simply do not work in icy conditions."
Naidoo, a South African who has headed Greenpeace International since 2009, said, "This threat affects us all. In my home country of South Africa we are now facing a far more dangerous climate because companies like Gazprom and Shell are pumping money into politics and blocking clean alternatives so that they can extract the last drops of oil left. We're here in the Arctic to draw a line in the ice and say 'you come no further.'"
Copyright Environment News Service (ENS) 2012. All rights reserved.
© 2012, News Editor. All rights reserved.