Greenpeace Climate Protesters Slapped With Suspended Jail Time
BRUSSELS, Belgium, March 17, 2011 (ENS) – A Belgian court today handed suspended jail sentences to 10 Greenpeace climate activists who peacefully protested at a European climate meeting in December 2009. The activists each received a one month jail term, suspended, and fines of €1,100 (US$1,540).
Greenpeace condemned the verdict as disproportionate and is considering appeal. Under the Belgian penal system, a one month jail sentence may not result in imprisonment, but the penalty will remain on the demonstrators' records.
One of those sentenced, French activist Jacques Vandenheede, a graphic designer and teacher now living in Brussels, said, "We delivered an important message to European leaders, asking them to save the climate. Not only did they ignore the message, but they also failed to protect the climate. Theirs was the real crime, but we are the ones given jail sentences."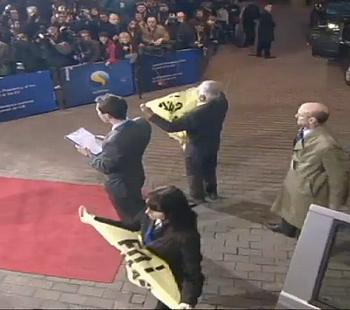 Greenpeace demonstrators face the media and display banners reading "EU Save Copenhagen," December 10, 2009. (Image courtesy European Commission)
On December 10, 2009, Vandenheede and other Greenpeacers drove up to the door of the European Council building where media were gathered and EU officials and heads of government were arriving for the summit meeting being held to prepare for the UN's climate summit in Copenhagen, Denmark.
Stepping onto the red carpet laid out to welcome the officials, three activists held up banners reading, "EU: Save Copenhagen" and began to read out a message calling on politicians to save the climate before Council security men removed them.
The entire incident lasted about 30 seconds.
The activists were in cars displaying placards with the Greenpeace logo, and some also wore badges with their photos and names identifying that they were from Greenpeace.
The court found all 10 people guilty of using false documents.
One Greenpeace staff member who faced the same charge and an additional charge was found innocent by the court on all counts. He had no role in the action and was officially accredited as a journalist at the summit.
Michael Genet, executive director of Greenpeace Belgium, said, "Greenpeace activists certainly don't think they are above the law, but this conviction is out of proportion to their peaceful protest."
"The court decided today that there is no defense for using false identification, even if it is in the public interest," said Genet. "So, for example, if a journalist wants to go undercover to help expose wrongdoing, they now face going to jail. That is wrong. The courts should be flexible in their interpretation of the law when there are greater evils being committed."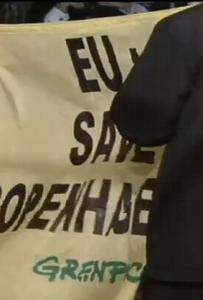 Security hustles Greenpeace banners out of view (Image courtesy European Commission)
"Today's decision is as an example of the broader move towards criminalizing non-violent dissent," Genet said. "If this becomes a significant trend, organizations like Greenpeace Belgium will find it very difficult to play their role in a democratic society."
Greenpeace is concerned about the increased restrictions and prosecutions relating to peaceful protest currently occurring in democratic countries that claim a tradition of free speech.
Recently, Greenpeace activists have faced prosecution for peaceful actions in Denmark, Japan and Belgium.
Eleven Greenpeace activists are facing trial in Denmark because of a peaceful protest outside the State Banquet at the climate conference in Copenhagen in December 2009.
In September 2010 Junichi Sato and Toru Suzuki were sentenced to a one year prison sentence, suspended for three years. The two Greenpeace activists were charged following their revelations of corruption within the Japanese whaling program.
In 2008 Greenpeace Belgium organized seven consecutive peaceful protests against Electrabel, to which the former state-owned power company responded by filing a criminal complaint for organized crime.
Of the seven criminal investigations, to date, six have been dismissed by the court. One court opined, "These are peaceful organisations aimed at protecting nature and the environment. This is common knowledge … and emphasised by the statements of … staff, who consistently declared that their campaigns have as their objective to raise awareness of public opinion, politics and industry in order to modify the laws and the practices which endanger or threaten the environment."
The verdict in the seventh and final Electrabel case is expected shortly.
Unreasonable and disproportionate prosecution of peaceful protest is contrary to international standards such as the rights to freedom of expression and assembly, Genet contends, relying on opinions of the European Court of Human Rights that the role of nongovernmental organizations is crucial to matters of public interest, such as health and the environment.
"Greenpeace and the individuals sentenced will consider appealing today's ruling," said Genet today. "In the interests of these activists and democracy we may take this to the next level."
Copyright Environment News Service (ENS) 2011. All rights reserved.
Environment News Service (ENS) © 2011 – 2012 All Rights Reserved.