Greenhouse Gas, Fuel Efficiency Standards Set for U.S. Heavy Trucks, Buses
WASHINGTON, DC, October 25, 2010 (ENS) – The first national standards to reduce greenhouse gas emissions and improve fuel efficiency in heavy-duty trucks and buses, were proposed today by the U.S. EPA and Department of Transportation.
Starting in model year 2014, the proposed standards cover 18-wheeler tractor-trailer type vehicles down to the largest pickup trucks and vans, and all types and sizes of work trucks and buses in between – fire and rescue trucks, logging trucks, dump trucks, flat-bed trucks, trucks equipped with cranes and lifts, cement mixers, refrigerated trucks, cargo and step vans.
These vehicles make up the transportation segment's second largest contributor to oil consumption and greenhouse gas emissions.
The proposed standards are based on an Official Memorandum issued by President Barack Obama on May 21. "We estimate," said Obama then, "that we can increase fuel economy by as much as 25 percent in tractor trailers using technologies that already exist today."
Today, Transportation Secretary Ray LaHood called the heavy-duty vehicle standards, "a win-win-win for the environment, businesses and the American consumer."
"Through new fuel-efficiency standards for trucks and buses, we will not only reduce transportation's environmental impact, we'll reduce the cost of transporting freight," LaHood said.
For the big rigs, the program is expected to take effect in model year 2014. It is projected to reduce greenhouse gas emissions by about 250 million metric tons and save 500 million barrels of oil over the lives of the vehicles produced within the program's first five years.
The agencies' analysis indicates that the combined proposed standards have the potential to reduce greenhouse gas emissions by nearly 250 million metric tons and save approximately 500 million barrels of oil over the life of vehicles sold during 2014 to 2018.
In total, these combined standards would reduce emissions of the greenhouse gas carbon dioxide, CO2, from the U.S. heavy-duty fleet by approximately 72 million metric tons of CO2-equivalent by 2030, below the level that would occur in the absence of the heavy duty national standards.
"These new standards are another step in our work to develop a new generation of clean, fuel-efficient American vehicles that will improve our environment and strengthen our economy," said EPA Administrator Lisa Jackson.
"In addition to cutting greenhouse gas pollution, greater fuel economy will shrink fuel costs for small businesses that depend on pickups and heavy duty vehicles, shipping companies and cities and towns with fleets of these vehicles," Jackson said. "Those savings can be invested in new jobs at home, rather than heading overseas and increasing our dependence on foreign oil."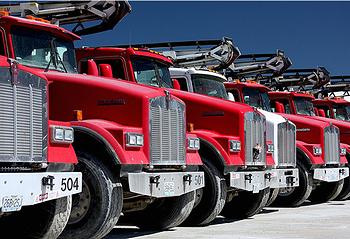 Cement trucks ready for work, St. Louis, Missouri (Photo by Rich)
"More than 95 percent of all heavy duty trucks are diesel-powered as are a majority of medium duty trucks. Diesel power is the driving force today of goods movement by truck in our economy. This proposal clearly envisions clean diesel power as the centerpiece of freight transportation in the clean energy economy of tomorrow," said Allen Schaeffer, executive director of the non-profit Diesel Technology Forum.
"Heavy duty tractor trailer trucks consume approximately 22 billion gallons of diesel fuel every year, with medium duty trucks consuming a considerable amount as well. The potential for fuel savings is significant," says Schaeffer.
Environmental groups welcomed the announcement. "We welcome the administration's leadership in ensuring standards are in place starting in 2014," said the Sierra Club in a statement. "We also look forward to working with both agencies on final rules for this full range of vehicles that will help break America's dangerous addiction to oil and reduce global warming pollution."
The trucking industry appears to be on board. Building on its progressive sustainability platform, the American Trucking Associations last week adopted a carbon emissions control policy supporting a national fuel economy standard for trucks, rather than government actions to increase fuel prices or alternative fuel mandates.
The carbon emissions control policy was approved by the ATA Board of Directors at the association's annual Management Conference and Exhibition, held October 16-19 in Phoenix, Arizona.
The ATA policy states that "carbon emission reductions achieved through national truck fuel economy standards are preferable to government actions that increase fuel prices in an effort to discourage petroleum-based diesel fuel consumption or mandate the use of alternative fuels."
"Diesel fuel remains the most viable option for powering the trucking industry," said ATA Vice President Rich Moskowitz. "ATA's carbon emission reduction policy acknowledges the need to look toward alternative technologies while ensuring that the industry can continue to efficiently move the consumer goods we rely on daily."
The National Highway Traffic Safety Administration, NHTSA, is proposing new standards for three categories of heavy trucks.
The first applies to the "combination tractors," usually called semi trucks. This regulatory category covers the main power unit portion of a tractor-trailer combined vehicle.
For combination tractors, the agencies are proposing engine and vehicle standards that begin in the 2014 model year and achieve up to a 20 percent reduction in carbon dioxide emissions and fuel consumption by 2018 model year.
The agencies estimate an operator of a semi truck could pay for the technology upgrades in under a year, and save as much as $74,000 over the truck's useful life. Vehicles with lower annual miles would typically experience longer payback periods, up to four or five years, but would still reap cost-savings.
Trailers are not covered under this proposal, due to the first-ever nature of this proposal and the agencies' limited experience working in a compliance context with the trailer manufacturing industry, the EPA said today. But because trailers do impact the fuel consumption and CO2 emissions from combination tractors, and because of the opportunities for reductions, the agency is soliciting comments on controlling greenhouse gas emissions and fuel consumption from trailers, to prepare a foundation for a possible future rulemaking.
Vehicles classed as heavy-duty pickups and vans will also come under the proposed standards. For heavy-duty pickup trucks and vans, the agencies are proposing separate gasoline and diesel truck standards, which phase in starting in the 2014 model year and achieve up to a 10 percent reduction for gasoline vehicles and 15 percent reduction for diesel vehicles by 2018 model year. These reductions would be 12 and 17 percent respectively if accounting for air conditioning leakage, the agencies say.
The third category proposed for the new standards is that of vocational vehicles, including delivery, refuse, utility, dump, cement, transit bus, shuttle bus, school bus, emergency vehicles, motor homes, and tow trucks.
For vocational vehicles, the agencies are proposing engine and vehicle standards starting in the 2014 model year which would achieve up to a 10 percent reduction in fuel consumption and CO2 emissions by 2018 model year.
Overall, the National Highway Transportation Safety Administration and EPA estimate that the heavy-duty national program would provide $41 billion in net benefits over the lifetime of model year 2014 to 2018 vehicles.
With the potential for significant fuel efficiency gains, ranging from seven to 20 percent, drivers and operators could expect to net significant savings over the long-term.
The innovative technologies fostered by this program would also yield economic benefits, enhance energy security, and improve air quality. New technologies include widespread use of aerodynamic improvements and tire rolling resistance, as well as engine and transmission upgrades.
The new policy builds on the joint rulemaking issued by the NHTSA and EPA on April 1, 2010, which regulates emissions from passenger cars and light-duty trucks for model years 2012-2016.
NHTSA and EPA are providing a 60-day comment period that begins when the proposal for heavy-duty trucks and buses is published in the Federal Register.
The proposal and information about how to submit comments is at: http://www.epa.gov/otaq/climate/regulations.htm and http://www.nhtsa.gov/fuel-economy.
As part of the process of developing this proposed rulemaking, NHTSA has prepared a draft Environmental Impact Statement (EIS) for its proposed fuel efficiency standards. The draft EIS compares the environmental impacts of the agency's proposal with those of a number of regulatory alternatives. Comments may be submitted on the Draft EIS through January 3, 2011, and information on the submission of comments for this document may be found at: http://www.nhtsa.gov/fuel-economy
See previous ENS coverage of Obama administration fuel economy and greenhouse gas emissions standards: Obama Limits Greenhouse Gas Emissions From Heavy Trucks, Buses
Copyright Environment News Service (ENS) 2010. All rights reserved.