NEW YORK, New York, April 17, 2013 (ENS) – Columbia University's campus is evolving into one of New York City's green landmarks and was recognized as one of the nation's 21 greenest schools by "The Princeton Review's Guide to 322 Green Colleges: 2013 Edition."
The Princeton Review, in collaboration with the Center for Green Schools at the U.S. Green Building Council, Tuesday released the fourth annual edition of its free guidebook saluting the most environmentally responsible green colleges.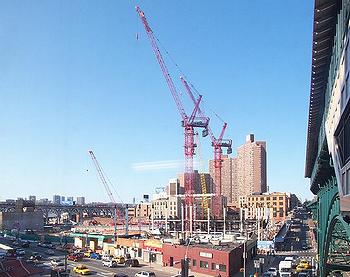 The Princeton Review Guide recognized Columbia for its commitment to sustainable development, saying, "Surrounded by one of the biggest and densest collections of building in the world, the university has put its location to good use, recently launching the NYC Urban Technology Innovation Center in order to promote green building technologies in New York City. The Urban Design Lab has committed to local environmentally friendly design and sustainable economic development, combining the vast intellectual and financial resources of the architecture and engineering schools."
"The challenges of developing sustainable infrastructure in a bustling urban environment are significant, which makes Columbia's recent LEED Platinum recognition for its 17-acre Manhattanville campus plan in West Harlem even more impressive," states the review. Improved, pedestrian-friendly streets and new publicly accessible open spaces will reconnect West Harlem to the new Hudson River waterfront park.
"LEED for Neighborhood Development bridges the gap between buildings and how they are connected," said Rick Fedrizzi, president, CEO and founding chair of the U.S.Green Building Council. "The Manhattanville campus will help usher in a new era of development of smarter, healthier communities across the globe."
The U.S. Green Building Council is widely known for developing the LEED green building rating system. LEED, which stands for Leadership in Energy and Environmental Design, is a voluntary program that provides third-party verification of green buildings.
The Princeton Review's Guide profiles 320 schools in the U.S. and two in Canada that demonstrate commitments to sustainability in their academic offerings, campus infrastructure, activities and career preparation.
The schools are chosen based on a 50-question survey conducted at hundreds of four-year colleges. The Princeton Review analyzes data from the survey about the schools' course offerings, campus infrastructure, activities and career preparation to measure their commitment to the environment and to sustainability.
Twenty-one schools made the Princeton Review Honor Roll with a Green Rating of 99 – the highest score.
In addition to Columbia, the Honor Roll schools include universities and colleges large and small: American University in Washington, DC; Arizona State University; California Institute of Technology; Catawba College in Salisbury, North Carolina; Chatham University in Pittsburgh; Georgia Institute of Technology in Atlanta; Goucher College in Baltimore; Green Mountain College in Poultney, Vermont.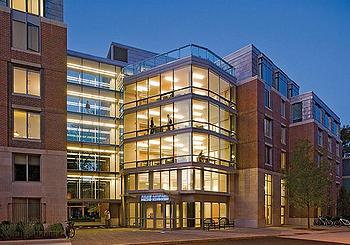 Also on the Honor Roll is Harvard in Cambridge, Massachusetts, a school renowned for its innovation and leadership. In 2008, the school established a campus-wide commitment to reducing greenhouse gas by 30 percent from 2006 levels by 2016 and has already decreased emissions by 10.4 percent.
On campus, Harvard has 64 LEED certified buildings and an additional 31 LEED registered projects. Harvard uses renewable energy sources, including solar panels, steam heat recovery, wind turbines, ground source heat pumps, and shuttles that run on biodiesel fuel. Harvard has a 55 percent waste diversion rate on campus, and a 100 percent composting rate for landscaping waste.
School profiles in the guide feature essential information for college applicants – facts and stats on school demographics, admission, financial aid – plus write-ups on the schools' specific sustainability initiatives.
A "Green Facts" sidebar reports on a wide range of topics from the school's use of renewable energy sources, recycling and conservation programs to the availability of environmental studies and career guidance for green jobs.
Many schools that scored less than 99 percent are still green now and growing greener.
The University of California, San Diego was praised for its strong commitment to sustainability in its academic offerings, campus infrastructure, activities and career preparation.
"Sustainability is part of who we are and what we do at UC San Diego," said UC San Diego Chancellor Pradeep Khosla. "We have become one of the greenest universities in the nation because of the unique collaboration among our researchers, faculty, staff and students. As a campus, we have made a commitment to climate change solutions and environmental sustainability."
Oregon State University received 98 points out of a possible 99 in the guide.
"The OSU community has once again demonstrated a high level of interest in and competency around sustainability," said Brandon Trelstad, OSU's sustainability coordinator.
The Princeton Review, an education services company, first published the guide in 2010 in collaboration with U.S. Green Building Council.
That year, the U.S. Green Building Council launched the Center for Green Schools at USGBC to increase efforts to drive change in how campuses and schools are designed, constructed, maintained and operated so that all educational facilities can enhance student learning experiences.
The guide was developed with financial support from United Technologies Corp., founding sponsor of the Center for Green Schools.
The 215-page book – the only free, comprehensive, annual guide to green colleges – can be downloaded at www.princetonreview.com/green-guide and at www.centerforgreenschools.org/greenguide.
Copyright Environment News Service (ENS) 2013. All rights reserved.