Green Sports Alliance Expands Across North America
PORTLAND, Oregon, July 19, 2011 (ENS) – The Green Sports Alliance, a coalition of professional sports teams and sporting venues committed to "greening initiatives" in sports, will hold its inaugural summit meeting August 1 to 3 in Portland, Oregon.
The meeting will bring together operations directors, sports marketing staff, league officials and environmental leaders to share best practices and discuss opportunities and challenges the teams and venues encounter on the path to sustainability.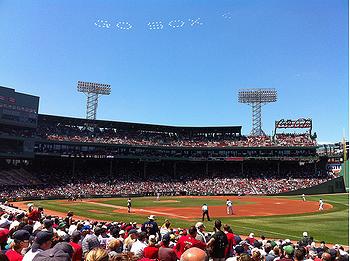 New members of the Green Sports Alliance, the Boston Red Sox, triumph over the Baltimore Orioles at Fenway Park, July 18, 2011 (Photo by Lockhart Steele)
The Green Sports Alliance was launched in March with founding members from six major professional leagues – Major League Baseball, National Football League, Major League Soccer, Womens' National Basketball Association, National Hockey League, and the National Basketball Association.
It is the first collaboration between teams from the six major North American professional sports leauges on a common environmental agenda.
The Alliance includes their home arenas; key environmental partners such as the Environmental Protection Agency and Natural Resources Defense Council; and the Bonneville Environmenal Foundation.
The founding members of the Green Sports Alliance are the Seattle Mariners, Seattle Seahawks, Seattle Sounders FC, Seattle Storm, Portland Trail Blazers, Vancouver Canucks, Safeco Field, Century Link Field and Event Center, KeyArena at Seattle Center, the Rose Garden and Rogers Arena.
Since March the six founding member teams have been joined by more than 20 professional sports teams, 19 venues, three professional leagues and two universities.
"Since the national launch of the Green Sports Alliance this March, we have seen signifcant interest from professional sports teams and venues across North America," said Martin Tull, executive director of the Alliance.
"Working with these new members will allow us to help each other improve our environmental performance and create positive change in our communities," said Tull.
Newest Green Sports Alliance members are:
Minnesota Twins, Target Field
San Diego Padres, PETCO Park
Washington Stealth, Everett Silvertips, Comcast Arena
Detroit Lions, Ford Field
Seattle Thunderbirds, ShoWare Center
St. Louis Cardinals, Busch Stadium
Cleveland Cavaliers, Cleveland Clinic Courts and Lake Erie Monsters, Quicken Loans Arena
Florida Marlins
Kansas City Chiefs, Kauffman Stadium
Arizona State University
University of Washington
Tampa Bay Lightning, St. Pete Times Forum
Cleveland Indians, Progressive Field
Tampa Bay Rays, Tropicana Field
Philadelphia Flyers, Wells Fargo Center
Boston Red Sox, Fenway Park
The Green Sports Alliance Summit includes presentations from the professional teams, their non-profit and corporate partners and senior leadership from professional leagues including, NFL, MLB, NBA and the NHL.
One session will focus on Greening the Jewel Events – the All-Star Games, the Olympics and NBA Green Week.
Other sessions will cover: Sponsorship and Sustainability, Building Partnerships for Innovative Community Engagement, Solar for Sports Venues, Metrics and Reporting, and LEED Certification Strategies for New and Existing Buildings.
"The Green Sports Alliance is helping to show the professional sports worldand the entire nationthat taking steps to save energy, cut waste and clean up pollution is not just good for our health, it's also good for the bottom line," said EPA Administrator Lisa Jackson.
Jackson said, "The Green Sports Alliance Summit will be an excellent opportunity for everyone in the sports community to explore the cutting-edge environmental technologies that have the potential to transform the way we play and the way we will win our future."
Copyright Environment News Service (ENS) 2011. All rights reserved.