Green Groups Jump the Gun on Europe's Million Signature Law
BRUSSELS, Belgium, December 16, 2010 (ENS) – European Union citizens will now be able to ask the European Commission to introduce new legislation, provided they can muster one million signatures. The European Parliament approved the European Citizens' Initiative, ECI, on Wednesday by 628 votes to 15, with 24 abstentions.
"Today the European Union is opening itself up to participatory democracy," said rapporteur Alain Lamassoure of France, representing the European Peoples' Party, the largest political group in the European Parliament.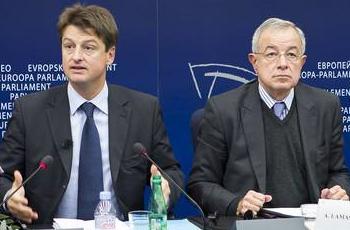 From left: Olivier Chastel, Belgian State Secretary for European Affairs; MEP Alain Lamassoure MEP EPP Group, France at a news conference on the European Citizens' Initiative (Photo courtesy EPP)
"The citizens now have the same right of political initiative as we have here in Parliament and in Council," Lamassoure said. "Now it is up to our citizens to act."
Environmental groups Greenpeace Europe and Avaaz were the first to give the European Commission a petition with a million signatures, asking for a ban on genetically engineered crops until a new scientific body is set up to assess their impact.
The environmental groups handed the petition to EU Health Commissioner John Dalli on December 9, six days before Parliament approved the new citizens initiative, casting the legitimacy of their petition into doubt.
Greenpeace EU director Jorgo Riss said, "The ECI rules make Europeans jump through flaming hoops. On an issue as sensitive as food safety, it should really be about what the European Commission is obliged to do once a million citizens have clearly expressed their concerns."
Avaaz Executive Director Ricken Patel said, "With the ECI regulations now agreed, the Commission has no excuse not to act on this urgent initiative."
The required million signatures must be collected within 12 months from amongst the 500 million citizens in the 27 EU member states. The Greenpeace/Avaaz petition carries over a million signatures, from all 27 member states, collected well within a year, and reaching country quotas in 12 countries – five more than the minimum. All signatures are verifiable, the groups say.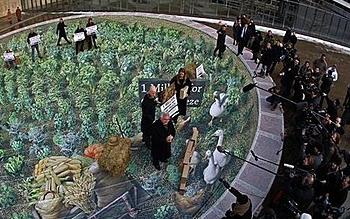 Health Commissioner John Dalli accepts the first ever European Citizens Initiative from Greenpeace and Avaaz. (Photo by John Novis courtesy Greenpeace)
The citizens' initiative should be in use by the beginning of 2012, now that Parliament has approved the ground rules for the initiative, which was introduced by the Lisbon Treaty on moderizing European government, which took effect last December.
Co-rapporteur Zita Gurmai of Hungary, representing the Progressive Alliance of Socialists and Democrats, said, "This is a new layer to our European democracy, our Christmas present to European citizens."
"It has been reached thanks to consistent cooperation between all the institutions involved: Commissioner Sefcovic, the Belgian presidency and before them the Spanish presidency, and the European Parliament," she said.
As the member states have 12 months to put the new rules into effect in their national laws, the first citizens' initiatives could be launched by the beginning of 2012. European Commission officials suggest that the environmental groups might have to redo their petition, gathering all their signatures again.
But the environmental groups point to a legal opinion from professor Ludwig Kramer finding that the terms of the Lisbon Treaty are sufficiently clear for the ECI to be directly applicable from the moment of ratification in December 2009.
MEPs said after Wednesday's vote that they have made the procedure much more user-friendly than initially proposed.
Once the legislation is in place, a citizens' committee consisting of people from at least one fourth of the member states – currently seven states – can register an initiative with the European Commission. After the commission has made an initial admissibility check, they can start collecting signatures, either on paper or online.
A minimum number of signatures needs to be gathered in each member state for them to count towards the required seven, ranging from 3,750 signatures in the tiny state of Malta to 74,250 in Germany.
Member states will verify the signatories' details. For this purpose, each state will decide which information is needed and most will require an ID card number. All signatories must be citizens of the European Union and old enough to vote in European elections.
At the end of the process, the Commission will decide within three months if a new law can be proposed, and it will have to make its reasons public.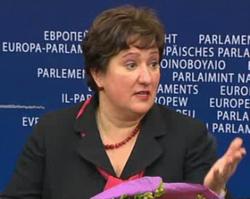 Co-rapporteur Zita Gurmai of Hungary represents the Progressive Alliance of Socialists and Democrats. (Photo courtesy S&D)
Gurmai, president of Party of European Socialist Women, said, "In times where only 42 percent of EU citizens vote in European elections, political leaders should not be afraid of, but rather welcome, citizens' engagement in EU affairs."
"The argument of those who are concerned that the EU will be now overwhelmed by loads of unserious initiatives is a false argument," she said. "All the initiatives proposed will have to meet some necessary criteria, such as falling within the competences of the EU, respecting its fundamental values and not being manifestly frivolous. Besides, they will have to be endorsed by one million EU citizens."
The European Commission will help the organizers of an initiative by providing a user-friendly guide, by setting up a point of contact and by providing online collection software free of charge. Forms have been harmonized to the maximum.
"Every kind of support will be made available: political, financial, local, national, European, foreign, etc. On one condition: total transparency. Europeans called on to sign an initiative must know who is behind it," Lamassoure explained.
"Parliament pushed hard to protect citizens from the risk of a lack of political follow-up if the commission assessment is that additional legislation would be inappropriate," said Lamassoure. "Hence the creation of two new rights for authors of 'successful' initiatives: the right to be received by the commission to present their motion and the right to a public debate before the European Parliament."
"The citizens' initiative is a unique opportunity. For the first time citizens can now get together and let us know if we are doing our job properly," said Gurmai. "We need this badly."
Copyright Environment News Service (ENS) 2010. All rights reserved.
© 2010 – 2012, Jim Crabtree. All rights reserved.