Green, Greener, Greenest Cars at the Geneva Motor Show
GENEVA, Switzerland, March 3, 2011 (ENS) – For the first time, an electric car – the Nissan LEAF – has made the grade as one of the top three contenders for the title of World Car of the Year.
Announced at a press conference Tuesday at the Geneva International Motor Show, the Audi A8, the BMW 5 Series and the Nissan LEAF were named the top three overall finalists for 2011 World Car of the Year.
To be eligible for the overall World Car award, the candidates must become available for sale on at least two continents during the period beginning January 1, 2010 and ending May 30, 2011.
Vehicles are selected and voted on by an international jury panel comprised of 66 automotive journalists from 24 countries who drive and evaluate new vehicles on a regular basis as part of their professional work. Each juror is appointed by the World Car Steering Committee on the basis of his or her expertise, experience, credibility, and influence.
Three finalists also were announced for the World Green Car award – the BMW 320d EfficientDynamics Edition, the Chevrolet Volt and the Nissan LEAF.
An all-electric car, the Nissan LEAF produces no tailpipe or greenhouse gas emissions during operation. The Nissan Leaf won the 2010 Green Car Vision Award award, the 2011 European Car of the Year award, and ranks as the most efficient U.S. EPA-certified vehicle for all fuels ever. The front-mounted electric motor is powered by a 24 kWh lithium ion battery pack rated to deliver up to 90 kilowatts (120 hp) of power. Its range is 160 kilometers (100 miles) of city driving.
The plug-in hybrid Chevy Volt, named 2011 Motor Trend Car of the Year, is powered by 16-kWh lithium-ion battery pack backed by an 100,000 mile/8-year warranty. The Volt charges in about 10 hours with standard 120-volt line, or in four hours using a dedicated 240-volt line. General Motors says the Volt can go 25 to 50 miles (40 to 80 km) on a charge. When the battery is depleted, a 4-cylinder internal combustion engine burns gasoline to power a 55 kW (74 hp) generator that supplies the electrical power to extend the Volt's range.
The BMW 320d EfficientDynamics Edition, on the market since March 2010, features a 2.0-litre four-cylinder turbo diesel motor that achieves a combined fuel consumption of 4.1 liters per 100 kilometers, with CO2 emissions of just 109 grams per kilometer.
Due to the complexity of some of the green technologies, three specialized experts were appointed by the World Car Steering Committee to review all documentation and specs associated with each candidate.
The World Green Car award is presented by Bridgestone Corporation of Japan. Ryoji Yamada, general manager of brand management said, "The environment is everyone's responsibility. And throughout our global family of companies, we take this responsibility very seriously."
The winners in both categories will be declared at the New York International Auto Show on April 21, 2011.
Forty-four new green cars incorporating environmentally-friendly technologies of the future are on view at the 81st Geneva International Motor Show at the Geneva Palexpo from March 3 to 13, 2011, one of the world's top five major auto shows and the largest in Europe.
The Green Pavilion was a star attraction at the 2010 Show, so show organizers are giving it a better location, near one of the entrances most used by the 700,000 visitors expected to attend this year's show. More than a dozen clean cars will be available for short test drives, including models of Chevrolet, Mercedes, Mitsubishi, Nissan, Renault, Tata, Think with M-Way and Smart.
With oil prices on the rise due to the political unrest in the Middle East and northern Africa, major auto companies are using the Geneva Motor Show, Europe's largest, to highlight their newest energy-efficient, environmentally-friendly vehicles.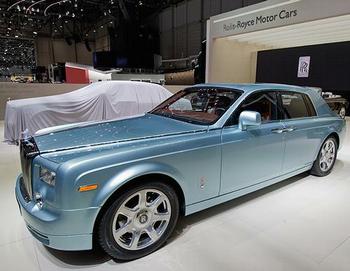 Rolls-Royce Phantom Experimental Electric in Geneva (Photo courtesy Rolls-Royce)
British automaker Rolls-Royce unveiled the world's most costly battery-electric vehicle Tuesday at the show's first press day. At US$1.6 million, the Phantom Experimental Electric, also called the 102EX concept, is not meant for production but is designed to open a dialogue with environmentally aware millionaires.
Rolls-Royce CEO Torsten Müller-Ötvös said, "With this vehicle, we begin an exploration into alternative drive-trains, seeking clarity on which alternative technologies may be suitable to drive Rolls-Royce motor cars of the future."
The Phantom EE has the largest passenger car battery in the world, according to the automaker. The 71 kwH lithium-nickel-cobalt-manganese-oxide battery pack is a variant of lithium-ion chemistry that has high energy and power densities.
To overcome concerns about lack of available re-charging infrastructure, the Phantom EE can charge up wirelessly with electromagnetic induction using a pad positioned under the car's battery pack. A transfer pad on the ground delivers power from a mains source to the induction pad; power frequencies are magnetically coupled across the power transfer pads.
Wednesday, on the second press day of the show, Nissan took the cover off its Nissan ESFLOW electric sports car. The company says, "It looks like a sports car, handles like a sports car and performs like one too. Using technology pioneered in the award-winning Nissan LEAF, the EV concept shows that driving can still be as much fun tomorrow as it is today."
The rear-wheel drive ESFLOW runs on two motors powered by the same lithium-ion battery packs used in the Nissan LEAF. In the ESFLOW the packs are located along the axis of the front and rear wheels, centralizing the mass of the car, and its rotation point, close to the driver's hips. The car travels about 240 kilometers (150 miles) on a charge.
Popular British singer Katie Melua drove the new production version of the Opel Ampera electric vehicle on stage for its world premiere in Geneva Wednesday and has driven an early version of the car on tour.
First deliveries of the Ampera are promised before year's end. The five-door, four-seat Ampera is designed to provide all the benefits of an electric vehicle while reducing range anxiety. The battery is recharged in about four hours at 230V by plugging the vehicle's on-board charge system into a standard household outlet.
The 111 kW/150 hp electric motor accelerates the Ampera from zero to 60 mph in nine seconds and enables a maximum speed of 161 km/h (100 mph).
As Opel is a General Motors brand, Chairman Nick Reilly opened the Rüsselsheim automaker's exhibit in Geneva at a press conference with General Motors Chairman and CEO Dan Akerson. "Opel's outstanding technological expertise plays a vital role in our global product portfolio," Akerson said.
Reilly said that despite 2010's weak European market, Opel increased its market share in 18 out of 27 European countries.
Jaguar Land Rover unveiled a prototype diesel hybrid Range Rover SUV. The Range_e is based on a Range Rover Sport and features a 3.0-liter TDV6 diesel with an eight-speed automatic transmission. The Range_e can run as a pure electric vehicle for 30 kilometers (20 miles). It has a top speed of around 120 mph and an overall range of 690 miles.
Among the Japanese automakers, Toyota unveiled a prototype hybrid vehicle based on its compact car Yaris.
Toyota is also showing a "near-production" lithium-ion-powered prototype of its iQ EV in Geneva that gets 105 kilometers (65 miles) on a single charge, using a new flat battery pack developed with Tesla. Toyota could begin leasing this car to European drivers in 2012.
Among the green cars in Geneva this year is Honda's Jazz 1.3i Hybrid Elegance, a hybrid petrol-electric version of the successful compact for the Japanese and European markets, which debuted at the 2010 Paris Motor Show.
The Volkswagen Bulli Concept electric van is a star of the show based on how beloved the old VW bus has been across the world for decades. This new six-seat small camper van features an 85-kilowatt electric drive train powering the front wheels. Volkswagen says the 40 kw/hour lithium-ion battery pack provides roughly 300 kilometers (185 miles) of range with zero emissions. The Bulli's acceleration is slow, zero to 60 in 11.5 seconds, and top speed is limited to 144 km/h (90 mph).
Ford Motor Company says it will have five alternative powertrains to market in Europe by 2013. Stephen Odell, head of Ford Europe, said the new powertrains will include hybrid, pure electric and plug-in hybrid technologies.
On the show floor in Geneva, Ford has the European debut of the C-MAX Energi, a pre-production version of the plug-in hybrid first shown at the North American International Auto Show in Detroit, that will launch in Europe in 2013. The vehicle will be built at Ford's Valencia plant in Spain.
Ford also is showcasing its Focus Electric, powered by a lithium-ion battery system, which was unveiled at the North American International Auto Show in January and is coming to Europe in 2012.
Daimler's smart forspeed concept, an electric two-seater without a roof or side windows, will debut in Geneva.
Dr. Annette Winkler, head of smart says, "The smart forspeed is a completely new take on how much fun it is to drive electric. It boasts a superb design with a powerful drive system and, needless to say, locally emission-free."
Daimler's smart forspeed concept at the Geneva Motor Show (Photo courtesy smart)
Powered by a lithium-ion battery that delivers 16.5 kWh, the smart forspeed accelerates from 0 to 60 km/h in just 5.5 seconds and reaches a top speed of 120 km/h. A 30 kW magneto-electric motor is at the rear and a boost function provides an extra 5 kW of power for overtaking. Quick charging from 0 to 80 percent takes 45 minutes and when fully charged, the battery powers 135 kilometers (84 miles) of driving.
Visitors will see the Tata Indica Vista electric hatchback with an all electric power train developed by its UK subsidiary, Tata Motors European Technical Centre. Offering a range of 160 km (100 miles), the Indica Vista EV earned recognition as the most economic small passenger EV and the most economical and environment friendly small passenger EV at the inaugural Royal Automobile Club Brighton to London Future Car Challenge in November.
Volvo is debuting its V60 plug-in, a five-cylinder turbodiesel with a 12 kW lithium-ion battery pack. In production from 2012, Volvo says the V60 can drive for 50 km (30 miles) on electricity, and consumes only 1.9 liters/100 km of diesel fuel on average.
Saab unveiled its PhoeniX gas-electric hybrid concept car in Geneva. The Phoenix's all-wheel-drive system accelerates from zero to 60 in less than six seconds and delivers five liters/100 km (47 mpg) when coupled with a six-speed manual transmission. It has a 25 kW electric motor that drives the rear wheels and provides regenerative braking.
The American automaker Tesla is displaying its new Model S – an all-electric model that promises to improve on the popular Tesla Roadster. Production for the retail market is expected to begin in early 2012. The car will have a range of 260 km (160 miles), and a 0 to 60 mph acceleration of 5.6 seconds.
Two Mitsubishi i-MiEV cars are part of the Rinspeed exhibit in Geneva. They are painted bright yellow and matte red, the colors are created by specialists from Akzo Nobel. The same colors can also be found on the concept car BamBoo, this year's Rinspeed attention getter at the show. The BamBoo, jointly developed and built by Swiss engineering firms 4erC and Esoro, resembles a grown-up golf cart with its inflatable canopy roof developed by Swiss company Tecnotex.
Marketed to "the extroverted communicator," this four-seater sun and fun car features an electric motor from the German Fräger Group with 54 kW of power.
Personal messages are displayed on the innovative Identiface, a screen-based section of the BamBoo replacing the radiator grille, which is redundant on an electric vehicle. With its Internet connectivity, Identiface can display the occupants' Facebook pages, news from around the world, the manufacturer's logo or an offer of a ride from here to there.
Premiering in Geneva is GreenTech's GT1, an open electric vehicle with EEC approval. With an aluminum frame and fiberglass body, it weighs only 400 kilograms and reaches a maximum speed of 50 kmh (30 mph) with a 150 kilometer (93 mile) range on a charge. GreenTech also is showing the T4, a hybrid high-performance sport electric vehicle. Both are powered by a combined system using a lithion-ion battery and a zinc air fuel cell made by GreenTech. The company says its zinc air fuel cell is safer and offers three times the power density of a lithion-ion battery.
Copyright Environment News Service (ENS) 2011. All rights reserved.