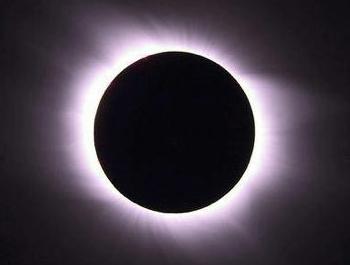 NEWPORT, Oregon, August 20, 2017 (ENS) – The first total solar eclipse since 1979 to be visible across North America starts early Monday morning, prompting hundreds of celebrations, festivals, star-viewing parties, exhibits, astronomy teachings and citizen science events.
The path of totality, locations where the Moon completely covers the Sun, leaving only the fiery corona showing, is about 73 miles (118 km) wide, crossing 12 states from Oregon to South Carolina.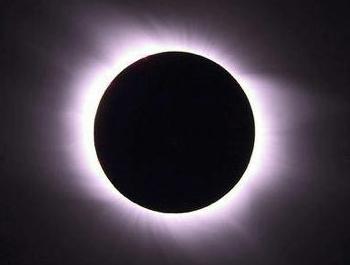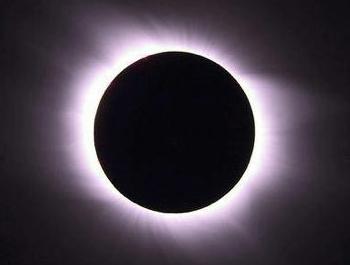 About 200 million people live within a day's drive of the path of totality, which throws a dark shadow for a maximum of two minutes and 44 seconds, giving observers a once-in-a-lifetime celestial experience.
The lunar shadow first enters the West Coast at 9:05 am PDT. Totality
begins in Lincoln City, Oregon, at 10:15 am PDT. Totality ends at 2:48 pm EDT in
Charleston, South Carolina. The lunar shadow leaves the East Coast at 4:09 pm.
Everyone in North America plus parts of South America, Africa, and Europe will see at least a partial solar eclipse, where the Moon covers a part of the Sun's disk.
The eclipse will move from west to east.
It will start on the west coast near Newport, Oregon, at 10:15 am Pacific time and end near Charleston, South Carolina, at 2:49 pm Eastern time.
The Sun rises in the east because Earth is rotating in that direction, so it's easy to make the mistake of thinking the eclipse should start in the east and move west.
But the Moon orbits around the Earth from west to east.
NASA explains that the Moon moves to the east in its orbit at about 3,400 km/hour.
Earth rotates to the east at 1,670 km/hr at the equator, so the lunar shadow moves to the east at 3,400 – 1,670 = 1,730 km/hr near the equator.
"You cannot keep up with the shadow of the eclipse unless you traveled at Mach 1.5 (1,150 miles per hour)," says the National Aeronautics and Space Administration, NASA.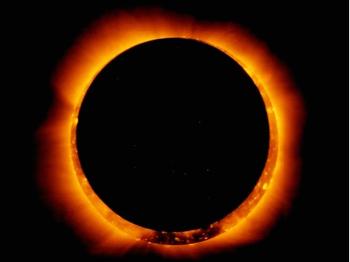 Eclipse viewers in Nebraska and Missouri might be blocked by cloud cover, according to the National Weather Service. Both states are expected to have roughly 50 percent cloud cover as the eclipse passes overhead.
The National Weather Service forecasts the best viewing in Oregon and Idaho, where those in the path of totality will have less than 10 percent cloud cover.
NASA is inviting all eclipse viewers to share their images of the event on Flickr.com at: https://www.flickr.com/groups/nasa-eclipse2017/
For four hours during the eclipse, NASA will host an Eclipse Megacast, providing unique broadcast coverage.
The program will feature views from NASA research aircraft, high-altitude balloons, satellites and specially-modified telescopes.
NASA scientists will interact with other scientists and members of the public across the country as they watch and study the eclipse. The Megacast will be picked up by NASA TV as well as many other local and national TV stations.
On Monday, go to www.nasa.gov/eclipselive where you will be directed by default to the NASA TV broadcast. The broadcast starts at 12 noon EDT and will connect with many of the NASA broadcasts distributed across the country.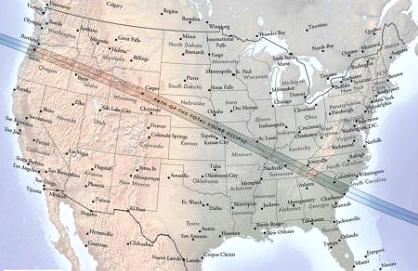 View the Eclipse Safely
Looking directly at the Sun is unsafe except during the brief total phase of a solar eclipse, a two minute period when the Moon entirely blocks the Sun's bright face, which will happen only within the narrow path of totality.
The only safe way to look directly at the uneclipsed or partially eclipsed sun is through special-purpose solar filters, such as eclipse glasses or hand-held solar viewers.
Homemade filters or ordinary sunglasses, even very dark ones, are not safe for looking at the Sun. They transmit thousands of times too much sunlight and the UV rays can damage the retina of the eyes, causing blindness.
The following companies manufacture and/or sell eclipse glasses that have been verified by an accredited testing laboratory to meet the ISO 12312-2 international safety standard for these products. They are listed in alphabetical order; those with an asterisk (*) are based outside the United States.
Solar Viewer Brands
American Paper Optics (Eclipser) / EclipseGlasses.com / 3dglassesonline.com
APM Telescopes (Sunfilter Glasses)*
Baader Planetarium (AstroSolar Silver/Gold Film)* [see note 1]
Celestron (EclipSmart Glasses & Viewers)
DayStar (Solar Glasses)
Explore Scientific (Solar Eclipse Sun Catcher Glasses)
Halo Solar Eclipse Spectacles
Jaxy Optical Instrument Co., Ltd.* [see note 2]
Lunt Solar Systems (SUNsafe SUNglasses) [see their unique kid-size eclipse glasses]
Meade Instruments (EclipseView Glasses & Viewers)
Rainbow Symphony (Eclipse Shades)
Seymour Solar (Helios Glasses)
Solar Eclipse International / Cangnan County Qiwei Craft Co.*
Thousand Oaks Optical (Silver-Black Polymer & SolarLite)
TSE 17 / 110th.de (Solar Filter Foil)*
Wildfires Will Hinder Eclipse Viewing
An ideal eclipse-viewing location near the tourist town of Sisters, Oregon is off-limits due to a raging wildfire in the Deschutes National Forest known as the Milli Fire. Access to part of the wilderness area and a regional highway are closed.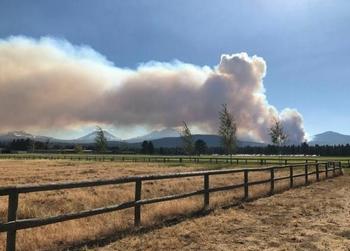 With the head of the Milli Fire continuing to move south and east, forest officials today expanded the area closure currently in place on the Sisters Ranger District due to increased fire activity. Some campsites and recreational areas are shut down.
At least 600 residents were ordered to evacuate on Friday and fire officials say another 1,000 residents have been told to be prepared to leave if necessary.
Officials say the blaze is producing heavy smoke while burning in forests at higher elevations and in sagebrush at lower areas. The fire started late last week. Its cause is under investigation.
The Pacific Crest Trail is closed beginning at Elk Lake and extending to Highway 242. Hikers are encouraged to get a ride north to Britenbush Lake, or take public transit north toward Government Camp near Mt. Hood. See www.pcta.org.
The public is encouraged to Know Before You Go by contacting the Sisters Ranger District office at 541-549-7700 if you plan to visit the area.
Significant acreage gains were reported on large fires in Oregon, Montana, Idaho and California, according to the National Interagency Fire Center, NIFC.
Extreme fire behavior caused the Chetco Bar fire in Oregon to burn an additional 12,000 acres. The Lolo Peak fire in Montana was also very active and gained more than 9,000 acres.
Nationally, 44 large fires have burned more than 400,000 acres in eight states.
NIFC officials are worried that on Monday during the solar eclipse, viewers may cause fires in the dry, fire-prone western states that place demands on already over-stressed fire-fighting resources.
"The biggest concern right now is that we already have a lot of uncontained large fires and a significant number of firefighters, engines, aircraft, and other fire suppression assets committed," said NIFC. "We expect above average significant fire potential to continue throughout much of the west."
"Due to the high numbers of people expected to visit public lands to see the eclipse, we are concerned about the potential for an uptick in human-caused fires."
"We really need your help to prevent human-caused fires," says NIFC. "Please check conditions in the areas you are planning to visit before you go, observe all closures and restrictions that are in place, and take steps to prevent human caused fires."
For a state-by-state list of wildfires with location, size and contact information, visit: https://www.nifc.gov/fireInfo/nfn.htm
The path of totality draws a line over 26 national forests, one national grassland and one national recreation area managed by the Forest Service.
State and local officials are closing various areas to visitors due to fire and safety concerns.
In Idaho, Forest Service officials Sunday closed multiple trailheads in the Sawtooth National Forest due to the vast number of people entering the backcountry.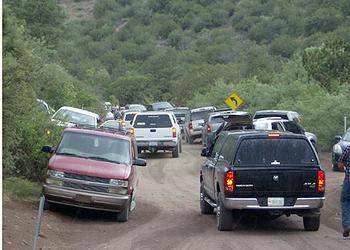 In Georgia, the U.S. Forest Service announced road closures at several sites on the Chattahoochee National Forest in anticipation of an increase in visitors for the solar eclipse. The agency encourages drivers to plan ahead for high amounts of traffic on narrow forest roads.
"We want visitors who come for the eclipse to have a safe and enjoyable experience. To ensure safety and protect the forest, we need to keep roadways clear for emergency vehicle use," said Chattahoochee National Forest Supervisor Betty Jewett. "As you travel on forest roads, keep in mind that there has to be enough space for fire trucks and ambulances to get up and down roads in case of an emergency."
Eclipse Celebrations
At least 35,000 people are expected at the largest celebration in the path of totality, at Big Summit Prairie in a pristine remote location near Prineville, Oregon. It is organized by Symbiosis Events of Santa Rosa, California with participation from organizations as far away as England, South Africa, Canada, Mexico, Costa Rica, Brazil, Australia and Japan.
The celebration opened on August 17 and almost at once traffic backed up for more than 30 miles as people tried to get into the site.
There are seven stages where hundreds of groups will play all kinds of music. Onsite camping is enhanced by food vendors, hot air ballon rides, educational programs, art shows, yoga, dance and cosmos-connected rituals.
The area is tinder dry and organizers are determined to prevent a devastating fire. Strictly prohibited are: fires, barbeques, fireworks, and smoking except in specified areas.
They advise views not to pull their cars into tall grass that might catch fire. Vehicles with loose chains or hot undercarriages can present a real fire hazard.
"Fire danger is VERY REAL and we request your utmost cooperation. We have developed solid safety protocol at the national and local levels and have equipment to deal with situations that arise. Having said that, HELP KEEP US SAFE!"
On the other end of the path of totality, in South Carolina, EclipseFest 2017 on Chattooga Belle Farm, in Long Creek, South Carolina, is sold out. Eclipse viewers there will enjoy music, food trucks, distillery tours & tastings, astronomy talks, star gazing and a drum circle.
In between are thousands of events across the country. To find one near you, go to: https://eclipse2017.nasa.gov/sites/default/files/2017_solar_eclipse_general_events.html#
Copyright Environment News Service (ENS) 2017. All rights reserved.