Gore Takes on Climate Deniers with 24 Hours of Reality
WASHINGTON, DC, July 12, 2011 (ENS) – Al Gore is mounting a new global campaign to convince people that climate change is real and to generate solutions.
The former U.S. vice president, who became famous for his award-winning climate change documentary "Inconvenient Truth," will kick off the campaign on September 14-15 with 24 Hours of Reality, a worldwide educational event streamed live online.
In 24 locations from Mexico City to Alaska, from Beijing to London to Abu Dhabi, to New Delhi and Jakarta, the event will feature scientists, celebrities, business leaders and concerned citizens as well as Gore himself.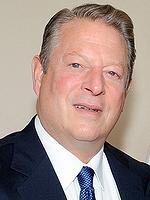 Former Vice President Al Gore at a Democratic fundraiser in Florida, June 2011 (Photo courtesy Greg Collier)
The event will be broadcast live online over 24 hours, in 24 time zones and in multiple languages.
"The climate crisis knows no political boundaries," said Gore. "Ferocious storms and deadly heat waves are occurring with alarming frequency all over the world. We are living with the reality of the climate crisis every day. The only question is, how soon can we act?"
The 24 Hours of Reality event will feature a new multimedia presentation, created by Gore, on the connection between extreme weather events and the climate crisis. All viewers of the event, online and in person, will be invited to take part in specific activities to help solve the climate crisis.
The new campaign will include the more than 3,000 activists of The Climate Project who have been personally trained by Gore to present his "Inconvenient Truth," slide show around the world.
Gore has changed the name of his nonprofit organization from Alliance for Climate Protection to the Climate Reality Project and all future events will happen under the Climate Reality Project banner.
The September event is the first in a larger, multi-faceted campaign to "tell the truth about the climate crisis and reject the misinformation we hear every day," said the Climate Reality Project in a statement today.
"Fossil fuel companies and their allies will go to great lengths to deny the fact that climate change is happening now," said Maggie Fox, president and CEO of the Climate Reality Project. "But we have one powerful response – reality. We will dedicate our resources toward educating and engaging the public about the reality of the climate crisis and helping build the global movement for change."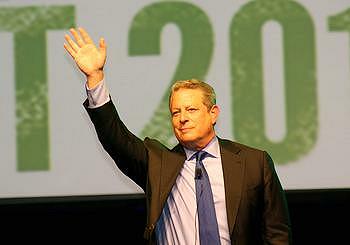 Al Gore waves to the audience at a Power Shift event at the Environmental Center Fort Lewis College, Durango, Colorado, April 15, 2011. (Photo courtesy Fort Lewis College)
Gore, in a June 22 "Rolling Stone" article, criticized President Barack Obama for not taking "bold action" to address climate change. The article also targeted the media for favoring the "Poisonous Polluters and Right-wing Ideologues" over the forces of "Science and Reason."
"Polluters and Ideologues are trampling all over the 'rules' of democratic discourse," wrote Gore. "They are financing pseudoscientists whose job is to manufacture doubt about what is true and what is false; buying elected officials wholesale with bribes that the politicians themselves have made 'legal' and can now be made in secret; spending hundreds of millions of dollars each year on misleading advertisements in the mass media; hiring four anti-climate lobbyists for every member of the U.S. Senate and House of Representatives."
Gore compares these actions to those of the tobacco companies that spent decades denying that smoking causes cancer but eventually came to a multi-billion dollar legal settlement with 46 states.
"Oil and coal companies are determined to sow denial and confusion about the science of climate change, ignore its impacts, and create apathy among our leaders," Gore's new group says in a statement announcing the Climate Reality campaign.
To validate his concerns about climate change, Gore cites the worldwide scientific consensus.
The science showing that climate change is real and that human actions are driving it "has been endorsed by every National Academy of science of every major country on the planet, every major professional scientific society related to the study of global warming and 98 percent of climate scientists throughout the world," Gore wrote in "Rolling Stone."
"In the latest and most authoritative study by 3,000 of the very best scientific experts in the world, the evidence was judged "unequivocal," he wrote.
"Is the climate crisis real?" Gore wrote. "Yes, of course it is."
For more information, visit: www.climaterealityproject.org
Copyright Environment News Service (ENS) 2011. All rights reserved.
Environment News Service (ENS) © 2011 – 2012 All Rights Reserved.