Global Renewable Energy Investment Hits Record $257 Billion
NAIROBI, Kenya, June 11, 2012 (ENS) – More renewable energy was installed worldwide last year than ever before, and solar energy surged past wind power to become the renewable energy technology of choice for global investors in 2011.
Solar attracted nearly twice as much investment as wind, driving the renewable energy sector to another record-breaking year, according to two new reports on renewable energy trends issued today by the UN Environment Programme and the Renewable Energy Policy Network for the 21st Century, REN21.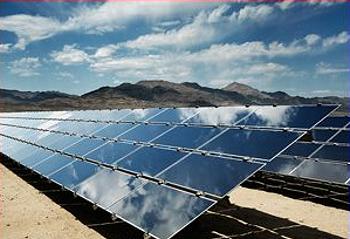 Silver State Solar, the first completed, large-scale solar project on U.S. public lands, began generating power in May 2012. (Photo courtesy Enbridge)
UNEP's "Global Trends in Renewable Energy Investment," based on data from Bloomberg New Energy Finance, has become the standard reference for global clean energy investment figures.
This year it shows that despite a tough competitive landscape for manufacturers, total investment in renewable power and fuels last year increased by 17 percent to a record $257 billion.
The increase was achieved at a time of falling prices for renewable energy equipment and severe pressure on fiscal budgets in developed countries.
But despite the increase in investments, share prices in the renewable energy sector had a dismal 2011 in the face of overcapacity in the solar and wind manufacturing chains and investor unease about the direction of support policies in both Europe and North America, according to the reports.
The two publications were launched jointly by Achim Steiner, UNEP executive director; Mohamed El-Ashry, chairman of REN21; Michael Liebreich, chief executive of Bloomberg New Energy Finance; and Professor Dr. Udo Steffens, president and CEO of the Frankfurt School of Finance & Management, which hosts the Frankfurt School – UNEP Collaborating Centre for Climate & Sustainable Energy Finance.
Steiner used the launch of the two reports as a platform to encourage suppport for a green economy among world leaders coming to Rio+20, the UN sustainable development summit taking place from June 13-22 in Rio de Janeiro, Brazil.
"This sends yet another strong signal of opportunity to world leaders and delegates meeting later this month at the Rio+20 summit – namely that transforming sustainable development from patchy progress to a reality for seven billion people is achievable when existing technologies are combined with inspiring policies and decisive leadership," Steiner said today.
"It is essential to continue government policies that support and nurture the sector's growth, and to de-escalate damaging trade disputes. Otherwise," he warned, "the low-carbon transition could weaken just at the point when exciting cost reductions are starting to transform the economics."
More than 100 heads of state and government, together with thousands of parliamentarians, mayors, UN officials, chief executive officers and civil society leaders are expected to attend Rio+20 to shape new policies to promote prosperity, reduce poverty and advance social equity and environmental protection.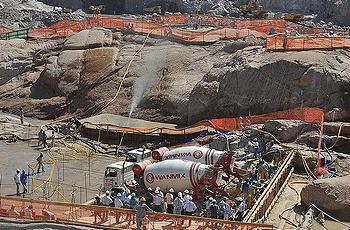 Construction of the Santo Antonio dam on the Rio Madeira near Porto Velho, Rondonia, Brazil. The dam is due to start generating power in 2012. (Photo by Agencia Brasil)
The gathering follows the Earth Summit in 1992, also held in Rio, during which countries adopted Agenda 21 – a blueprint to rethink economic growth, advance social equity and ensure environmental protection.
"Despite the continuing economic crisis in some key traditional markets, and continuing political uncertainties, more renewable energy was installed last year than ever before," said Dr. El-Ashry, who chairs REN21.
The REN21 Renewables 2012 Global Status Report shows that during 2011 renewables continued to grow strongly in all end-use sectors – power, heating and cooling and transport.
"Policies helped to drive renewable energy forward. Policy development and implementation were stimulated by the Fukushima nuclear catastrophe in Japan, along with improvements in renewable energy costs and technologies. As a result, renewable energy is spreading to more countries and regions of the globe," Dr. El-Ashry said.
"Globally there are more than five million jobs in renewable energy industries, and the potential for job creation continues to be a main driver for renewable energy policies," he said.
In 2011, renewable energy technologies continued to expand into new markets. Some 50 countries installed wind power, and solar photovoltaic capacity moved rapidly into new regions and countries. Worldwide, solar hot water collectors now are used by more than 200 million households and in many public and commercial buildings.
Interest in geothermal power has taken hold in East Africa's Rift Valley and elsewhere; interest in solar heating and cooling is on the rise in countries around the world; and the use of modern biomass for energy purposes is expanding in all regions of the globe, the reports show.
In the power sector, renewables accounted for almost half of the estimated 208 gigawatts (GW) of electric capacity added globally during the year. Wind and solar photovoltaic accounted for almost 40 percent and 30 percent of new renewable capacity, respectively, followed by hydropower at nearly 25 percent.
By the end of 2011, total renewable power capacity worldwide exceeded 1,360 GW, up eight percent over 2010.
Renewables made up more than 25 percent of total global power-generating capacity – estimated at 5,360 GW in 2011 – and supplied an estimated 20.3 percent of global electricity.
Highlights 2011 from both reports:
Total investment in solar power jumped 52 percent to $147 billion and featured booming rooftop photovoltaic installations in Italy and Germany, the rapid spread of small-scale PV to other countries from China to the UK and big investments in large-scale concentrating solar thermal power projects in Spain and the United States.
The United States surged back close to the top of the renewables investment rankings, with a 57 percent leap to $51 billion, as developers rushed to cash in on three significant incentive programs before they expired during 2011 and 2012. After leading the world for two years, China saw its lead over the U.S. shrink to just $1 billion in 2011, as it recorded renewable energy investment of $52 billion, up 17 percent.
India's National Solar Mission helped to spur an impressive 62 percent increase to $12 billion, the fastest investment expansion of any large renewables market in the world. In Brazil, there was an 8 percent increase to $7 billion.

China's Jiangsu Rudong wind park began operation in May 2012 and was Siemens' first order for offshore wind power outside Europe. The site is offshore Nantong City on the north bank of the Yangtze River. (Photo courtesy Siemens)

Competitive challenges intensified sharply, leading to sharp drops in prices, especially in the solar market – a boon to buyers but not to manufacturers, a number of whom went out of business or were forced to restructure.
Renewable power, excluding large hydro-electric, accounted for 44 percent of all new generating capacity added worldwide in 2011 (up from 34 percent in 2010). This accounted for 31 percent of actual new power generated, due to lower capacity factors for solar and wind capacity.
Gross investment in fossil-fuel capacity in 2011 was $302 billion, compared to $237 billion for that in renewable energy capacity, excluding large hydro developments.
The top seven countries for renewable electricity capacity, excluding large hydro: China, the United States, Germany, Spain, Italy, India and Japan, accounted for about 70 percent of total non-hydro renewable capacity worldwide.
At least 118 countries, more than half of which are developing countries, had renewable energy targets in place by early 2012, up from 96 one year before, although some slackening of policy support was seen in developed countries. This weakening reflected austerity pressures, particularly in Europe, and legislative deadlock in the U.S. Congress.
Calling this an important moment for strategic policymaking as winners in the new economy form and solidify, Professor Dr. Steffens of the Frankfurt School of Finance & Management said today, "Renewables are starting to have a very consequential impact on energy supply, but we're also witnessing many classic symptoms of rapid sectoral growth – big successes, painful bankruptcies, international trade disputes and more."
Faced with plunging green energy technology prices and economic austerity measures, many governments slashed their renewable energy subsidies and allowed other support schemes to expire. The result was a succession of company failures and factory closures in 2011-2012, including five significant solar manufacturers in the United States and Germany.
"We are entering a fascinating period, with clean energy's costs starting to be competitive with fossil fuels," said Liebreich of Bloomberg New Energy Finance, who compared today's renewable energy sector to the early automotive industry.
"In 1903, the United States had over 500 car companies, most of which quickly fell by the wayside even as the automobile sector grew into an industrial juggernaut," Liebreich said. "A century ago, writing off the auto industry based on the failures of weaker firms would have been foolish. Today, the renewable energy sector is experiencing similar growing pains as the sector consolidates."
"The challenge for policy-makers is to reduce support mechanisms at just the right pace," he said, "too fast and the long-term future of the industry will be harmed. Too slow and you do the world's taxpayers and energy consumers a great disservice."
Copyright Environment News Service (ENS) 2012. All rights reserved.