Global Map Tracks Diseases at the Animal-Human Interface
VIENNA, Austria, February 9, 2011 (ENS) – A real-time, open-access map that tracks emerging infectious diseases moving between wildlife and people was introduced at this week's International Meeting on Emerging Diseases and Surveillance in Vienna.
From swine flu in North Carolina to anthrax in Croatia; from bird flu in Hong Kong to hantavirus in Chile – diseases that can jump from animals to humans, called zoonotic diseases, are mapped for easy reference in seven languages at HealthMap.org.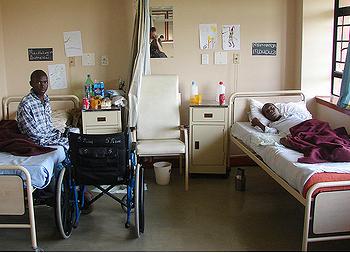 AIDS patients in Kwazulu-Natal, South Africa (Photo by jorisz)
HealthMap.org uses an automated process to monitor more than 50,000 web sources an hour, such as online news aggregators like Google News, eyewitness reports, expert-reviewed online discussions, and official reports from agencies such as the World Health Organization.
The map integrates the field surveillance activities of PREDICT, a global early warning system created in 2009 to anticipate and prevent emerging infectious diseases through identification of possible pathogenic threats as part of the United States Agency for International Development's Emerging Pandemics Threats Program.
These data are combined with the results of emerging disease risk modeling by EcoHealth Alliance, which then helps implement and modify PREDICT surveillance activities at interfaces where wildlife and humans come together, such as the wildlife trade and wild animal hunting.
All these sources provide the data for HealthMap.org.
"HealthMap.org works around the clock to monitor, organize, filter, visualize, and disseminate online information to more than a million users worldwide in nine languages," said Dr. John Brownstein of Harvard Medical School and co-founder of HealthMap.org.
Among the 1,461 pathogens recognized to cause diseases in humans, at least 60 percent are of animal origin, according to PREDICT. Outbreaks of these animal-to-human diseases include:
The 1918 influenza pandemic, which was probably caused by a virus that jumped from birds, killed over 50 million people globally
The human immunodeficiency virus (HIV), which moved from chimpanzees to people, and now infects more than 33 million individuals
Severe acute respiratory syndrome (SARS), which emerged in 2003 from southern China "wet markets" where live wild animals are sold for food
Outbreaks of avian influenza H5N1, or "bird flu," and the H1N1 influenza, or "swine flu"
"HealthMap.org helps us monitor outbreaks wherever they occur so that we can target more intensive surveillance to detect emerging pathogens before they spread widely among people and animals, giving us the best chance to prevent new pandemics," said Jonna Mazet, director of the PREDICT project and the One Health Institute in the University of California, Davis School of Veterinary Medicine.
Other PREDICT partners include EcoHealth Alliance, one of the organizations to share a $75 million dollar award from USAID with the goal of predicting and preventing the next emerging zoonotic disease.
Additional partners are Global Viral Forecasting Inc., the Smithsonian Institution, Harvard Medical School and Harvard Children's Hospital, Children's Hospital Boston, Yale University, ProMED and Praecipio.
The Wildlife Conservation Society, based at the Bronx Zoo, is one of the institutions implementing PREDICT. WCS conducts research on the international illegal trade in wildlife and wildlife parts and the role this trade may play in the spread of infectious diseases.
It is estimated that billions of plants, wild animals, and wildlife products are legally or illegally traded for food, the pet trade, and other uses every year.
More than one billion kilograms of animal meat, known as bushmeat, is traded each year in Central Africa alone.
"Increase in logging, deforestation, and bushmeat hunting favors the transmission of new parasites to humans from gorillas and vice versa," says Endangered Species International, a nonprofit organization with offices in the United States, Switzerland and Republic of Congo.
Bushmeat is smuggled into the United States and Europe to satisfy the demands of some African cultural groups. Antelope, giraffe, elephant, bat, cane rat, gorilla or chimpanzee meat may be eaten on holidays or for reputed medicinal benefits, but the meat may carry pathogens that can infect humans.
"HealthMap.org is a tremendous innovation in web-based tools that monitors and disseminates critical information on the emergence of pathogens to health officials around the world," said Dr. Robert Cook, executive vice president and general director of Wildlife Conservation Society's Living Institutions.
"HealthMap.org enables the global health community and society at large to be better prepared for when the next disease emerges," he said.
Dr. Damien Joly, WCS associate director of wildlife health monitoring and epidemiology, said at the IMED meeting, "This innovative resource enables governments and allied organizations worldwide to implement a more holistic approach to detecting emerging diseases. This integrative One World-One Health approach is critical to our ability to combat new disease pathogens as they arise."
Copyright Environment News Service (ENS) 2011. All rights reserved.