Global Forest Restoration Plan Could Protect Climate, Create Jobs
BONN, Germany, September 8, 2011 (ENS) – Former Swedish Prime Minister Goran Persson is poised to lead a new global effort to restore trees to millions of hectares where forests once flourished.
The Bonn Challenge to restore 150 million hectares of degraded and deforested lands by 2020 was launched last week at a meeting of government officials, business leaders, and international forest experts in Bonn in support of the 2011 International Year of Forests.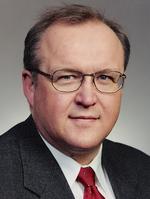 Goran Persson was Prime Minister of Sweden 1996-2006 (Photo courtesy Government of Sweden)
At the meeting, Persson introduced a new Global Restoration Council that will help galvanize action for forest and landscape restoration and build support to achieve the 150 million hectare restoration target.
The Bonn Challenge event was co-hosted by German government and the International Union for Conservation of Nature, in collaboration with the Global Partnership on Forest Landscape Restoration.
The conference was part of the overall engagement of the German Environment Ministry in support of the UN Convention on Biological Diversity and the UN Framework Convention on Climate Change.
The new Global Restoration Council will be facilitated by the IUCN and the World Resources Institute, a Washington, DC think-tank where Persson is a member of the board of directors.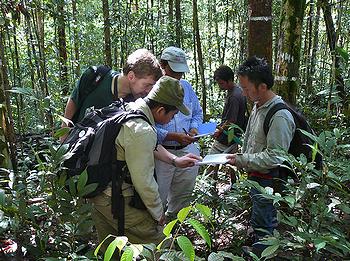 Planning for forest restoration in East Kalimantan, Indonesia (Photo by Douglas Sheil courtesy CIFOR)
"Restoring 150 million hectares of degraded lands represents an exciting and largely untapped opportunity to create more jobs and economic growth, while also protecting our climate," said Persson.
New analysis by IUCN estimates that restoring 150 million hectares (about 579,000 square miles) would be worth a total of US$85 billion per year to national and global economies.
"I am delighted to be announcing this new Council to raise attention and generate action to strengthen our forests, our economies, our climate, and our lives," Persson said. "I look forward to working with world leaders, businesses, and other colleagues in an effort that will send a strong signal that forest and land restoration must be pursued globally."
The Bonn Challenge builds on a new global assessment showing that more than two billion hectares (7.72 million square miles) of the world's deforested and degraded lands are available for restoration – an area about half the size of Asia.
This assessment, carried out by World Resources Institute, the South Dakota State University, and IUCN on behalf of the Global Partnership on Forest Landscape Restoration, nearly doubles the previous estimate.
The increase reflects improvements in the precision of mapping zones where climate and soils allow forests to grow.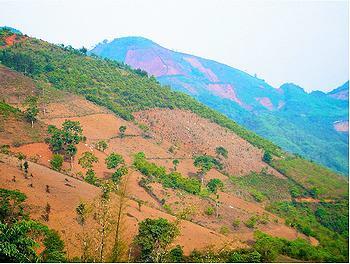 Patchwork mountain landscape of agriculture, forestry, and deforested terrain. Guangxi Zhuang Autonomous Region, China. (Photo by Nick Hogarth courtesy CIFOR)
Restoring 150 million hectares of land would help implement the Convention on Biological Diversity's Target 15, which calls for the restoration of at least 15 percent of degraded ecosystems by 2020.
At the global scale, tropical deforestation is estimated to contribute between 15 and 20 percent of global greenhouse emissions. To counteract this deforestation, the international community is planning a financial incentive mechanism to conserve tropical forests by compensating countries for reducing tropical deforestation and forest degradation.
The financial incentive system is the UN's Collaborative Programme on Reducing Emissions from Deforestation and Forest Degradation in developing countries, usually called REDD-Plus or REDD+.
REDD+ will form part of the future climate framework under the UN Framework Convention on Climate Change.
Achieving the restoration of 150 million hectares of degraded and deforested lands by 2020 would help to achieve the REDD+ goal of forest conservation to protect the climate.
"The restoration of lost forests will increase carbon stocks and result in healthy and resilient ecosystems, which will provide the multiple goods and services people need, and lead to an increase in biodiversity," says Ashok Khoshla, president of IUCN, which acts as coordinator of the Global Partnership on Forest and Landscape Restoration.
Launched in 2003 by IUCN, WWF and the Forestry Commission of Great Britain, the Global Partnership on Forest and Landscape Restoration has now attracted more than 25 governments and international and nongovernmental organizations, including the governments of China, El Salvador, Finland, Ghana, Italy, Japan, Kenya, Lebanon, the Netherlands, South Africa, Switzerland, United Kingdom and the United States.
Copyright Environment News Service (ENS) 2011. All rights reserved.