Global Climate Change Risk Rising: More Heat, Floods, Extreme Weather
KAMPALA, Uganda, November 18, 2011 (ENS) – "It is virtually certain that on a global scale hot days become even hotter and occur more often," warns a new report for policymakers on managing the risks of extreme events and disasters resulting from climate change. The report linking climate change with current trends in extreme weather was approved Thursday in Kampala by climate scientists working with the UN's Intergovernmental Panel on Climate Change, IPCC, and released today.
Climate change resulting from human activities is partly responsible for the extreme weather patterns sweeping the planet that are likely to intensify in the future, says the report by 220 authors from 62 countries.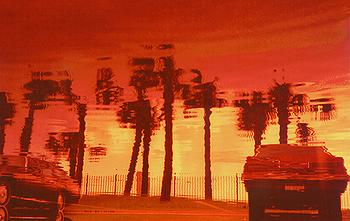 Heat waves are projected to increase around the world. (Photo by evinoryan88)
Among trends considered most likely are more warm and fewer cold daily temperature extremes. With 90 to 100 percent confidence, the scientists said it is "very likely" that the length, frequency and/or intensity of warm spells, including heatwaves, will increase over most land areas.
It is also "very likely" that rising mean sea levels will contribute to upward trends in extreme coastal high water levels worldwide.
With 66-100 per cent confidence, the report notes a "likely" increase in the frequency of heavy precipitation events throughout the 21st century over many areas of the planet, particularly in tropical and high latitude areas, but with strong regional variation.
There is "medium confidence" among the authors that some regions of the world have experienced more intense and longer droughts, in particular in southern Europe and West Africa. But in other regions, including central North America and northwestern Australia, droughts have become less frequent, less intense or shorter, the report finds.
"This summary for policymakers provides insights into how disaster risk management and adaptation may assist vulnerable communities to better cope with a changing climate in a world of inequalities," said Dr. Rajendra Pachauri, who chairs the IPCC.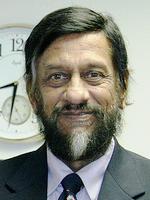 Dr. Rajendra Pachauri (Photo courtesy U.S. Embassy New Delhi, India)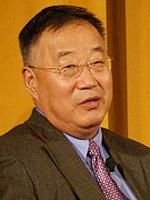 Dr. Qin Dahe (Photo courtesy CSTPP)
"It also underlines the complexity and the diversity of factors that are shaping human vulnerability to extremes – why for some communities and countries these can become disasters whereas for others they can be less severe," Pachauri said.
"There is high confidence that both maximum and minimum daily temperatures have increased on a global scale due to the increase of greenhouse gases," said Qin Dahe, former director of the China Meteorological Administration and co-chair of IPCC Working Group I on the science of climate change.
"Changes in other extremes, such as more intense and longer droughts are observed in some regions," said Qin, "but the assessment assigns medium confidence due to a lack of direct observations and a lack of agreement in the available scientific studies."
"Confidence in any long-term trend in tropical cyclone intensity, frequency or duration is assessed to be low," said Qin.
Qin is a glaciologist and the first Chinese national ever to cross the South Pole. He was a member of the 1989 International Cross South Pole Expedition and has published numerous groundbreaking articles, using evidence gathered from his Antarctic expeditions.
Thomas Stocker, the other co-chair of Working Group I, said, "For the high emissions scenario, it is likely that the frequency of hot days will increase by a factor of 10 in most regions of the world."
"Likewise, heavy precipitation will occur more often, and the wind speed of tropical cyclones will increase while their number will likely remain constant or decrease," said Stocker, who is a professor of climate and environmental physics with the Physics Institute, University of Bern, Switzerland.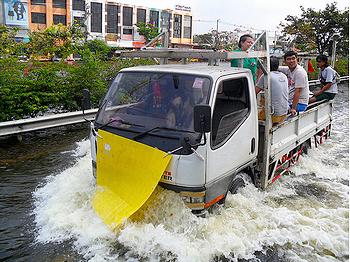 Flooded Bangkok, November (Photo by Yo Yo Man)
IPCC Working Group II, which deals with climate change impacts, adaptation and vulnerability, was equally responsible for the development and preparation of the report with Working Group I.
Working Group II is co-chaired by Vicente Barros of the University of Buenos Aires, Argentina, and Christopher Field, founding director of the Carnegie Institution's Department of Global Ecology and professor of biology and environmental Earth system science at Stanford University, California, USA.
Said Dr. Field, "We hope this report can be a scientific foundation for sound decisions on infrastructure, urban development, public health, and insurance, as well as for planning—from community organizations to international disaster risk management."
Dr. Barros said, "There are many options for decreasing risk. Some of these have been implemented, but many have not. The best options can provide benefits across a wide range of possible levels of climate change."
The authors expressed high confidence that economic losses from weather-related and climate-related disasters have increased, but with large variability between years. Economic losses from disasters are largest in developed countries, but fatality rates and economic losses as a proportion of GDP are highest in developing countries.
"The IPCC report is further confirmation for investors not just of the reality of climate change but of the urgent need to hedge against the growing risk of devastating climate events in many parts of the world," said Kevin Parker, global head of Deutsche Asset Management. "This is becoming easier to do thanks to the increasing availability of more sophisticated analytical tools and strategies to enable investors to take action. The key now is to raise investor awareness of the problem, which this report will certainly help to do."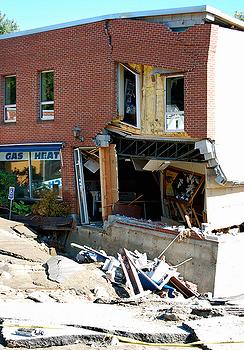 Damage from Hurricane Irene, Woodstock, Vermont (Photo by mtb20)
The report concludes that existing measures, even in developed countries, are not enough to cope with the severity of these climate events.
"The world has entered a deadly new age where today's extreme weather events are likely to become the norm," said Margareta Wahlström, the UN Secretary-General's Special Representative for Disaster Risk Reduction.
"Those who are already vulnerable to hunger and malnutrition, living without access to clean water and sanitation, and living in informal settlements have the least capacity to cope and adapt," she said. "The IPCC special report is a plea to governments worldwide to ensure that disaster risk reduction is at the heart of sustainable development during this century of climate change."
The report concludes that increasing exposure of people and economic assets has been the major cause of observed long-term increases in economic losses from weather-related and climate-related disasters to date.
With "high agreement" among the authors, the report advises that governments can take action now to implement "low-regrets measures" as starting points for addressing projected trends in exposure, vulnerability and climate extremes.
Potential low-regrets measures include early warning systems; risk communication between decision makers and local citizens; sustainable land management, including land use planning; and ecosystem management and restoration.
Other low-regrets measures include improvements to health surveillance, water supply, sanitation, and irrigation and drainage systems; climate proofing of infrastructure; development and enforcement of building codes; and better education and awareness.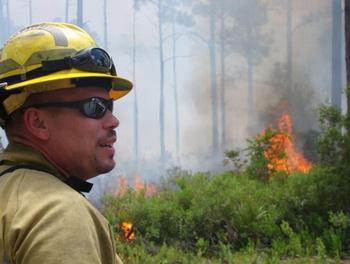 Firefighter at a wildfire in Georgia that burned over 300,000 acres, May 2011 (Photo by Sallie Gentry USFWS)
These measures can offer benefits now and lay the foundation for addressing projected changes. Many of these low-regrets strategies produce co-benefits, help address other development goals, such as improvements in livelihoods, human well-being, and biodiversity conservation, and help minimize the scope for maladaptation.
With "high confidence" the authors advise that effective risk management generally involves a portfolio of actions to reduce and transfer risk and to respond to events and disasters, as opposed to a singular focus on any one action or type of action. Such integrated approaches are more effective when they are informed by and customized to specific local circumstances, the authors agree.
They point to successful strategies that include a combination of hard infrastructure-based responses and soft solutions such as individual and institutional capacity building and ecosystem-based responses.
The "Special Report on Managing the Risks of Extreme Events and Disasters to Advance Climate Change Adaptation" (SREX) is the culmination of over three years work by the Working Groups, who assessed thousands of pages of relevant literature.
"The ability of the world to become more climate-resilient will largely depend on the speed with which emissions can be decreased, and the extent to which the poor and vulnerable populations in developing countries are provided with necessary finance and technology to adapt to the inevitable," said Christiana Figueres, executive secretary of the UN Framework Convention on Climate Change, which is hosting the annual UN climate summit in Durban, South Africa from November 28.
To keep track of developed countries' financial support developing countries' efforts to reduce greenhouse gas emissions, the UNFCC launched today an online portal that allows governments, institutions and individuals to access information on these contributions, making the process more transparent.
Developed countries pledged to give $30 billion between 2010 and 2012 to help developing countries tackle climate change, a commitment that was reiterated at the 2010 UN climate summit in Cancun, Mexico.
Copyright Environment News Service (ENS) 2011. All rights reserved.