Global Climate Change Deal Reached in Durban
DURBAN, South Africa, December 11, 2011 (ENS) – As dawn broke over Durban this morning, climate negotiators agreed to launch a new legally-binding treaty limiting greenhouse gas emissions that would apply to all 194 member governments of the UN Framework Convention on Climate Change. They also approved a second commitment period for the existing Kyoto Protocol and the launch of the Green Climate Fund.
The final package of agreements, known as the Durban Platform, was reached after intense negotiations that extended until 5 am this morning, more than a day past the official end of conference.
UN Secretary-General Ban Ki-moon today welcomed the outcome, saying these decisions represent "a significant agreement that will define how the international community will address climate change in the coming years.
"Taken together, these agreements represent an important advance in our work on climate change," Ban said, calling on countries to "quickly implement these decisions and to continue working together in the constructive spirit evident in Durban."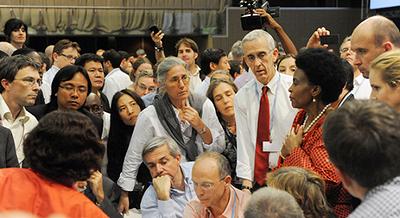 Delegates in Durban negotiate in an informal group, including U.S. head of delegation Todd Stern (red tie), and UK Energy Secretary Chris Huhne (chin on hand) December 10, 2011 (Photo courtesy Earth Negotiations Bulletin)
The new "agreed outcome with legal force" covering all countries must be negotiated by 2015 and take effect by 2020 at the latest.
It must ensure that countries take measures sufficient to meet the goal agreed at last year's climate conference of keeping global temperature rise below two degrees Celsius over pre-industrial levels, which many scientsts say could avert the worst impacts of climate change.
Work on this instrument will start immediately under a new group called the Ad Hoc Working Group on the Durban Platform for Enhanced Action.
Ban praised the agreement to establish a second commitment period of the Kyoto Protocol from January 1, 2013, the day after the first commitment period expires. He said it will "increase certainty for the carbon market and provide additional incentives for new investments in technology and the infrastructure necessary to fight climate change."
Parties to this second period will turn their economy-wide targets into quantified emission limits or reduction targets and submit them for review by May 1, 2012.
"This is highly significant because the Kyoto Protocol's accounting rules, mechanisms and markets all remain in action as effective tools to leverage global climate action and as models to inform future agreements," said Christiana Figueres, executive secretary of the UN Framework Convention on Climate Change.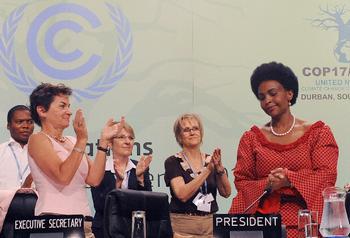 Durban conference President Maite Nkoana-Mashabane, South Africa's foreign minister, is given a standing ovation just before the final gavel. (Photo courtesy ENB)
Countries also agreed to implement the Cancun Agreements, which were created at last year's conference in Mexico. The new measures include setting up a Technology Mechanism that will promote access by developing countries to clean, low-carbon technologies, and establishing an Adaptation Committee that will coordinate adaptation activities on a global scale.
Ban applauded the launch of the Green Climate Fund and said he was gratified that a number of countries signalled their intent to contribute to it. The Fund was created last year to help developing nations protect themselves from climate impacts and build their own sustainable futures, but had not been launched. Ban had urged developed countries throughout the two-week conference to inject the necessary capital to kick-start it.
"This means that urgent support for the developing world, especially for the poorest and most vulnerable to adapt to climate change, will also be launched on time," said Figueres.
Achim Steiner, executive director of the UN Environment Programme, is encouraged by the agreements but said the real-world impact on the planet's climate is still uncertain.
"The big question many will ask is how this will translate into actual emission reductions and by when?" Steiner said. "Whatever answer will emerge in the coming months, Durban has kept the door open for the world to respond to climate change based on science and common sense rather than political expediency."
The latest "Bridging the Emissions Gap" report, coordinated by UNEP with climate modeling centers around the world, emphasized in November that the best available science shows that global greenhouse gas emissions need to peak before 2020.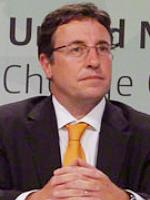 UNEP head Achim Steiner in Durban (Photo courtesy ENB)
The key question of the Durban outcome, said Steiner, is whether what has been decided will match the science and lead to a peaking of global emissions before 2020 to maintain the world on a path to keep a temperature increase below two degrees Celsius.
The United States has not signed on to the Kyoto Protocol, concerned that it does not cover high-emitting developing countries such as China and India. A big question in Durban was whether the United States, China and India would agree to be legally bound to limit their greenhouse gas emissions. In the final vote, all three countries did agree.
Although the Durban Platform sets the stage for a legally-binding agreement that does cover all countries, the U.S. supported it only reluctantly.
U.S. Climate Envoy Todd Stern told delegates, "This is a very significant package. None of us likes everything in it. Believe me, there is plenty the United States is not thrilled about." But he said the agreement formalizes important advances that would fall by the wayside if it had been rejected.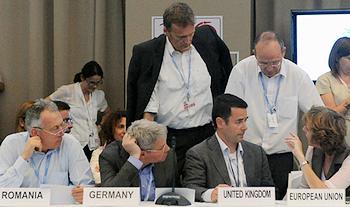 European Union delegates listen to EU Climate Commissioner Connie Hedegaard, far right, December 8, 2011 (Photo courtesy ENB)
"We made it. EU's strategy worked. We got a roadmap that marks a breakthrough for international fight against climate change," tweeted EU Climate Commissioner Connie Hedegaard of Denmark, who chaired the 2009 UN climate conference in Copenhagen.
On Saturday, as the talks went into overtime, Hedegaard said of the intense pressure to reach agreement, "Finally we are getting to the crunch issues. And making progress. The time pressure is almost physically felt in the room. Nerve-breaking!"
Xie Zhenhua, head of the Chinese delegation, said, "The implementation of the Cancun Agreements and the Durban Outcome will not be achieved in a short run. A heavy load of work ahead on the post-2020 arrangement needs to be done in order to enhance the implementation of the Convention."
"The lack of political will is a main element that hinders cooperation on addressing climate change in the international community," he said. "We expect political sincerity from developed countries next year in Qatar."
The world's largest environmental group, the International Union for the Conservation of Nature, expressed optimism over the progress made in Durban.
Stewart Maginnis, IUCN's director of environment and development, said, "We had anticipated that Durban would be where the developed world would raise the bar on their current ambitions and all countries would purposefully commit to the development of a credible roadmap for deep and wide ranging targets for the comprehensive reduction of greenhouse gas emissions. This has been achieved, and steps have been laid out for a new agreement to be put in place by 2015."
"A new spirit of compromise spanning the developed and developing countries is an encouraging step forward," said Maginnis.
But other environmental groups warned that the Durban Platform is just another delay of effective climate action.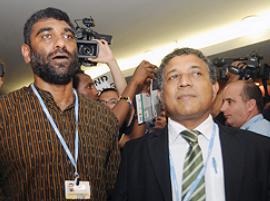 Greenpeace head Kumi Naidoo, left, with Maldives Environment Minister Mohamed Aslam, December 9, 2011 (Photo courtesy ENB)
Greenpeace International Executive Director Kumi Naidoo said, "The grim news is that the blockers led by the U.S. have succeeded in inserting a vital get-out clause that could easily prevent the next big climate deal being legally binding. If that loophole is exploited it could be a disaster. And the deal is due to be implemented 'from 2020' leaving almost no room for increasing the depth of carbon cuts in this decade when scientists say we need emissions to peak."
"Right now the global climate regime amounts to nothing more than a voluntary deal that's put off for a decade," said Naidoo. "This could take us over the two degree threshold where we pass from danger to potential catastrophe."
Samantha Smith, leader of WWF's global climate and energy initiative said, "Governments did just enough to keep talking, but their job is to protect their people. They failed to do that here in Durban today. Science tells us that we need to act right now – because the extreme weather, droughts and heat waves caused by climate change will get worse."
"Some countries here, like the United States, showed they were not interested in supporting an ambitious outcome in Durban. The U.S. – afraid of the politics at home – fought over a few words, but missed the bigger story: limiting dangerous climate change," Smith said.
"Overall, the responsibility for this lies with a handful of entrenched governments – like the U.S., Japan, Russia, and Canada – who have consistently resisted raising the level of ambition on climate change. This is what brought us to this point.
"It is clear today that the mandates of a few political leaders have outweighed the concerns of millions, leaving people and the natural world we depend on at risk," said Smith. "Catastrophe is a strong word but it is not strong enough for a future with four degrees of warming."
The next annual UNFCCC Climate Change Conference is scheduled for November 26 through December 7, 2012 in Qatar.
Copyright Environment News Service (ENS) 2011. All rights reserved.