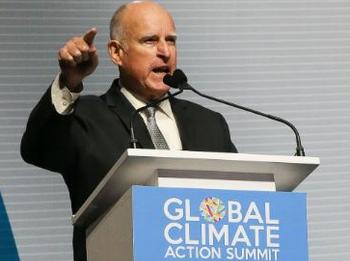 SAN FRANCISCO, California, September 14, 2018 (ENS) – In closing remarks at the Global Climate Action Summit, California Governor Jerry Brown today announced that the State of California is joining with San Francisco-based Earth imaging company Planet Labs to develop and launch a satellite to track climate change-causing pollutants and help reduce these destructive emissions.
"With science still under attack and the climate threat growing, we're launching our own damn satellite," said Governor Brown. "This groundbreaking initiative will help governments, businesses and landowners pinpoint – and stop – destructive emissions with unprecedented precision, on a scale that's never been done before."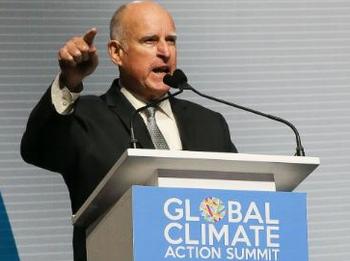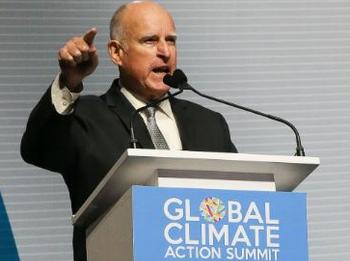 Global leaders from across the private sector, local government and civil society are in San Francisco this week to showcase progress, unveil new climate commitments and to launch new platforms to work in partnership across sectors to accelerate implementation of the Paris Climate Accord.
The Global Climate Action Summit runs from September 12 to 14 in many venues across San Francisco, under the theme Taking Ambition to the Next Level.
To keep warming well below 2°, and ideally 1.5 degrees C – temperatures that could lead to catastrophic consequences – worldwide emissions must start trending down by 2020.
The Summit will showcase climate action around the world, along with bold new commitments, to give world leaders the confidence they need to go even further by 2020 to meet the Paris Climate Agreement goals.
The Summit's five headline challenge areas are Healthy Energy Systems; Inclusive Economic Growth; Sustainable Communities; Land and Ocean Stewardship and Transformative Climate Investments.
Many partners are supporting the Summit and the mobilization in advance including Climate Group; the Global Covenant of Mayors; Ceres; the C40 Cities Climate Leadership Group; BSR; We Mean Business; CDP, formerly the Carbon Disclosure Project; WWF; and Mission 2020.
The Global Climate Action Summit – the first ever designed exclusively for businesses, sub-national governments, and local leaders – sets the stage for the greater action needed by 2020 from all actors – from national governments within their national climate action plans, and from even more cities, states, businesses, and local communities around the world.
China Gets a Warm Welcome
Helping kick off the Global Climate Action Summit, California Governor Edmund G. "Jerry" Brown led his state's delegation at the Under2 Coalition General Assembly and welcomed new signatories to the California-led coalition, which now represents 17 percent of the global population and 43 percent of the global economy.
Governor Brown also welcomed China's 120-plus attendees – the largest country delegation at the event. "China has taken this global summit very, very seriously and we hope to build on that in the months and years ahead as California, the U.S. and China, and Jiangsu Province in particular, work ever more closely to combat climate change," said Brown at the opening of the China Pavilion at the Summit.
"Let's leave this Summit more committed than ever to get to – not low-carbon, zero-carbon, and then minus carbon – a prosperous world for all," said Brown in welcoming China's top environmental officials and representatives from Chinese provinces, cities, business and civil society at the opening ceremony of the China Pavilion, which showcases China's progress on its climate goals."
Governor Brown held a bilateral meeting with Vice Governor Miao Ruilin of Jiangsu Province – California's sister-state and one of the first provinces in China to join the Under2 Coalition – to discuss agreements signed by the Governor in Nanjing last year and in 2013 to expand cooperation on areas including climate, clean energy and technology.
Governor Brown also renewed climate agreements signed with China in 2013 and 2015 – with then-National Development and Reform Commission Vice Chairman Xie Zhenhua, currently leading the Chinese delegation at the Global Climate Action Summit as China's Special Representative for Climate Change.
The agreement signed Wednesday seeks to enhance cooperation between California and China on programs that mitigate carbon emissions and short-lived climate forcers, implement carbon emissions trading systems, share clean energy technologies, strengthen low-carbon development and other initiatives.
Indigenous People Make Their Voices Heard
On Monday, hundreds gathered outside the site of the Governors' Climate and Forest Task Force meeting leading up to the Global Climate Action Summit.
From the Indigenous and Frontline communities organizing this protest, "People of the world are being led astray by polluting industries and elected officials promoting climate capitalist systems like carbon trading and carbon tax shell games. These systems do nothing to stop the fossil fuel industry from continuing to cause climate disruption. They allow the fossil fuel industry to continue to harm Indigenous people and communities around the world from extraction to transport to refining."
"Today hundreds helped us demand that our Indigenous representatives from tribes and organizations that are resisting cap and trade schemes, and instead promoting real solutions be allowed to address the Governor's Climate and Forests Task Force at the Parc 55 Hotel. Their voices were heard and they were given a chance to speak the truth [of] the tribal groups being courted by those promoting carbon trading in the place of real solutions to climate change."
On Thursday, Indigenous communities sent Governor Brown and those attending the summit the message – stand with communities, not the climate profiteers and the fossil fuel industry.
Thursday's action began at Jessie Park with a march to Moscone Center, the site of the summit. In a return appearance, the group 1000 Grandmothers Bay Area blocked intersections to create a safe space for the protesters outside the summit.
The marchers are critical of Governor Brown. "Jerry Brown's promotion of continued fossil fuel production, carbon trading markets and other incentives to oil, gas and other polluting corporations, perpetuates climate change and decimates Indigenous communities and Native nations, communities of color and other working class peoples throughout California and around the world. Such perverse subsidies for 'climate capitalism' will turn frontline communities into sacrifice zones for decades to come," they said in a statement.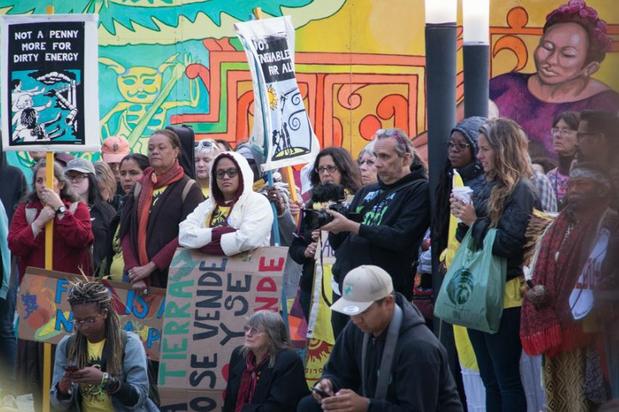 This week's actions have been organized by Idle No More SF Bay, Diablo Rising Tide, the Ruckus Society, It Takes Roots, Indigenous Environmental Network, the Sunflower Alliance, Brown's Last Chance, It Takes Roots, Indigenous Bloc at RISE Days of Action, and Indigenous Rising Media.
Food and Land Use Crucial to Climate Conservation
As a member of the Summit's Advisory Committee, the global nonprofit WWF is coordinating the 30X30 Forest, Food and Land Challenge. The initiative calls on businesses, states, city and local governments, and global citizens to take action for better forest and habitat conservation, food production and consumption, and land use, working together across all sectors of the economy to deliver up to 30 percent of the climate solutions needed by 2030.
WWF is working with partners to unveil new efforts and commitments at the high-level thematic dialogues on land stewardship on September 13, such as:
* – Science-based targets to reduce greenhouse gas emissions and increase sequestration in land-intensive supply chains;
* – Collaborations between multinational companies and local governments and communities to eliminate deforestation in vital ecosystems;
* – Institutional and chef-led programs to halve food loss and waste by 2030;
* – Major financing to help regional and local governments to promote more sustainable land use and restoration.
WWF and its partners in We Are Still In will unveil new commitments from American businesses, mayors, universities and other U.S. actors on September 12 at the We Are Still In Forum.
Since its launch in June 2017, We Are Still In has nearly tripled in size to include over 3,500 signatories, collectively representing more than 155 million Americans and $9.5 trillion in U.S. GDP.
"For too long, land has been the overlooked piece of the climate solution. When we improve the way we manage our land and improve our food systems, we can help reverse the impact of human-caused climate change and get closer to keeping warming below 1.5°C," said Manuel Pulgar-Vidal, leader of WWF's global climate and energy program, and Summit advisory committee member.
"National governments need to follow the pace set by private sector and local leaders this week, looking for opportunities to enhance the ambition of their national climate plans through improved land stewardship," he said.
The UN Framework Convention on Climate Change projects that current commitments made by the private sector and local government have the potential to halve the emissions gap between current trajectories and what is needed to stay below 2°C of planetary warming.
In the United States, for example, bottom-up progress can deliver half of what's needed to achieve the country's commitment to reduce its greenhouse gas emissions by 26-28 percent below the 2005 level in 2025.
"New targets from business and local leaders are a critical first step but alone they are not enough to transform our transportation, food and energy systems," said Lou Leonard, senior vice president of climate change and energy, WWF-US.
"To change our trajectory, this Summit must generate new partnerships and new ways of working. In the U.S., this model of radical collaboration is working through efforts like the We Are Still In coalition. Together, unusual partners across American society are coming together to implement their goals," enthused Leonard. "We can go further and reach higher by partnering across sectors of the economy to drive change."
Copyright Environment News Service (ENS) 2018. All rights reserved.
Environment News Service (ENS) © 2018 All Rights Reserved.