Global Clean Cookstoves Alliance Aims to Save Millions of Lives
NEW YORK, New York, September 21, 2010 (ENS) – "People have cooked over open fires and dirty stoves for all of human history, but the simple fact is they are slowly killing millions of people and polluting the environment," Secretary of State Hilary Clinton said today, as she announced the Global Alliance for Clean Cookstoves, a new public-private partnership led by the United Nations Foundation.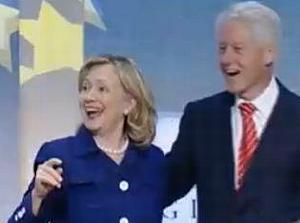 Secretary of State Hilary Clinton and former President Bill Clinton recognize friends in the audience at the Clinton Global Initiative event, September 21, 2010. (Image courtesy CGI)
Speaking at the annual Clinton Global Initiative at the Sheraton Towers in New York, Secretary Clinton said the new alliance is "a perfect CGI model of a public-private partnership that already includes governments such as the United States, Germany, Norway, and Peru, international development organizations and local NGOs, as well as foundations and private companies such as Morgan Stanley and Shell."
"Today we can finally envision a future in which open fires and dirty stoves are replaced by clean, efficient and affordable stoves and fuels all over the world – stoves that still cost as little as $25," said Clinton. "By upgrading these dirty stoves, millions of lives could be saved and improved. Clean stoves could be as transformative as bed nets or vaccines."
The partners aim to have 100 million households adopt clean cookstoves by 2020 with the long-term goal of universal adoption all over the world.
Clinton said the initial U.S. financial commitment to the Alliance is $50.82 million over the next five years. "Our partners have already contributed an additional $10 million, and we're working to raise more every day with the goal of reaching at least $250 million over 10 years," Clinton said.
She framed U.S. participation as part of the Obama administration's "new strategy for international development, which has elevated development alongside diplomacy and defense as the core pillars of American foreign policy."
About half of the world's population relies on indoor fires and inefficient cookstoves to prepare daily meals, causing severe health, economic, and environmental consequences.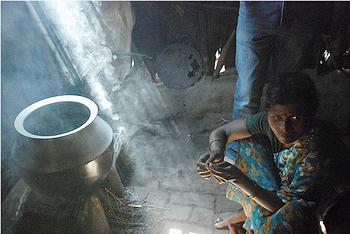 More than 400,000 people in India die each year from toxic fumes inhaled while cooking on open fires. (Photo courtesy Shell Foundation)
"As we meet here in New York, women are cooking dinner for their families in homes and villages around the world," said Clinton. "As many as three billion people are gathering around open fires or old and inefficient stoves in small kitchens and poorly ventilated houses. Many of the women have labored over these hearths for hours, often with their infant babies strapped to their backs, and they have spent many more hours gathering the fuel."
"The food they prepare is different on every continent, but the air they breathe is shockingly similar: a toxic mix of chemicals released by burning wood or other solid fuel that can reach 200 times the amount that our EPA considers safe for breathing," Clinton said. "As the women cook, smoke fills their lungs and the toxins begin poisoning them and their children."
The World Health Organization considers smoke from dirty stoves to be one of the five most serious health risks in poor, developing countries. Nearly two million people die from its effects each year, more than twice the number from malaria.
Daily exposure to the smoke leads to pneumonia, the number one killer of children worldwide, chronic respiratory diseases and lung cancer, Clinton said. Each year the effects of indoor smoke from wood and other basic fuels kill as many people as HIV/AIDS and more people than tuberculosis.
"And because the smoke contains greenhouse gases such as carbon dioxide and methane, as well as black carbon, it contributes to climate change," Secretary Clinton said.
Former President Bill Clinton said, "If you've ever been in a home where cooking was being done with an unsafe cookstove and you've choked up yourself, I don't have to tell you what a big deal this is."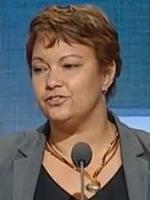 EPA Administrator Lisa Jackson (Image courtesy CGI)
EPA Administrator Lisa Jackson confided to the CGI audience, "This is a very personal issue for me. It's about poverty, the ultimate environmental justice issue."
Jackson, who is part African-American, grew up in New Orleans' low-income Ninth Ward. As EPA administrator she has worked to elevate environmental justice to a mainstream issue and said today that she cares deeply about the people who are exposed to toxic smoke in their homes while trying to cook for their families.
"We're starting a process that will help them meet the most basic human need – cooking and eating in a way that won't cause them harm. This work has the potential to have as great a reach as anything else I do as EPA administrator," said Jackson. "We are going to change the way the world cooks."
Jackson said EPA will invest $6 million over the next five years to enhance efforts at stove testing and evaluation, cookstove design innovation and assessments of health benefits.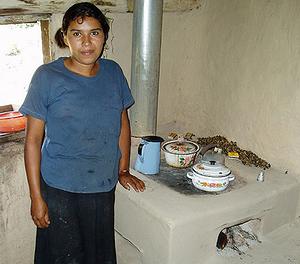 Eugenia Castro enjoys her new wood-conserving stove, La Laguna, Honduras. (Photo courtesy Sustainable Harvest)
Energy Secretary Steven Chu said, "As part of the cookstoves alliance, the Department of Energy is lending our scientific and technical resources to develop practical solutions that are clean, safe and affordable. Pursuing concrete steps towards more efficient stoves makes good financial sense, good public health sense and good environmental sense."
The United Nations Environment Programme is an Alliance founding partner and today UNEP Executive Director Achim Steiner said the clean cookstoves initiative will help reduce deforestation by curbing the large quantities of wood used to make charcoal, and by households switching to alternative fuels such as solar energy.
"In addition to meeting the health targets of the Millennium Development Goals, especially among women and children who are often the most exposed to indoor air pollution, the Alliance may have wider and indeed global benefits," said Steiner, speaking at UN Headquarters in New York where a high-level summit on achieving the goals by 2015 is underway.
"Inefficient cooking stoves are estimated to be responsible for approximately 25 percent of emissions of black carbon, particles often known as soot, of which 40 percent is linked to wood burning."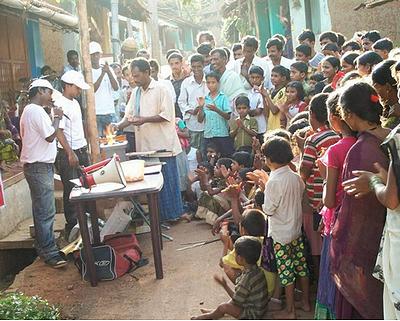 Clean cookstove awareness activities in Shimoga, Karnataka, India include van campaigns that visit every village and town with a population of 2,000 or more to demonstrate the stoves. August 8, 2010 (Photo courtesy Shell Foundation)
Steiner said black carbon is responsible for up to 40 percent of current climate change, accelerating melting rates of glaciers in mountain ranges such as the Himalayas, as the dark particles absorb sunlight and raise ice temperatures. He blamed black carbon for the dimming of cities in polluted parts of the world and for reducing sunlight available to grow crops, with implications for poverty and for combating hunger under the Millennium Development Goals.
"Energy is the essential enabler of the Millennium Development Goals," said United Nations Foundation President Timothy Wirth. "Broader access to electricity and modern fuels doesn't just provide light or move machinery. It powers education, health care, and prosperity, and through sustainable technologies, such as solar panels and clean and efficient cookstoves, lives are saved and our environment protected."
"Cooking a meal shouldn't be hazardous to your health," Wirth said. "Cookstoves that reduce fuel consumption and operate cleanly will save lives, prevent disease, provide more time for women and girls to devote to schooling and earn money and reduce environmental degradation. That addresses almost all of the MDGs."
Alliance founding partner financial services firm Morgan Stanley will fund a study of the health impacts for children when low-emission biomass cookstoves are used.
"While the harmful and tragic effects of traditional cookstoves have long been known, we believe the right conditions are in place to address this problem more effectively than ever before," said Audrey Choi, head of Global Sustainable Finance at Morgan Stanley.
"For 10 years we have been helping to deliver market-based solutions to selling clean cookstoves in India, China, Central America and Africa. The sector has made great progress," said Shell Foundation Director Chris West. Still, he said, "Stove manufacturers face numerous barriers to successfully selling clean cookstoves at scale, and just like any infant industry they need support to address those barriers."
Alliance partners will develop a business plan to address the prerequisites for large-scale adoption of clean cookstoves, identify target markets, overcome market barriers to production, deployment, and use of clean cookstoves, and implement a strategy emphasizing women's participation and market-based solutions.
Alliance Founding Partners:
Deutsche Gesellschaft fur Technische Zusammenarbeit (GTZ) GmbH
German Federal Ministry for Economic Cooperation and Development
Government of Norway
Government of Peru
Morgan Stanley
Shell Foundation
SNV: Netherlands Development Organisation
U.S. Agency for International Development
U.S. Department of Energy
U.S. National Institutes of Health
U.S. Centers for Disease Control and Prevention
U.S. Department of State
U.S. Environmental Protection Agency
UN Environment Programme
UN High Commissioner for Refugees
UN Industrial Development Organization
UN-Energy
UN World Food Programme
United Nations Foundation
World Health Organization
Copyright Environment News Service (ENS) 2010. All rights reserved.
Environment News Service (ENS) © 2010 – 2012 All Rights Reserved.