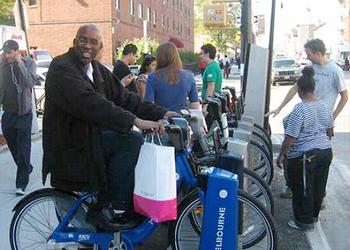 WASHINGTON, DC, April 25, 2013 (ENS) – More than 500 cities in 49 countries host advanced bike-sharing programs, with a combined fleet exceeding 500,000 bicycles, finds new research from the nonprofit Earth Policy Institute, released today.
Paris' landmark Vélib' program, which was launched in 2007, now has company as cities around the world turn to bike sharing.
Distributed networks of public bicycles are used for short trips to enhance mobility, alleviate automotive congestion, reduce air pollution, boost health, support local businesses, and attract more young people.
In the United States, more than two dozen cities have active public bike-sharing programs, including Washington, DC, Minneapolis/St. Paul, Boston, Miami Beach, Denver, Madison, and Ft. Worth.
In the District of Columbia and surrounding cities, for instance, Capital Bikeshare makes over 1,800 bicycles available. Cyclists can choose a bike from any of the 200+ stations across Washington, DC, or Arlington and Alexandria, Virginia and return it to any station near their destination.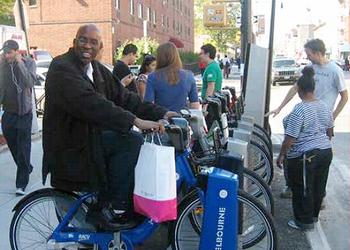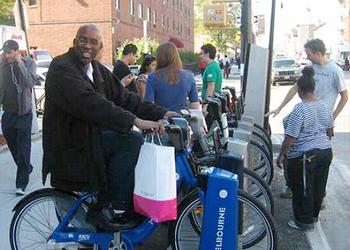 Earth Policy Institute Director of Research Janet Larsen points out that the number of American bike-sharing cities is set to double in the next couple years as large programs roll out in New York, Chicago, Los Angeles, Long Beach, San Diego, and San Francisco, among others.
New York City will become the nation's biggest program, though at an ultimate 10,000 bikes, it pales in comparison with the mega-programs in China that boast up to 90,000 bikes.
Choosing sites for 600 bike share stations across a wide area of Manhattan, Brooklyn and Queens has been one of the most participatory planning processes ever undertaken in the City of New York.
The process included 400 meetings and a website that received over 10,000 suggestions and 55,000 clicks of support for station locations.
On April 8, the New York City Department of Transportation released "NYC Bike Share: Designed by New Yorkers," a report on the long-term public dialog that helped shape the system. The report includes a detailed project history, photos, timelines and an appendix of workshop materials and planning partners.
Citi Bike opens in May. Cyclists can purchase passes to the system. There are three options: a 24-Hour Pass for $9.95, a 7-Day Pass for $25, or an Annual Membership for $95. All include unlimited short trips but charge steep fees for overtime use.
Bike ridership has grown fourfold in the last 10 years and biking is the city's fastest growing transportation option for New Yorkers looking for a fast, safe, convenient and affordable way to get around.
Polls released by Quinnipiac University's Polling Institute in October 2011 and August 2012 found that more than 70 percent of New Yorkers support Citi Bike, in part due to the participatory planning process.
NYC Transportation Commissioner Janette Sadik-Khan wrote in her Foreword to the bike share report, "In just the last five years, New York City has made huge strides in creating modern, safer streets. Drawing from Mayor Michael Bloomberg's PlaNYC sustainability agenda, we've established more than 300 miles of bike lanes, 30 plazas and made expansive street safety redesigns…"
"Perhaps the greatest testament to the effectiveness of bike share planning in New York is the degree of emulation seen around the country as bike sharing proposals proliferate," the report states. "Chicago, Portland, Columbus, and other municipalities have largely replicated the approach documented in these pages."
Yet Chinese bike-sharing systems dwarf those in the United States. In Hangzhou, China, the bike-sharing system is the biggest anywhere in the world.
In this southern China city of almost seven million people, about 1.5 million people fewer than New York City, 50,000 public bikes are available.
Hangzhou's 2,050 bike-share stations are spaced less than a thousand feet from each other in the city center. On an average day riders make 240,000 trips using the system. And over the next seven years the Hangzhou Bicycle Company is planning to expand its system to 175,000 bikes.
Copyright Environment News Service (ENS) 2013. All rights reserved.