Giant Solar Projects Shape U.S. Clean Energy Frontier
WASHINGTON, DC, October 27, 2010 (ENS) – The Obama administration is moving quickly to develop solar power on public lands, particularly in California. Today federal and California state officials joined executives from BrightSource Energy in the Mojave Desert for a groundbreaking ceremony for the world's largest solar power facility.
The Ivanpah Solar Electric Generating System, three solar power towers surrounded by thousands of mirrors, was approved earlier this month for a 3,500 acre site on public land in the Ivanpah Valley in southeastern California's San Bernardino County. The site is 50 miles northwest of Needles, California, and about five miles from the California-Nevada border.
California Governor Arnold Schwarzenegger and Secretary of the Interior Ken Salazar joined with members of the BrightSource Energy team, project partners, and local, state and federal officials to commemorate the historic event.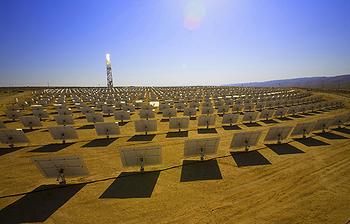 In California's Ivanpah Valley, thousands of mirrors will surround three solar power towers to create the world's largest solar generating facility. (Photo courtesy BrightSource Energy)
"Today we are breaking ground on the largest solar project in the world, right here in California," said Governor Schwarzenegger. "The construction of this renewable energy plant is great news for our state, and further proof that it is possible to both protect the environment and grow the economy."
"Projects like this one are helping us meet our long-term energy and environmental goals, while creating jobs and moving us toward a cleaner, more sustainable future," said the governor, "a future where California leads the nation and the world in a clean energy revolution."
"Ivanpah is an outstanding example of the progress we are making in building a renewable energy economy," said Secretary Salazar at the groundbreaking event. "With private sector initiative and government coordination and encouragement, we are helping to meet the President's goals for stimulating local economies, creating new jobs for American workers, reducing carbon emissions, promoting energy independence and strengthening our national security."
"Today's groundbreaking of the Ivanpah Solar Electric Generating System represents a historical moment in our nation's move to a clean energy economy," said John Woolard, president and CEO of BrightSource Energy. "At Ivanpah, we're demonstrating that the U.S. can lead in the clean energy race by building the largest solar plant in the world."
BrightSource announced today that power generation company NRG Energy has purchased the largest ownership stake in the project with an investment of up to $300 million. In February, BrightSource received a conditional commitment from the U.S. Department of Energy for $1.37 billion in loan guarantees to support the financing of the Ivanpah project.
The complex is comprised of three separate plants to be built in phases between 2010 and 2013. Once completed, the 392 megawatt project will nearly double the amount of solar thermal electricity produced in the United States today.
The power generated at Ivanpah will be sold under separate contracts with Pacific Gas and Electric and Southern California Edison. Ivanpah will produce enough clean energy to power 140,000 homes, reduce carbon dioxide emissions by more than 400,000 tons annually, the equivalent of taking more than 70,000 cars off the road.
Constructing the Invanpah project will create more than 1,000 local union jobs at the peak of construction.
Bob Balgenorth, president of the State Building and Construction Trades Council of California, said, "The first of many expected utility-scale solar projects to break ground, Ivanpah is having a transformative effect on the High Desert Region's workforce and economy. President [Barack] Obama's stimulus and Senator [Barbara] Boxer's tireless efforts helped make this project a reality. It is already starting to employ union labor and putting local people back to work."
To generate power at the Ivanpah power tower, thousands of mirrors will track the Sun and reflect the sunlight to a boiler that sits atop a tower. When the concentrated sunlight strikes the boiler's pipes, it heats the water inside to more than 1,000 degrees F. This creates superheated steam, which is piped from the boiler to a standard turbine where electricity is generated. From here, transmission lines carry the power to homes and businesses.
Nothing is wasted in this process. In order to conserve precious desert water, the steam is air-cooled and piped back into the system in a closed-loop, environmentally-friendly process. The project will use only 100 acre feet of water per year, about 95 percent less water than competing solar thermal technologies that use wet-cooling.
The low-impact environmental design uses mirrors mounted on individual poles that are placed directly into the ground, allowing the solar field to be built around the natural contours of the land and avoid areas of sensitive vegetation. This design also allows for vegetation to co-exist within the solar field.
Just 187 miles to the north, Secretary Salazar Tuesday approved another big solar energy project – not the largest in the world, but the largest ever to be built on U.S. public lands.
When constructed, the Blythe Solar Power Project will produce up to 1,000 megawatts of solar power, or enough to power up to 750,000 homes.
The project, proposed by Palo Verde Solar I, a subsidiary of Solar Millennium, LLC, will cover 7,025 acres of public lands eight miles west of Blythe in Riverside County, California near the Nevada border. It will be developed jointly by Solar Millennium and Chevron Energy Solutions.
"The Blythe Solar Power Project is a major milestone in our nation's renewable energy economy and shows that the United States intends to compete and lead in the technologies of the future," Secretary Salazar said in signing the Record of Decision.
The Blythe project is expected to create 1,066 jobs at the peak of construction and 295 permanent jobs.
"This project shows in a real way how harnessing our own renewable resources can create good jobs here at home," said Salazar.
The Blythe Solar Power Project uses parabolic trough technology with rows of parabolic mirrors focusing solar energy on collector tubes. The tubes carry heated oil to a boiler, which sends live steam to a turbine to produce electricity.
A new 230 kilovolt transmission line will be constructed to connect the Blythe Solar Project to the Devers-Palo Verde #2 500 kV line at the Colorado River substation.
With the approval of the Blythe project, the six solar projects approved on BLM public lands since the first such approval on October 1 have the potential to generate up to 2800 megawatts of renewable energy.
"That's enough to power up to two million homes," said Bureau of Land Management Director Bob Abbey. "We have truly arrived at America's new energy frontier."
Copyright Environment News Service (ENS) 2010. All rights reserved.