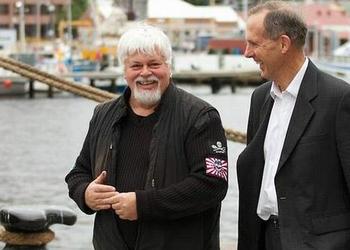 STEVE IRWIN AT SEA, March 8, 2013 (ENS) – Some of the legal pressure has lifted off Sea Shepherd Conservation Society founder Captain Paul Watson who is at sea aboard his flagship vessel the Steve Irwin. Germany has dropped an arrest warrant for Watson that was originally issued last year at the request of Costa Rica.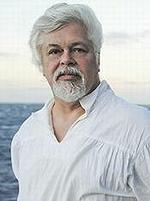 "Good news from Germany," said Watson today in a Facebook posting. "The German court has withdrawn their arrest warrant for me citing failure from Costa Rica to cooperate in answering their questions concerning my case. I guess the Costa Ricans failed to get their instructions from Japan in time. I am no longer wanted in Germany."
Watson said Costa Rica had not met a February 27 deadline set by the German court to explain why there was a warrant for his arrest.
He has been an "observer" as three Sea Shepherd ships clashed with Japanese whalers in the Southern Ocean over the past two months. Earlier this week, the whalers left the whaling area far short of their self-imposed quota of 1,000 whales for research.
"Adverse weather has put an end to the whaling season," wrote Watson today. "The whalers returned South more for show than practicality. Monitoring the weather and it is joyfully stormy."
The Sea Shepherd ships have just enough fuel to reach Melbourne and should arrive in 12 days, said Watson.
"The Australian Federal Police are expected to raid the ships but they do that every year because Japan asks them to," he wrote. "Not sure why Australia never asks the police to raid the Japanese vessels. Sea Shepherd always cooperates with the authorities. Japan never does."
In a posting March 4, Watson wrote, "This season has been our most effective campaign of them all and it will mark the lowest kill figures in the entire history of the Japanese Southern Ocean whaling operations."
"Sea Shepherd Australia has done an incredible job of coordinating it," he wrote.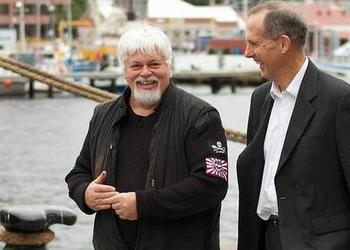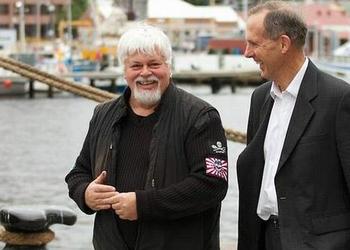 This season was marked with clashes between the three Sea Shepherd vessels and the four Japanese whalers and their refueling tanker. Several ramming incidents took place, with each side accusing the other of ramming and damaging their vessels. No injuries were reported.
Watson wrote, "There is not a whale or dolphin in the entire ocean that would disagree with what we have done and accomplished and that is all we need to know."
Watson was arrested in Germany in May 2012, after Germany, a country without an extradition treaty with Costa Rica or Japan, decided to apprehend him on what they described as a bilateral agreement with Costa Rica.
Watson was first detained in custody, posted bail of more than US$300,000, and was then released with instructions to remain in Germany and report to authorities frequently.
Costa Rica wanted Watson in connection with a 2002 incident during which he apprehended an illegal shark finning vessel in Guatemalan waters with permission of the Guatemalan government while filming for a documentary. The vessel a year before had been convicted of shark-finning in the waters of the Galapagos National Park Marine Reserve, where a Sea Shepherd vessel had helped to apprehend them in cooperation with the government of Ecuador.
"With Costa Rica, I had the evidence on film and with two dozen witnesses I was confident that I could win the case against the allegations of the shark finners," explained Watson on the Sea Shepherd website.
"My only concern was that Costa Rica would then hand me over to Japan. For with Japan, there is the absolute certainty that once in Japanese custody, I will never be released," he wrote.
Japan applied directly to Germany with a request for Watson's extradition, a request that Germany approved on July 23, 2012.
"I was alerted to this by reliable sources on July 22," wrote Watson. "That certainty meant that there could only be one option: I made the decision to depart Germany immediately."
Watson jumped bail and left Germany, and made his way aboard the Steve Irwin, where he remains.
INTERPOL issued a Red Notice, or international wanted persons alert, for Watson at the request of Japanese authorities in September 2012 and another at the request of Costa Rica in August 2012 in connection with separate alleged offenses.
A Red Notice is not an international arrest warrant but a request for any country to identify or locate an individual with a view to their provisional arrest and extradition in accordance with the country's national laws. INTERPOL cannot compel any of its 190 member countries to arrest the subject of a Red Notice.
Watson says he will stay at sea until he is assured that the Australian government will not arrest him at the request of Japan.
"Germany has dropped their warrant against me but Japan still wants me and I haven't got an answer out of the Australian government, will they send me to Japan or not?" Watson said from on board the Steve Irwin. "Until I get that answer I don't have any choice but to stay at sea."
"And if the whalers return next season, we will return, and every season thereafter if necessary because what was established by International agreement as the Southern Ocean Whale Sanctuary must be protected as a sanctuary and logic and compassion dictate that whales must not be slaughtered in an area designated as a sanctuary," wrote Watson on March 4. "Words and threats, condemnation and labels will not deter our commitment to protecting life in our oceans."
"In a few months time, baby whales will be born along the coasts of Australia that would otherwise have been torn from the wombs of their mothers," wrote Watson. "They will leave their mother's womb and swim to the surface for their first breath of life, never knowing how close they came to being served on a delicacy sushi plate in Tokyo. But we will know, and in knowing our hearts will be warmed and we will smile knowing that we have given the gift of life to the most noble of creatures in the sea."
"Whales weep not nor shall we."
Copyright Environment News Service (ENS) 2013. All rights reserved.