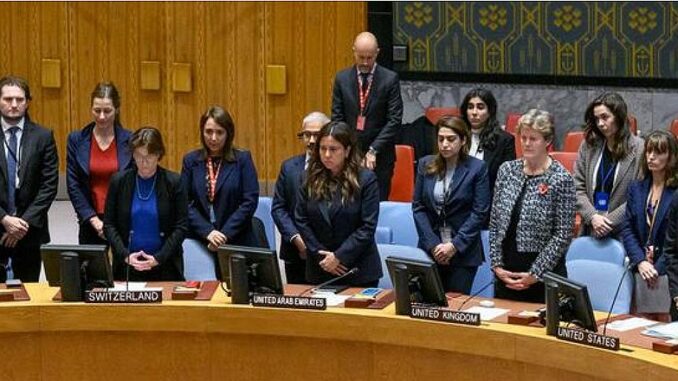 NEW YORK, New York, November 10, 2023 (ENS) – World Health Organization Director-General Tedros Adhanom Ghebreyesus today briefed an Emergency Meeting of the United Nations Security Council on the health situation in Gaza, as Israeli forces attacked hospitals, forcing thousands of civilians sheltering there to flee.
Fighting between Israeli forces and Hamas militants has intensified around Gaza City's overcrowded hospitals, which Palestinian officials say have been repeatedly struck by explosions.
"Let me be clear from the outset that I fully understand the anger, grief and fear of the Israeli people following the horrific, barbaric and unjustifiable attacks by Hamas and other armed groups on Israeli civilians on the 7th of October," said Dr. Tedros, WHO's chief executive since 2017.
"The killing of 1,400 people, and injuries to more than 7,200 others, is incomprehensible. For the survivors and families of victims, the mental health consequences will endure for a long time to come," Dr. Tedros told the UN Security Council.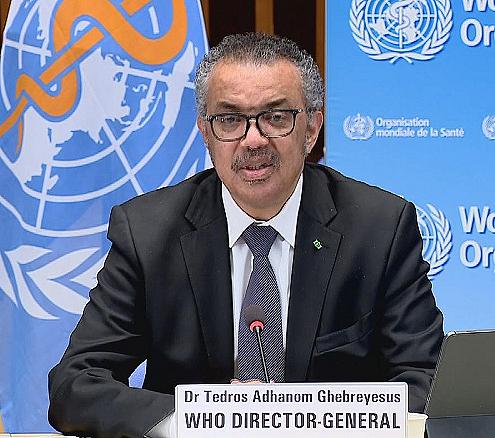 "WHO is gravely concerned for the health and well-being of Israeli hostages in Gaza, many of whom are older people, children and those with urgent medical needs. Two weeks ago, I spoke with families of hostages, and I will meet them in Geneva next week. I feel their heartache and fear," he said.
"I also understand the anger, grief and fear of the people of Gaza, who had already suffered through 16 years of blockade, and are now enduring the destruction of their families, their homes, their communities and the life they knew," said Dr. Tedros, originally from Ethiopia.
"The situation on the ground is impossible to describe," he told the Security Council today, yet painted a grim picture of what is happening on the ground in Gaza.
"Hospital corridors crammed with the injured, the sick, the dying; morgues overflowing; surgery without anesthesia; tens of thousands of displaced people sheltering at hospitals; families crammed into overcrowded schools, desperate for food and water," Dr. Tedros said.
"More than 10,800 people have now been killed in Gaza, almost 70 percent of them women and children. On average, a child is killed every 10 minutes in Gaza," he said, adding that "1.5 million people have been displaced, and are looking for shelter anywhere they can find it. But nowhere and no-one is safe."
As more and more people move to a smaller and smaller space, overcrowding is increasing the risks of outbreaks of diarrheal and respiratory disease and skin infections," Dr. Tedros said.
"WHO is on the ground in Gaza, alongside our partners, to support health workers, who are physically and mentally exhausted and are doing their best in unimaginable conditions," he explained. "In addition to caring for the 27,000 people who are wounded, many of them with life-threatening injuries, they are trying to manage the regular health needs of more than two million people."
More than 180 women give birth in Gaza single every day, Dr. Tedros said, adding that there are 9,000 patients on cancer therapy, and there are 350,000 patients with diabetes, heart disease and hypertension.
"I visited Al-Shifa hospital in Gaza five years ago, in 2018. I toured a dialysis ward and a neonatal intensive care unit, and spoke with health workers and patients," he told the Security Council. "Even then, in 2018 in Gaza, conditions were extremely difficult for health workers. Now their work is impossible, and they are directly in the firing line."
Since October 7, the World Health Organization has verified more than 250 attacks on health care in Gaza and the West Bank, in addition to 25 attacks on health care in Israel – hospitals, clinics, patients, ambulances.
"Last week, WHO documented five attacks on five hospitals in one day.," Dr. Tedros said. "In the past 48 hours alone, four hospitals have been put out of action, representing some 430 beds. More than 100 of our UN colleagues have been killed, and counting. And as we speak, there are reports of firing outside the Al-Shifa and Rantisi hospitals."
"Half of the Gaza Strip's 36 hospitals and two-thirds of its primary health care centers are not functioning at all. Those that are functioning are operating way beyond their capacities. The health system is on its knees, and yet somehow is continuing to deliver some lifesaving care," said Dr. Tedros.
Supporting Gaza's health workers is at the heart of WHO's operational response plan," he explained.
WHO was part of the first convoy of aid to enter Gaza through the Rafah crossing on the 21st of October, and since then we have delivered 63 metric tonnes of specialist medical equipment and supplies that health workers need to save lives, including to hospitals north of Wadi Gaza. But this doesn't even begin to address the scale of need. It's too small," the WHO chief said.
Before the 7th of October, an average of 500 trucks a day were crossing into Gaza with essential supplies. Since the 21st of October, instead of the expected 10,000 trucks, just 650 trucks have entered Gaza.
"A month ago, just two days after the violence started, I met with His Excellency President Abdel Fattah El-Sisi of Egypt, who agreed to support WHO and our partners to deliver aid through the Rafah crossing. I thank Egypt for its support in getting aid into Gaza, and for establishing a medivac pathway to get the most critically sick and wounded patients out, including 12 children with cancer who are being transferred for treatment in Egypt and Jordan," Dr. Tedros told the Security Council.
"WHO continues to call for unfettered access to deliver humanitarian aid to the civilians of Gaza, who are not responsible for this violence, but are suffering in ways that we in this room cannot imagine," he said. "We continue to call on Hamas to release the hostages it took, many of whom need urgent medical attention."
"We continue to call on Israel to restore supplies of electricity, water and especially fuel," Dr. Tedros said, adding, "We continue to call on both sides to abide by their obligations under international humanitarian law. And we continue to call for a ceasefire, to prevent further deaths of civilians and further damage to Gaza's hospitals and health facilities."
As a Child WHO Leader Trapped By War
Then Dr. Tedros shared a personal story that had a sobering effect on the members of the Security Council.
"I understand what the children of Gaza must be going through, because as a child, I went through the same thing. The sound of gunfire and shells whistling through the air; the smell of smoke after they struck; tracer bullets in the night sky; the fear; the pain; the loss – these things have stayed with me throughout my life."
'I know the smell, the image of war. I know what war means. When my mother heard gunfire at night, she would make us sleep under the bed, with more mattresses on top of the bed, in the hope we might be protected if a shell fell on our house – the mother's instinct to save her kids," Dr. Tedros said.
"I also understand what the parents of Gaza are going through, because in 1998, when war returned to Ethiopia, my country, my children had to hide in a bunker to shelter from the bombardment. I experienced war both as a child and as a parent. I know how the children are feeling, and I know how the parents are feeling. The children and parents of Gaza and Israel want and need the same thing that my family wanted and needed: peace and security," he shared. "I never imagined that I would be the DG of the WHO, because my mother's prayer was that I would survive just one more day."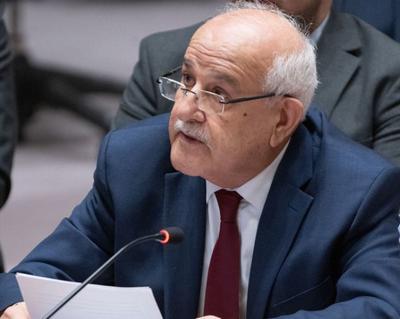 Then Dr. Tedros, who served as Minister of Foreign Affairs of Ethiopia during the years 2012 to 2016, concluded his remarks with a call for reform of the UN Security Council.
"This crisis underlines once again the need for reform of the Security Council," he said. "I felt nostalgic when I entered the room, because I used to come here when I was Foreign Minister."
"It has long been my view that the Security Council no longer serves the purpose for which it was established – with all due respect. It represents the realpolitik of the Second World War, not the 21st century," he told the Council.
"As a Foreign Minister, I was part of a group working on reform of the Security Council. I am dismayed that no progress has been made," Dr. Tedros said.
"To remain credible, relevant, and a force for peace in our world, Member States, especially the P5, must take seriously the need to reform the Security Council. The term P5 refers to the five sovereign states to whom the UN Charter of 1945 grants a permanent seat on the UN Security Council: China, France, Russia, the United Kingdom, and the United States.
Finally, Dr. Tedros asked for "a ceasefire and a path towards peace."
Israel Responds
Gilad Erdan, Ambassador and Permanent Representative of Israel, said "Israelis had endured a pogrom five weeks ago on a par with the Kristallnacht massacres of November 1938 under the Nazis."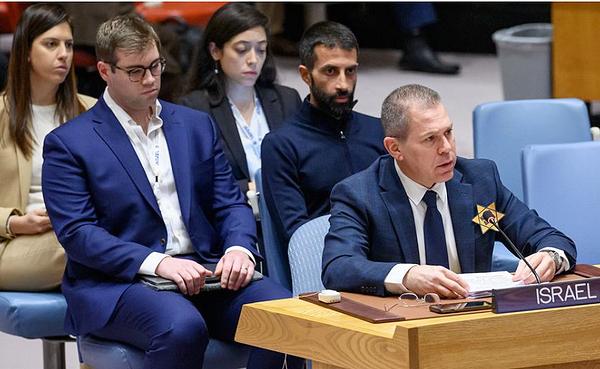 He said the focus of the briefing was on Gaza's hospitals, but made no mention of a direct attack on an Israeli hospital just a few days ago by Hamas rockets.
Erdan said that Hamas fighters had been shooting at ambulances to prevent them from helping the wounded, and that Israel had exposed that Hamas has its main headquarters in and underneath Al Shifa hospital, using ambulances as a means of transporting weapons.
He said Israel has gone "above and beyond to mitigate civilian casualties." For Israelis, life is sacred, he said, but for Hamas, it is death. 
Erdan attacked senior UN officials for not reflecting the truth of the situation on the ground. "Sadly, they are relaying falsehoods that are completely detached from reality," he claimed. 
WHO's briefing was based on information from Hamas, not the UN's own employees, he alleged, adding that the UN system is now "enabling terrorism" in relation to the war in Gaza. 
UN Ambassadors Plead for Ceasefire
Meanwhile, in Geneva, Switzerland, 70 UN Ambassadors, 41 of whom appeared there in person on Friday, presented an urgent call for a ceasefire and a pathway to peace in the region.
Their statement said hospitals in Gaza are "coming to a halt" as fuel and electricity supply have been cut.
"Doctors are performing surgery without anesthesia; mothers are watching their babies fighting for survival in incubators that are running out of electricity; the only cancer hospital in Gaza has shut down while other hospitals are bombed," they said.
"Moreover, more than 50 entire families have been wiped off the population registry in Gaza, they have been decimated."
Humanitarians killed, homes destroyed
They also pointed to the many aid workers who have been killed, including from the United Nations Relief and Works Agency for Palestine Refugees in the Near East, UNRWA.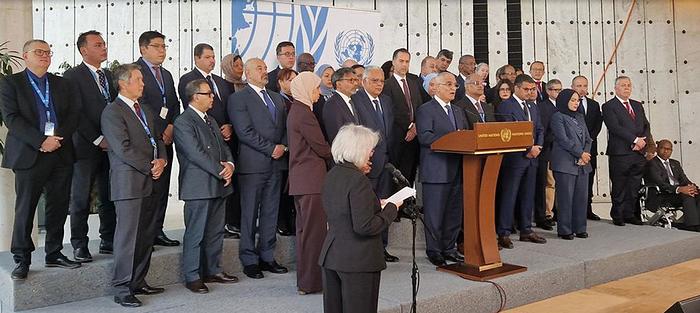 Separately, UNRWA confirmed that 101 staff have lost their lives since the conflict erupted on October 7. UN offices across the world will on Monday observe a minute of silence in their honor, and the UN flag will be flown at half-mast.
The ambassadors said civilian infrastructure in Gaza, such as refugee camps, apartment buildings, schools, bakeries, mosques and churches, has been directly targeted and reduced to rubble, while at least 45 percent of all housing has either been destroyed, rendered uninhabitable or damaged.
They appealed for an immediate ceasefire.
Featured image: At the outset of the meeting, everyone in the UN Security Council Chamber stood for a moment of silence for all those who lost their lives in Israel due to the October 7 attacks and all Palestinian civilians who have died during the fighting. November 10, 2023 (Photo by Loey Felipe courtesy United Nations)