WASHINGTON, DC, May 21, 2012 (ENS) – Leaders of the world's most developed economies, the Group of Eight, have agreed to phase out government subsidies for coal, oil and gas and pursue sustainable energy and low carbon policies "in order to tackle the global challenge of climate change."
Hosted by President Barack Obama at the presidential retreat Camp David in the Maryland woods near Washington, DC, the leaders of Canada, France, Germany, Italy, Japan, Russia, the United Kingdom and the European Union met on Friday night and continued working through Saturday, issuing a declaration on Saturday night.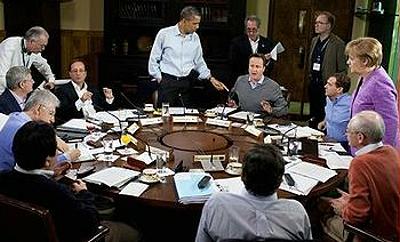 President Barack Obama with G-8 leaders. Clockwise from the President: UK Prime Minister David Cameron, Russian Prime Minister Dmitry Medvedev, German Chancellor Angela Merkel, European Council President Herman Van Rompuy, European Commission President José Barroso, Japanese Prime Minister Yoshihiko Noda, Italian Prime Minister Mario Monti, Prime Minister Stephen Harper of Canada, and President François Hollande of France. May 19, 2012 (Photo by Pete Souza courtesy The White House)
As the G-8 meeting concluded, President Obama said, "We discussed the importance of pursuing an all-of-the-above strategy for energy security in a safe and sustainable way. Leaders agreed to join a new U.S.-led coalition to address climate change, in part by reducing short-lived pollutants."
On energy and climate change, the leaders declared they would meet their energy needs "from a wide variety of sources ranging from traditional fuels to renewables to other clean technologies. … in an environmentally safe, sustainable, secure, and affordable manner."
"We strongly support efforts to rationalize and phase-out over the medium term inefficient fossil fuel subsidies that encourage wasteful consumption, and to continue voluntary reporting on progress," the G-8 leaders declared.
That said, the leaders declared their support for environmentally risky petroleum exploration, "in frontier areas and the use of technologies such as deep water drilling and hydraulic fracturing," limiting the risks through "best practices" and taking into account environmental concerns over the life of a field."
They agreed to support the G-20 Global Marine Environment Protection initiative to develop a Best Practices Sharing Mechanism, available to all interested countries and stakeholders, for the exchange of best practices for offshore oil and gas exploration and development in an effort to help prevent future accidents.
The leaders, including Japanese Prime Minister Yoshihiko Noda, still have the ongoing nuclear disaster at the Fukushima Daiichi nuclear power plant on their minds.
"In light of the nuclear accident triggered by the tsunami in Japan," they declared, "we continue to strongly support initiatives to carry out comprehensive risk and safety assessments of existing nuclear installations and to strengthen the implementation of relevant conventions to aim for high levels of nuclear safety."
Japan shut down its last working nuclear power reactor, the first time the country has been without nuclear power since 1970.
The G-8 leaders agreed to continue their efforts to address climate change. They declared their recognition of "the need for increased mitigation ambition in the period to 2020," and said they would do "our part to limit effectively the increase in global temperature below 2°C above pre-industrial levels, consistent with science."
"We strongly support the outcome of the 17th Conference of the Parties to the U.N. Framework Convention on Climate Change (UNFCCC) in Durban," the leaders said, referring to the annual UN climate meeting held in South Africa last December.
They called the agreement reached there, the Durban Platform, "a significant breakthrough toward the adoption by 2015 of a protocol, another legal instrument or an agreed outcome with legal force applicable to all Parties, developed and developing countries alike."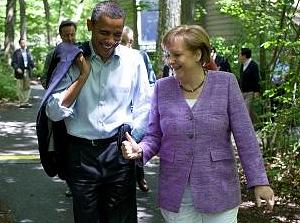 President Barack Obama talks with Chancellor Angela Merkel of Germany at Camp David, May 19, 2012
The European Commission, the executive branch of government, stated, "The EU fully welcomes the focus of this G-8 Summit on global climate action and underlines the need for strong and urgent measures, in the UN context, to reduce CO2 and other greenhouse gas emissions to stay on track to meet the internationally agreed objectives and to speedily implement the Durban platform."
As part of their work to control climate change, the G-8 leaders agreed to join a new coalition – the Climate and Clean Air Coalition to Reduce Short-lived Climate Pollutants, announced in February to focus efforts on reducing black carbon, or soot, hydrofluorocarbons, and methane.
The new coalition is the first effort to treat these pollutants together, to limit their effect on near-term climate change, agricultural productivity, and human health. The United States and Canada are among the founding coalition partners along with: Bangladesh, Ghana, Mexico and Sweden and the UN Environment Programme.
UNEP and others have said that short-lived climate pollutants account for over 30 percent of near-term global warming as well as two million premature deaths a year.
Expressing the unease of all G-8 leaders over adequate energy supplies, President Obama said, "In the face of increasing disruptions in the supply of oil, we agreed that we must closely monitor global energy markets. Together, we stand ready to call upon the International Energy Agency to take action to ensure that the market remains fully and timely supplied."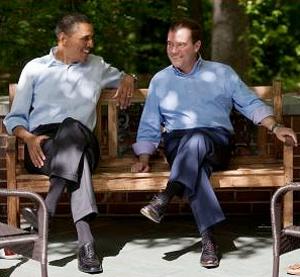 President Barack Obama talks with Prime Minister Dmitry Medvedev of Russia, May 19, 2012 (Photo by Pete Souza courtesy The White House)
Globalization continues to be a focus of the G-8 leaders. They pledged to "remove obstacles to the evolution of global energy infrastructure" and "pursue universal access to cleaner, safer, and more affordable energy."
To accelerate the global pace of progress on appliances and equipment efficiency, the G-8 leaders agreed to allow manufacturers to test products once and sell them globally. "This effort will draw on the work of existing standardization bodies to lower non-tariff barriers and improve the international comparability of energy efficiency policies," they said.
Commenting on the need to control climate change ahead of the G-8 meeting, the European Commission said Thursday, "Science tells us that all developed countries would need to reduce emissions by 80-95 percent in order to have a fair chance of keeping global warming below 2°C. If we do not step up climate action, temperatures might increase by as much as 4°C by 2100."
The European Union is a global leader in reducing greenhouse gas emissions. Over the past two decades, emissions have gone down by 16 percent, whereas the economy has grown by 40 percent over the same period. If current policies are fully implemented, the EU is on track to achieve its targets for 2020 of reducing emissions to 20 percent below 1990 levels and raising the share of renewables in its energy mix to 20 percent.
With its "Roadmap for moving to a competitive low-carbon economy in 2050" the European Commission is looking beyond these 2020 objectives and setting out a plan to meet the long-term target of reducing domestic emissions by 80 to 95% by mid-century as agreed by European Heads of State and governments.
Copyright Environment News Service (ENS) 2012. All rights reserved.