G-20 Leaders Endorse Green Climate Fund, Marine Protection
CANNES, France, November 7, 2011 (ENS) – The leaders of the G-20 group of major economies wrapped up their two-day annual meeting on Friday with promises to finance the fight against climate change through the Green Climate Fund, protect the marine environment from oil spills, and promote low-carbon development strategies.
In their joint Communique, the government leaders said, "We are committed to promote sustainable development and green growth and to continue our efforts to face the challenge of climate change."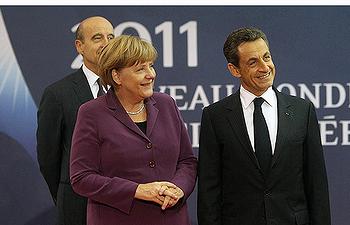 German Chancellor Angela Merkel and French President Nicholas Sarkozy at Cannes, November 3, 2011 (Photo courtesy Republic of France)
"We are committed to the success of the upcoming Durban Conference on Climate Change on 28 November – 9 December 2011," said the leaders of the 20 countries responsible for 80 percent of the world's economy.
"Financing the fight against climate change is one of our main priorities," the G-20 leaders declared. "In Copenhagen, developed countries have committed to the goal of mobilizing jointly US$100 billion per year from all sources by 2020 to assist developing countries to mitigate and adapt to the impact of climate change, in the context of meaningful mitigation actions and transparency," they said.
The leaders reiterated that climate funding will come from a wide variety of sources, public and private, bilateral and multilateral, including innovative sources of finance.
"We recognize the role of public finance and public policy in supporting climate-related investments in developing countries," the leaders stated, adding, "We underline the role of the private sector in supporting climate-related investments globally, particularly through various market-based mechanisms and also call on the MDBs [multi-lateral development banks] to develop new and innovative financial instruments to increase their leveraging effect on private flows."
The international aid organization Oxfam praised the G20 leaders for recognizing that innovative sources of finance are needed to fight climate change in poor countries.
President Barack Obama lines up with fellow G-20 leaders for a "family portrait." (Photo by Pete Souza courtesy The White House)
World Bank Group President Robert Zoellick was hopeful but cautious, saying in Cannes, "The G-20 today presented an agenda to restore confidence in the global economy through its commitment to reinvigorate growth, create jobs, ensure financial stability, and make globalization more sustainable and inclusive. As with all summit declarations, the proof will be in the implementation."
The G-20 leaders stressed the importance of "well-functioning and transparent physical and financial energy markets, reduced excessive price volatility, improved energy efficiency and better access to clean technologies, to achieve strong growth that is both sustainable and inclusive."
The G-20 pledged again to phase out government subsidies for fossil fuel development. "We reaffirm our commitment to rationalise and phase-out over the medium term inefficient fossil fuel subsidies that encourage wasteful consumption, while providing targeted support for the poorest," the leaders declared. "We ask our Finance Ministers and other relevant officials to press ahead with reforms and report back next year."
President Barack Obama told reporters Friday, "We agreed to keep phasing out fossil fuel subsidies – perhaps the single most important step we can take in the near term to fight climate change and create clean energy economies."
The leaders decided to take further action to protect the marine environment, "in particular to prevent accidents related to offshore oil and gas exploration and development, as well as marine transportation, and to deal with their consequences."
The G-20 has established a mechanism to share best practices and information on legal frameworks, experiences in preventing and managing accidents and disasters relating to offshore oil and gas drilling, production and maritime transportation.
The meeting laid the foundation for a deal on a fair carbon charge for shipping to be struck at the UN climate talks in Durban later this month, said Oxfam. At the G20, France, Germany and South Africa championed the proposal, while a number of other countries rallied to it for the first time.
In a statement on fostering clean energy, green growth and sustainable development, the G-20 leaders said, "We support the development and deployment of clean energy and energy efficiency technologies. We welcome the UN Secretary General's 'Sustainable Energy for All' initiative."
Participating in the G-20 summit, UN Secretary-General Ban Ki-moon said sustainable energy is the key to addressing three great challenges – poverty, climate change and re-invigorating economies. Ban called on the leaders "to facilitate the attainment of universal energy access, improve energy efficiency, and double the use of renewable energy by 2030."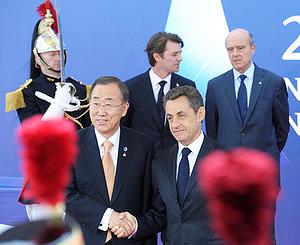 UN Secretary-General Ban Ki-moon, front left, and French President Nicholas Sarkozy in Cannes, November 3, 2011 (Photo courtesy UN)
Ban welcomed the discussion on climate change by the G-20 leaders and called for the launch of the Green Climate Fund at the UN climate dhange conference in Durban.
The G-20 leaders made it clear that they support the United Nations in its efforts to foster sustainable development.
"We are committed to the success of the United Nations Conference on Sustainable Development in Rio de Janeiro in 2012," the leaders declared. "Rio + 20 will be an opportunity to mobilize the political will needed to reinsert sustainable development at the heart of the international agenda, as a long term solution to growth, job creation, poverty reduction and environment protection. A green and inclusive growth will create a broad spectrum of opportunities in new industries and in areas such as environmental services, renewable energy and new ways to provide basic services to the poor."
The G-20 leaders took actions to lift food insecurity for the poorest countries, including a decision to ensure that the UN World Food Programme's humanitarian food purchases do not face export restrictions or extraordinary taxes.
The UN World Food Programme welcomed the decision, saying the move would ensure vital food assistance continues to reach people in need.
"Today WFP purchases most of its humanitarian food in 70 different nations, and it's critical that this food reaches the vulnerable," said Josette Sheeran of the United States, the agency's executive director. "This declaration by the G-20 will ensure that the humanitarian pipeline will flow even during a food crisis."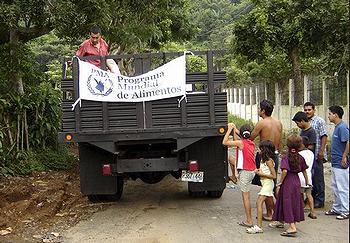 Food aid reaches hungry people in El Salvador, 2009 (Photo by Tania Moreno courtesy WFP)
Sheeran said that during the 2008 food price crisis, export restrictions threatened the WFP's ability to provide a lifeline of support to hundreds of thousands of people who were struggling to access food for their families.
Oxfam spokesperson Luc Lampriere said, "The big losers were the nearly one billion poor hungry people who the G-20 could have helped by reforming the broken food system."
"President Sarkozy laid the G20 table with practical measures to rein in skyrocketing food prices, but the leaders left most of them on their plate," he said.
"The G20 took a first step on increasing market transparency and piloting regional food reserves. And they offered a conditional nod to improved regulation of commodities derivatives," said Lampriere. "But they dealt primarily with consequences of high prices, not the causes, such as excessive speculation and biofuels policies that turn massive quantities of food into fuel."
At the conclusion of the conference, India's Prime Minister Manmohan Singh called the meeting, "…an essay in persuasion."
"We are not writing new treaties," said Prime Minister Singh. "We are laying down guidelines, which will hopefully, be converted some day into new rules of the game. But as of now, we have not reached that stage, where, in a one and a half day conference, we can reach agreement on binding commitments for the future."
On Thursday, around 300 unarmed, peaceful protesters walked through Nice to protest the G-20, chaperoned by heavily armed and plain-clothes police officers. Most demonstrators were Parisian and Spanish.
On Saturday, in Freiburg, Germany, anti-G-20 demonstrators carried signs denouncing capitalism and red banners displaying Communist symbols.
On December 1, 2011, Mexico will start chairing the G20. The leaders will convene in Los Cabos, Baja California, in June 2012, under the chairmanship of Mexico. Russia will chair the G20 in 2013, Australia in 2014 and Turkey in 2015.
The leaders agreed, as part of their reforms to the G20, that after 2015, annual presidencies of the G20 will be chosen from rotating regional groups, starting with the Asian grouping comprising of China, Indonesia, Japan and Korea.
Copyright Environment News Service (ENS) 2011. All rights reserved.