Future Earth: Global Sustainability Science Plan Debuts at Rio+20
RIO de JANEIRO, Brazil, June 15, 2012 (ENS) – Future Earth, a new 10-year platform to coordinate scientific research for sustainability on a global level, was introduced Thursday as one of the voluntary civil society actions at the UN's Rio+20 sustainable development summit.
The goals are to provide early warning signals of environmental risk and change and to find the best scientific solutions to multi-faceted problems to satisfy human needs for food, water, energy and health. Future Earth also aims to foster and encourage young scientists.
"Future Earth will bring together natural scientists, social scientists, engineers and the humanities with funders and policy makers to align research agendas, understand and anticipate environmental change, and develop innovative solutions," said Professor Diana Liverman, co-chair of the Future Earth design team and co-director of the University of Arizona's Institute of the Environment.
The key to success will be research that is "more interdisciplinary, more international, more collaborative and more responsive to the users of research," said Liverman.
The Future Earth alliance is sponsored by the International Council for Science, ICSU, a nongovernmental organization based in Paris with a global membership of 121 national scientific bodies and 30 international scientific unions.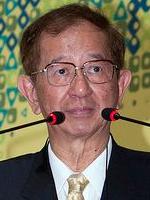 Professor Yuan Tseh Lee, Rio de Janeiro, June 11, 2012 (Photo by ICSU)
ICSU President Professor Yuan Tseh Lee, winner of the 1986 Nobel Prize in Chemistry, said, "We are delighted to launch the initiative here, as Rio+20 is all about pathways for a sustainable future, and Future Earth will represent one concrete step towards it."
"Through its broad and strong partnership, Future Earth will connect scientific research, policy development and action, and enhance the interface between science and policy to support sustainability," said Lee.
The alliance includes the International Social Science Council, the Belmont Forum, the UN Environment Programme, the UN Educational, Scientific and Cultural Organization and the United Nations University, and is supported by the World Meteorological Organization.
Future Earth will integrate four ICSU-led programs: the International Geosphere-Biosphere Programme, based in Stockholm; DIVERSITAS, a biodiversity initiative in Paris; the World Climate Research Project in Geneva; and the International Human Dimensions Programme on Global Environmental Change in Bonn.
Future Earth intends to establish a secretariat in 2013 with a budget of around US$13 million, about twice the combined budgets of these four existing programs but will not maintain a central budget for research. Instead, participants will seek money from funders such as the Belmont Forum.
Based in Arlington, Virginia, the Belmont Forum is an association of international research funders and science councils.
Co-chaired by the French National Research Agency and the U.S. National Science Foundation, the Forum includes funding agencies of the G8 group of the world's richest countries as well as Australia, Brazil, China, India, Norway and South Africa.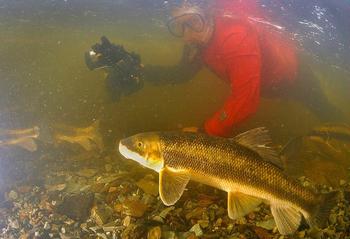 Researcher documents freshwater fish in Yellowknife, NWT, Canada, May 30, 2012 (Photo by Paul Vescei)
As an example of how Future Earth research projects will be funded, in March, the agencies of the Belmont Forum issued a US$25 million joint call for proposals to study the health, function and environmental vulnerability of freshwater and coastal systems.
Brazilian representative of the Belmont Forum Carlos Henrique de Brito Cruz is scientific director of the Sao Paulo Research Foundation. "One of the keys to the success of Future Earth will be transnational funding to support international research projects," he said at the Future Earth launch event in Rio.
"For example, the funding agencies of the Belmont Forum have established joint calls that will bring together new international partnerships of social and natural scientists working on specific themes, such as freshwater security and coastal vulnerability," he said.
To begin the Future Earth endeavor, in the second half of 2012 a series of consultations on how to frame the research questions will be conducted through an online survey and regional workshops in Asia, Africa, Latin America and the Middle East.
"We are very excited that Future Earth has made regional consultations a priority of its initial design phase," said Tanya Abrahamse, chief executive of the South African Biodiversity Research Institute and a member of the Future Earth Transition Team that is mapping out the research platform.
A senior UNESCO official has warned that science is being left out of negotiations on the outcome of the Rio+20 UN Conference on Sustainable Development.
Hans d'Orville, assistant director-general for strategic planning at UNESCO, told the nonprofit group SciDev.Net on May 30 that it is a "constant uphill struggle to get science recognized."
The agreement science should get out of Rio+20 is to establish an intergovernmental body with a mandate to integrate science with policy, said d'Orville.
The Science and Technology Major Group, one of nine official communities with input into the Rio+20 negotiations, has also expressed frustration that a real commitment to science and innovation in sustainable development is vanishing from the conclusions.
At the most fundamental level, Future Earth aims to move international and interdisciplinary science forward regardless of provisions for science are included in the Rio+20 outcome agreement among governments.
Future Earth research will tackle questions about how and why the global environment is changing, what future changes are likely, and what choices can be made to enhance resilience, reduce the vulnerabilities of humans and other species and support sustainable development.
Copyright Environment News Service (ENS) 2012. All rights reserved.