Frightening Floods Overwhelm Australia's Third Largest City
BRISBANE, Queensland, Australia, January 12, 2011 (ENS) – The biggest floods since 1974 have claimed the lives of 13 people across Queensland this week. More than 79 people are missing as floodwaters Tuesday and Wednesday swept through the capital Brisbane, Australia's third largest city, with two million residents.
Flooding rains persisting since Christmas Day have inundated much of the state's south. On Tuesday, Premier Anna Bligh declared three-quarters of Queensland a disaster zone, including Brisbane, a coastal city on the banks of the Brisbane River.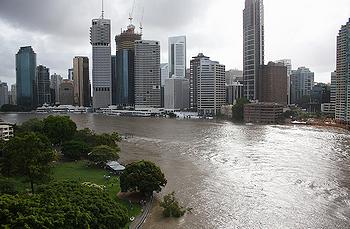 The swollen Brisbane River pours through Australia's third largest city. (Photo by Nunchukakatta)
The Australian Bureau of Meteorology just confirmed the Brisbane River has reached its peak. River levels rose to 4.46 meters at 5.00 am Thursday morning local time, nearly one meter below earlier predictions. Meteorologists predict river levels will begin to recede on Friday.
In Brisbane, thousands of homes and businesses in 35 suburban areas were flooded Tuesday, forcing about 1,500 residents to evacuate to shelters on higher ground.
The disaster declaration provides special powers that allow police and emergency services personnel to forcibly evacuate people if necessary in the best interests of their safety and the community as a whole.
Premier Bligh told reporters yesterday, "This flood event continues to develop and change at a frightening pace."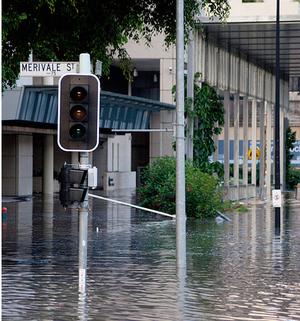 Flooded Merivale Street in South Brisbane (Photo by Dennis Brandt)
"I think the entire city of Brisbane, the Ipswich region and most of the south-east needs to prepare ourselves for enormous disruption," warned Bligh. "We will anticipate that we're starting to see it now, that over the next couple of days we will see workplaces closed and unreachable, we will see major shopping centres closed, flooded and cut off. People need to be taking preparations and keeping off the roads as much as possible."
"We have seen overnight just how quickly rain can fall and a wall of water can rush through creeks and gullies," the Premier said. "Tragically, we have seen lives lost as a result of the flooding we are experiencing."
Brisbane Mayor Campbell Newman says new flood modeling shows that 19,700 residential properties and 3,500 commercial premises in 2,100 streets across the city are likely to be flooded.
The Brisbane River and Moreton Bay are now closed to boat traffic. Brisbane area roads and schools are closed, and The Zoo has canceled the two international shows scheduled for this week, the Jon Spencer Blues Explosion and Jason Collett.
Brisbane's utility, Energex, says about 115,900 customers are now without power, and the company has cut off power to some low-lying areas of Brisbane, including parts of the financial district, to protect life and property.
Queensland Industrial Relations Minister Cameron Dick said the use of electricity and electrical equipment during the flood is risky and many homes are having their electricity turned off because of rising floodwaters.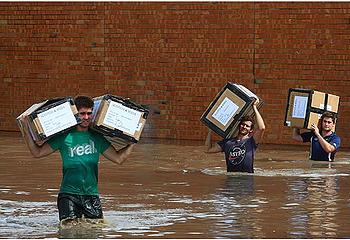 Brisbane residents rescue their alcoholic beverages. (Photo by Dutchcowgirls)
"Everyone needs to know that if their building has been inundated by floodwaters – whether it is their home or commercial premises – they must have it inspected by a licensed electrician before electricity can be reconnected," said Dick.
Electricity has been reconnected to The University of Queensland's St. Lucia campus in Brisbane after a power outage earlier today. The campus is closed and some buildings are flooded. Staff used boats to rescue floating solar panels that had been stacked ready for installation on the UQ Centre.
Bruce Grady from Emergency Management Queensland told reporters Tuesday that authorities are prepared to deal with this emergency. "We've run scenarios as little as six to eight weeks ago where that was based on numbers around the flood in 1890 which was bigger than '74. So it's always difficult to deal with these things because they unfold so rapidly but the plans are in place, we're confident that people know their roles, their responsibilities and what to do," Grady said.
However, said Grady, "the emergency services can't do this job by themselves and they need the cooperation of the community to make an effective response."
The military is now carrying out relief flights with helicopters and C-130 transports. The entire town of Forest Hill, a town of between three and four hundred people between Laidley and Gatton, was evacuated by helicopter on Tuesday and Wednesday.
In the city of Toowoomba, located 127 km (79 miles) west of Brisbane, flash floods Monday sent residents running for higher ground and washed out streets and infrastructure. Four people were killed.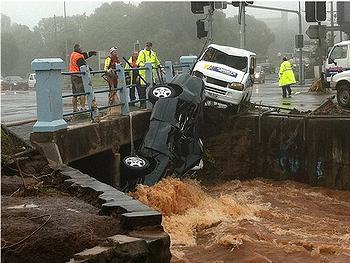 Toowoomba residents cope with the deadly floodwaters, January 11, 2011. (Photo by Mina Morris)
"What we saw in Toowoomba was the water rise at lightning speed. Mother Nature has unleased something shocking on the Toowoomba region and we've seen it move very quickly down the range," said Premier Bligh.
Toowoomba and Lockyer Valley residents affected by flash flooding will have access to specialist counseling services starting today and further teams will be deployed in the days ahead.
"This is an unprecedented disaster which has brought a lot of heartbreak and distress," the premier said. "The counseling teams will be in close contact with police to make sure residents who need help, receive it."
The Gold Coast Desalination plant at Tugun has increased output to ensure high quality drinking water for South East Queensland. The facility is currently operating at 66 percent production capacity and this can be increased within hours if required, the Minister for Natural Resources, Stephen Robertson said Wednesday.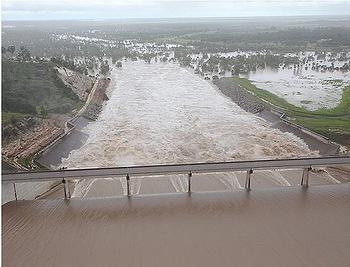 The Fairburn Dam near Emerald is at 175 percent capacity, allowing floodwaters to inundate the town of Rockhampton, January 6, 2011. (Photo by Salvation Army IHQ)
Pure treated water from the desal plant, which is piped to Brisbane via the Southern Regional Pipeline, is mixed with outputs from other treatment plants to ensure maximum quality water supply.
"At this time of great uncertainty, the desalination plant and the water grid are being used to their full extent to provide safe, sufficient and secure drinking water supplies for South East Queenslanders," Robertson said.
Water supplies for Ipswich, Brisbane, Gold Coast and Sunshine Coast are currently safe and secure, despite the severe flooding. There is no need to boil water in most areas of the region.
Boil water alerts have been issued in some smaller towns that have been badly affected by the flooding. Queensland Health advises residents in those towns to boil water for three minutes as a precaution until testing can confirm the water supply has returned to usual standards.
Premier Bligh implored Queensland residents "to make an effort to stay calm, to be patient and to stick together. Now is a time to be checking on neighbors, on elderly people in your neighborhood, to be checking on family and friends."
"If you live on high ground in Brisbane now is a time to be reaching out to friends and offering help and offering where necessary a bed for the night over the coming two to three days," she said. "For those who are living in some of the lower lying areas and the identified suburbs, now is the time to be making whatever preparations you can and I would encourage you to be overly cautious. It's better to be inconvenienced and find that your preparations were not necessary than the alternative."
The Queensland floods, which have killed 22 people since late November, have submerged an area the size of Germany and France combined.
Copyright Environment News Service (ENS) 2011. All rights reserved.