Friends of the Earth Sues U.S. EPA Over Lead in Aviation Fuel
WASHINGTON, DC, March 7, 2012 (ENS) – The nonprofit group Friends of the Earth filed a lawsuit against the Environmental Protection Agency today to force the regulation of lead emissions from general aviation aircraft under the Clean Air Act.
"EPA has repeatedly concluded that lead is extremely toxic to humans, wildlife and the environment and causes health effects even at low doses," said Marcie Keever, legal director for Friends of the Earth.
"EPA's continuing failure to do what the law requires and address this pollution leaves us no choice but to take this critical public health issue to the courts. The health of airport workers, pilots, passengers, and surrounding communities from continued exposure to leaded aviation gasoline hangs in the balance."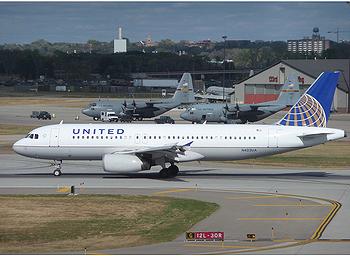 Plane on the runway at Minneapolis-St. Paul International Airport (Photo by jimcnb)
While lead was phased out of automobile gasoline more than 15 years ago, it remains as a constituent of aviation fuel in general aviation airplanes.
Friends of the Earth maintains that aviation is the single largest source of lead emissions in the United States and poses a threat to public health, especially in communities located near airports.
According to EPA estimates, 16 million people reside and three million children attend school near the 22,000 airports where leaded aviation fuel may be used.
The EPA has long held that there is no safe threshold for lead exposure.
The nonprofit public interest law firm Earthjustice and the Environmental Law and Justice Clinic at Golden Gate University School of Law are representing Friends of the Earth in this legal challenge.
The lawsuit challenges EPA's failure to respond to a 2006 petition from Friends of the Earth asking EPA to find that lead emissions from aircraft using leaded aviation gasoline may endanger public health – a so-called endangerment finding.
In May 2011, Friends of the Earth presented the EPA with a formal Notice of Intent to sue the agency for failing to respond to the petition.
"EPA needs to stop excusing the largest source of airborne lead emissions from regulation. Taking all of the evidence together, we must address this critical health issue and start phasing out lead in aviation gas now," said Deborah Behles, associate professor and staff attorney at the Environmental Law and Justice Clinic at Golden Gate University School of Law in San Francisco, California.
In November 2010, EPA identified 16 regions in the United States that fail to meet clean air standards for airborne lead emissions. All of these regions either contain or are next to airports that use leaded aviation fuel.
Even at low doses, lead is highly toxic. Adverse health effects include death and brain damage due to high levels of exposure, and learning disabilities, lowered IQ levels, increased blood pressure, and/or nerve damage at lower exposures.
The National Toxicology Program classifies lead and lead compounds as "reasonably anticipated to be human carcinogens."
Lead exposure presents a particular danger to the development of children's nervous systems. A July 2011 study from Duke University published in the journal "Environmental Health Perspectives" found that children living within 500 meters of an airport at which planes use leaded aviation fuel have higher blood lead levels than other children.
Recently, members of the aviation community have come on board calling for more immediate action. A group of pilots known as the Aviation Fuel Club have started a grassroots movement to make unleaded fuel available at airports.
"Given concerns about the impact of lead on public health, EPA's failure to take timely action on Friends of the Earth's petition is inexcusable," said Marianne Engelman Lado, an Earthjustice attorney representing Friends of the Earth. "We are simply asking the EPA to move more quickly and definitively in establishing regulations that would protect millions from ill health caused by the known toxic effects of lead."
Copyright Environment News Service (ENS) 2012. All rights reserved.
Environment News Service (ENS) © 2012 All Rights Reserved.