Fracking Contractor Pleads Guilty to Criminal Acid Discharge
HOUSTON, Texas, October 13, 2011 (ENS) – A Houston-based natural gas and oil drilling contractor pleaded guilty Tuesday to a negligent violation of the Clean Water Act in federal court in Muskogee, Oklahoma.
In entering the plea, Integrated Production Services has agreed to pay a $140,000 criminal fine and to make a community service payment of $22,000 to the Oklahoma Department of Wildlife Conservation for ecological studies and remediation of Boggy Creek, located in eastern Oklahoma.
Integrated Production Services will serve a two-year period of probation, during which it will be required to implement and perform an environmental compliance program at a cost of $38,000, to train IPS employees regarding proper hazardous waste handling and spill response procedures.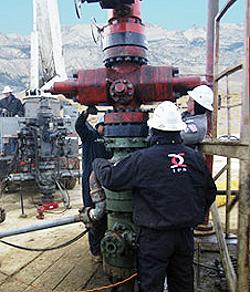 Integrated Production Services drilling crew at work (Photo courtesy IPS)
In May 2007, IPS was performing drilling operations at the Pettigrew natural gas well site in Atoka County, Oklahoma. The company's operations included hydraulic fracturing, which entails the use of drills and hydrochloric acid to penetrate through bedrock and substrata in order to access natural gas reserves.
On May 24, 2007, a tank at the site leaked hydrochloric acid onto the bermed surface of the well, which also was flooded due to recent heavy rainfall.
Rather than taking the necessary steps to properly remove the rainwater from the site, Gabriel Henson, an IPS supervisor, drove a company pickup truck through the earthen berm. This caused the discharge of the rainwater and an estimated 400 to 700 gallons of hydrochloric acid into Dry Creek, a tributary of Boggy Creek. A tributary of the Red River, Boggy Creek is a water of the United States under the Clean Water Act.
Environmental damage to the creek was minimized by spill response crews that responded to the site.
On July 20, 2011, Henson pleaded guilty to a misdemeanor violation of the Clean Water Act. Henson is awaiting sentencing. He faces up to one year in prison and a $100,000 fine.
"As hydraulic fracturing occurs with increasing frequency across the country, companies and individuals involved in those operations must adhere to the laws that protect human health and the environment and level the playing field for responsible businesses," said Assistant Attorney General Ignacia Moreno. "We recognize the critical importance of developing domestic sources of energy responsibly, and will continue to vigorously prosecute illegal conduct."
"This was a case of a corporate employee making a careless decision that caused the release of dangerous hydrochloric acid into our waters," said Mark Green, U.S. Attorney for the Eastern District of Oklahoma.
"Whether to expedite oil production or to save corporate expense, these types of actions cannot be justified nor can they be tolerated," said Green. "This office will pursue all legal remedies necessary to prevent and/or punish such actions."
"Hydrochloric acid is a highly corrosive substance. Its release into a tributary of Boggy Creek was a serious threat to the environment," said Ivan Vikin, special agent-in-charge of the U.S. Environmental Protection Agency's criminal enforcement program in Oklahoma. "Today's guilty plea demonstrates that companies will be held responsible for environmental crimes."
"The defendant's discharge of hydrochloric acid waste into a tributary of Boggy Creek threatened public health and the environment, and required a costly emergency response to minimize harm," said Vikin.
One of the nation's largest independent service providers to the oil and gas industry, IPS facilities are located throughout the U.S. Mid-Continent, Rocky Mountains and Texas.
This case was investigated by the U.S. EPA Criminal Investigation Division and the Oklahoma Attorney General's Office of Inspector General. The case is a joint prosecution between the U.S. Attorney's Office for the Eastern District of Oklahoma and the Environmental Crimes Section of the U.S. Department of Justice, Environment and Natural Resources Division.
Copyright Environment News Service (ENS) 2011. All rights reserved.
Environment News Service (ENS) © 2011 – 2012 All Rights Reserved.