Forest NGOs in Guatemala, Nepal Share UNEP Sasakawa Prize
NAIROBI, Kenya, February 23, 2011 (ENS) – Two nonprofit organizations that conserve forests and promote sustainable development in remote rural communities of Latin America and Asia will share equally the US$200,000 2011 UNEP Sasakawa Prize, the UN Environment Programme announced today.
The Asociacion Forestal Integral San Andres, Peten, or AFISAP, in Guatemala will share the prize with the Manahari Development Institute in Nepal, or MDI-Nepal.
The co-winners were named at "green tie" ceremony today in Nairobi, where UNEP is holding its 26th UNEP Governing Council / Global Ministerial Environment Forum. The event offered an environmentally-friendly alternative to conventional black tie award ceremonies with unique touches such as e-invitations and a sustainable menu.
This year's award honors the theme Forests for People, Forests for Green Growth in keeping with the 2011 International Year of the Forests. The theme highlights the central role of forests in a global Green Economy as key economic resources whose real value is often ignored in national accounts of profit and loss.
The co-winners were chosen through a two-tier selection process by an expert panel and a jury that includes Nobel Peace Prize Laureate and UN Messenger of Peace Dr. Wangari Maathai of Kenya, Nobel chemistry Laureate and 1999 Sasakawa Winner Professor Mario Molina, former Environment Minister of Japan Wakako Hironaka and UNEP Executive Director Achim Steiner.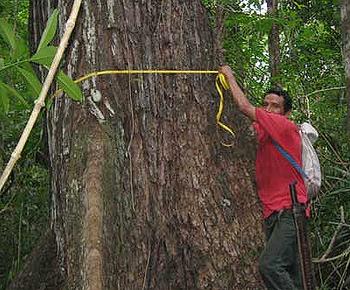 Worker with AFISAP measures a tree in the Mayan Biosphere Reserve. (Photo courtesy AFISAP)
Steiner said, "The two winners are acting on the fundamental fact that the sustainable management of forests is key to securing crucial services, from water and soil stabilization to the recycling of nutrients essential for agriculture."
The World Bank has estimated that 60 million indigenous people depend directly on forests for their survival. Forests sustain nearly half of the population in the developing world, providing wood for fuel as well as non-timber products such as nuts, rubber and medicines.
UNEP's economic experts estimate that deforestation and forest degradation cost the global economy between US$2.5 and US$4.5 trillion a year – more than the losses of the recent and ongoing financial crisis.
Founded in 1999, AFISAP is considered to be one of the most successful community groups in Guatemala. It works to preserve the forests on a 52,000-hectare concession within the Mayan Biosphere Reserve in the San Andres area, which plays a critical role in regional conservation.
An AFISAP study that used remote cameras showed that the Mayan Reserve has the highest density of jaguars ever reported in the world – 11 jaguars per 100 square kilometers.
AFISAP also has introduced projects to extract the lucrative xate, a popular foliage used for floral arrangements worldwide. Xate exports have brought greater prosperity to rural communities in the area.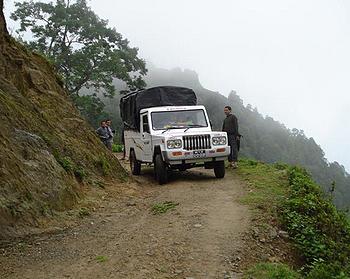 Conserving Nepal's forested slopes is a challenge for MDI-Nepal. (Photo courtesy MDI-Nepal)
The Manahari Development Institute of Nepal, founded in 2001, has introduced agroforestry to help improve crop productivity and water irrigation systems as well as reduce soil erosion on the forested hills and mountainous areas.
Apart from making up most of the country's land mass, the slopes are home to 18 million of the 24 million people who live in Nepal.
With the involvement of the indigenous community, MDI-Nepal has delivered economic and social benefits to more than 2,000 households by improving the productivity of marginal lands with the planting of various fruit crops.
"They are tackling not only poverty but forging a different development path for themselves, their families and their nations," Steiner said of the winners. "They are also conserving and enhancing natural assets that serve the world as a result of the role healthy forests have in combating global climate change."
"I hope our two winners, from separate corners of the globe, can unite others to similar actions," he said. "This would be a fitting tribute to our winners' work; an inspiring legacy for the UN's International Year of Forests and one way of accelerating the achievement of the UN's Millennium Development Goals."
The UNEP Sasakawa Prize is sponsored by the Japan-based Nippon Foundation, an independent, nonprofit grant-making organization that supports both Japanese and international philanthropic projects.
The prize was originally created in 1982 by the late Ryoichi Sasakawa and re-launched in its current format in 2005. It is currently chaired by Mr. Sasakawa's son, Yohei Sasakawa.
Copyright Environment News Service (ENS) 2011. All rights reserved.