Ford Focus Electric Home Charging Station Certified
MELVILLE, New York, October 11, 2011 (ENS) – To charge the 2012 Ford Focus Electric, Ford's first all-electric car, drivers can use an innovative home charging station just approved by Underwriters Laboratory.
The Ford Electric Vehicle Home Charging Station is a Level 2 EV charging device, designed for Ford. Providing up to 32 amps at 240 volts AC (7.7 kW output), it fully charges the car's lithium ion battery in a little over three hours, more than four times faster than the standard portable charger.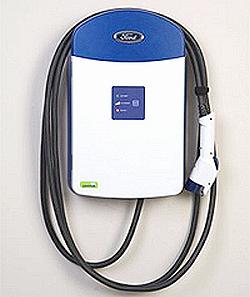 Ford Electric Vehicle Home Charging Station (Photo courtesy Ford)
"Charging is one of the most important components of owning an electric vehicle, so it was crucial to develop a charging station that made ownership easier and more affordable for Focus Electric owners," said Mike Tinskey, associate director for Ford's Global Electric Vehicle Infrastructure.
Ford worked with Leviton, a manufacturer of electric vehicle recharging products based in Melville, to design a home charging station that would be safe and easy to use.
"Through our partnership with Leviton, we utilized our collective electrical expertise to specifically design the EV Home Charging Station to meet stringent automotive quality, product development and testing requirements that will allow Focus Electric owners to charge with ease," Tinskey said.
Ford and Leviton, a global manufacturer of electrical devices, announced Monday that the new home charging station has achieved UL certification for three specific sets of Underwriters Laboratory requirements: UL 2231, UL 2251 and UL 2594.
Underwriters Laboratory, UL, is a global independent safety science company that conducts product safety testing and certification.
UL 2231-1 is a set of requirements to reduce the risk of electric shock to the user from accessible parts, in grounded or isolated circuits for charging electric vehicles.
UL 2251 requirements cover plugs, receptacles, vehicle inlets, vehicle connectors, and breakaway couplings, rated up to 800 amps and up to 600 volts, for indoor or outdoor nonhazardous locations.
UL 2594 covers electric vehicle supply equipment, rated a maximum of 250 V ac, with a frequency of 60 Hz, intended to provide power to an electric vehicle with an on-board charging unit.
The new EV charging device is compatible with all additional industry safety standards and recommended practices, the two companies said.
The Ford EV Home Charging Station, including standard installation, features an ADA compliant, simple one-button user interface. It retails for US$1,499.
"We are excited to partner with Ford to give Focus Electric owners an industry leading, easy-to-use vehicle charger that provides the safety features for which Leviton products are known," said Mike Mattei, vice president and general manager for Leviton's Commercial and Industrial Division.
"Ford and Leviton have both built reputations based on safety and quality, which is why achieving UL certification for this home device is so important, as it offers customers a solution they can't find elsewhere," said Mattei.
Offering a 10-year limited warranty, Leviton and Ford designed the home device with the user's safety in mind. A ground monitor circuit and built-in communication verifies proper connection before charging can begin.
Reducing the chance of being stranded with an undercharged battery, the charger's auto-restart feature enables charging to restart following a minor fault.
The charger features a low-energy standby power design, contributing to a reduced carbon footprint.
With a weatherproof enclosure, the device is safe for both indoor and outdoor use, and the enclosure shell is made from nearly 60 percent recycled materials.
Installation of the charger's wall mount is non-permanent, making relocation easy. A hard-wired conversion kit is available for outdoor locations. The included wrap-around charging cable offers the convenience of parking the car 18 feet away from the charger.
The home charging station is now available through select Ford dealerships and Best Buy stores to support the upcoming launch of the all-electric Ford Focus.
Leviton will roll out a specially designed home charging station for the 2012 Toyota Prius Plug-in Hybrid later this month.
The Level 2 (240V) home charging station decreases the required charging time for the Prius Plug-in to 1.5 hours compared to three hours using the factory-provided 120V cord set.
Copyright Environment News Service (ENS) 2011. All rights reserved.
Environment News Service (ENS) © 2011 – 2012 All Rights Reserved.