Florida Manatee Death Toll Doubles Due to Cold December
TALLAHASSEE, Florida, January 7, 2011 (ENS) – As a result of cold weather, twice as many manatees died in 2010 as the average number of deaths over the past five years, according to biologists with the Florida Fish and Wildlife Research Institute.
Two periods of unusually cold weather in Florida contributed to the 767 manatee carcasses documented in state waters last year, the biologists said in a report Wednesday.
"The unusually high number of manatee deaths in 2010, including those caused by the two periods of cold weather, are of concern to the Fish and Wildlife Conservation Commission," said Gil McRae, director of the research institute.
"Over the next few years, the FWC will be relying heavily on monitoring programs to better understand any long-term implications for the manatee population. In the meantime, we will continue to work with our partners to enhance the availability of natural warm-water sites and to rescue manatees in distress."
The cold weather caused many of the 767 deaths, with the "cold-stress" category accounting for 279 documented cases. Of these cold-related deaths, 244 occurred in the early part of the year and 35 occurred in December.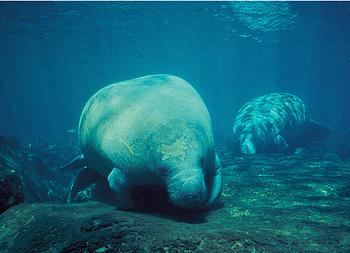 Florida manatees at Crystal River (Photo by Jim Reid courtesy USFWS)
Cold stress also contributed to the deaths of 21 of the 96 manatees in the "perinatal" or "newborn" categories, the biologists said.
In addition, they consider it likely that the cold temperatures contributed to many of the 214 deaths in the "undetermined" category and the 68 deaths in the "unrecovered" category.
Dr. Katie Tripp, director of science and conservation with the nonprofit Save the Manatee Club says the 767 manatee deaths represent more than 13 percent of the species' estimated minimum population.
"This far surpasses the record of 429 deaths set in 2009," she said. "Although 2010 started with ideal conditions that allowed a record number of manatees to be counted during the annual aerial survey (5,076), the same cold weather that facilitated the count began causing unprecedented levels of mortality in the subsequent weeks and was followed by another unusually cold weather period in December."
"In total, nearly 400 manatees are believed to have died from this lingering event, shattering the previous record of 56 cold-related deaths," said Dr. Tripp. "In addition, several dozen manatees suffering from cold stress were rescued around the state."
Tripp says that historically, warm groundwater emerging through seeps and small springs would provide a refuge to manatees in the Everglades during the winter months. "However, extensive development and canal dredging have altered the flow of water over the last 100 years, decreasing the availability of these seeps and springs, and leaving manatees at risk."
Protections for Florida manatees were first enacted in 1893. Today, they are protected by the Florida Manatee Sanctuary Act and are federally protected by both the Marine Mammal Protection Act and the Endangered Species Act.
Copyright Environment News Service (ENS) 2011. All rights reserved.