Flood Fight and Flight Along the Mississippi River
NEW ORLEANS, Louisiana, May 16, 2011 (ENS) – The Mississippi River is overflowing its banks, putting pressure on levees from Baton Rouge to New Orleans, and threatening the two cities as well as refineries and chemical facilities along the river. Officials say this Mississippi River disaster could break flood records set in the 1920s.
On Saturday, the U.S. Army Corps of Engineers opened the Morganza Spillway as part of a flood risk management plan designed to minimize damage to property, structures and to protect millions of people from historic flood levels.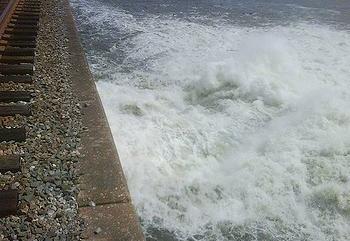 Water flows through bays at the Morganza Spillway, May 14, 2011. (Photo by Bob Anderson courtesy U.S. Army Corps of Engineers)
Four gates of the Morganza Spillway flood control structure are now open, Corps spokesperson Sarah McLaughlin said Sunday.
There are 125 gates on the Morganza structure, each 28 feet across. Opening the gates sends Mississippi River water into a spillway that includes the Atchafalaya River Basin, where significant flooding is expected.
The first gate was opened at 3 pm Saturday, for the first time in 38 years. Another gate was opened later Saturday and two more were opened today.
The Morganza Floodway is located 186 river miles above New Orleans on the west bank of the river in Pointe Coupee Parish. It was constructed in 1954 to maintain a flow of 1.5 million cubic feet per second below the floodway and has only been operated once before, in 1973.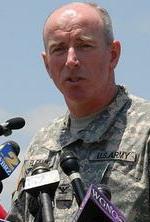 Col. Ed Fleming, U.S. Army Corps of Engineers New Orleans District commander, addresses reporters at the Morganza Floodway, May 14, 2011. (Photo courtesy USACE)
Colonel Ed Fleming, the Corps' New Orleans district commander, said he expects to open one-fourth of the gates at a slow pace to prevent scouring, give residents the opportunity to evacuate and give animals a chance to escape the rising water.
A mandatory evacuation order has been issued for parts of St. Landry Parish, Louisiana. Parish President Don Menard ordered the evacuation in a statement today, warning that "by 5 pm, everyone in the affected areas must be out!"
Thousands of residents and businesses are affected. The Louisiana Emergency Operations Center is activated, and to date, 32 parishes have declared a state of emergency.
The Louisiana National Guard is assisting Krotz Springs and St. Landry Parish officials by helping to construct two miles of levee to protect a 240-home subdivision, electrical substation and the Alon refinery.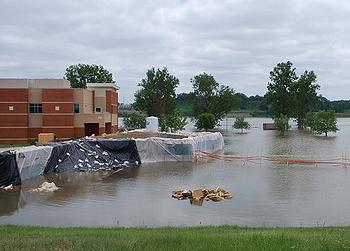 Flooded medical facilities near the Convention Center in Vidalia, Louisiana, May 14, 2011 (Photo by Lisa Coghlan courtesy USACE)
The Mississippi River in the New Orleans area was at a flood-stage 17 feet Sunday afternoon, a level where it is expected to remain for the next five days, weather officials said.
The National Weather Service said Sunday that excessive rainfall in the Middle Mississippi River Valley over the past couple of weeks has produced "major to record flooding" along much of the lower Mississippi River.
"This flood event will last several more weeks and may be affected or influenced by additional rain events prior to signficant lowering of water levels," the weather service warned.
Heavy flooding could disrupt refinery operations along the Mississippi River to the Gulf of Mexico. There are 10 refineries located along the Mississippi River that can process 2.4 million barrels of oil per day, which equates to 13.7 percent of the nation's refining capacity.
Opening the Morganza Spillway is expected to divert enough of the floodwater to allow the Port of New Orleans to remain open.
Over the past two weeks, thousands of people from Illinois to Louisiana have been forced to evacuate as heavy rains and spring meltwaters combine to push the Mississippi and its tributaries over their banks.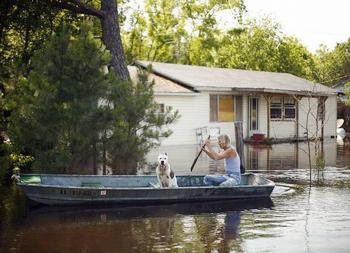 People are leaving flooded areas along the Mississippi (Photo by FrankQ2)
Agriculture Secretary Tom Vilsack and Federal Emergency Management Agency Administrator Craig Fugate said Saturday in a joint statement that federal and state agencies have been working together for weeks to prepare for the flood emergency.
"Our hearts go out to all of those affected by the flooding in Louisiana's Morganza Spillway," said Vilsack and Fugate. "While the Army Corps is responsible for levee maintenance and control and the decision to open the Morganza Spillway, FEMA, the USDA and the entire federal family are focused on ensuring the safety and recovery of the people and communities we serve and at the direction of President Obama, we have been working closely with the state of Louisiana for weeks to prepare for this event."
They said insured farmers whose crops are damaged by opening of the Morganza Spillway and those who have been unable to plant will be compensated.
The Morganza Spillway is just the latest in a series of spillways that have been opened to redirect the Mississippi floodwaters.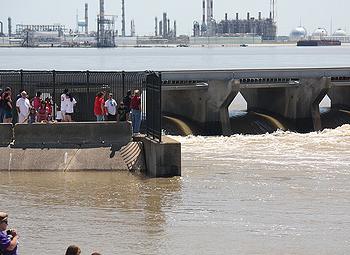 Water watchers at the Bonnet Carre Spillway with the Shell Norco refinery in the background, May 9, 2011. (Photo by Tviv )
On May 9, the Corps began opening the Bonnet Carre Spillway structure about 12 miles west of New Orleans to relieve some of the pressure on levees in the city.
This spillway is intended to keep the volume of the Mississippi River flows at New Orleans from exceeding 1.25 million cubic feet per second. By day's end Saturday, 300 bays were opened.
Located in St. Charles Parish, the Bonnet Carre Spillway allows Mississippi floodwaters to flow into Lake Pontchartrain and from there into the Gulf of Mexico.
In preparation for flooding, under the leadership of Department of Homeland Security Secretary Janet Napolitano, FEMA has embedded staff, including top officials, in the states' emergency operations center to coordinate with state and local agencies and has pre-positioned commodities in strategic locations that can be deployed to assist Louisiana and other states quickly, if needed.
At the request of the states, the federal government currently has staff on the ground in Arkansas, Illinois, Kentucky, Louisiana, Mississippi, Missouri and Tennessee working with state emergency management partners, to coordinate federal support.
Last week, President Barack Obama declared emergency declarations for Mississippi, Tennessee and Louisiana, and a major disaster declaration for Kentucky, allowing the federal government to support emergency measures to save lives and to protect property and public health and safety.
Copyright Environment News Service (ENS) 2011. All rights reserved.
Environment News Service (ENS) © 2011 – 2012 All Rights Reserved.