Flood Crisis Hits Three Australian States, 30 Dead
MELBOURNE, Victoria, Australia, January 19, 2011 (ENS) – Floodwaters from weeks of rain in Queensland spilled over the state's southern boundary into neighboring New South Wales last week, and now the disastrous floods are inundating dozens of towns and hundreds of ranches in a third state further to the south.
The state of Victoria in Australia's southeast corner is the latest victim of the flood emergency that has lasted since early December, claiming at least 30 lives.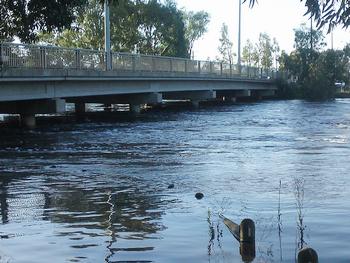 At Horsham, the flooded Wimmera River runs under a bridge on the main highway between Melbourne and Adelaide, January 17, 2011 (Photo by Flora Haggis)
Across Victoria, more than 3,500 people have fled their homes, with 60 towns submerged by the rising waters. Horsham was inundated Tuesday as the Wimmera River burst its banks, flooding about 500 homes in the town of 14,000 people.
Floodwaters are now affecting most of eastern Australia, causing what Prime Minister Julia Gillard is calling "the country's most expensive natural disaster."
In Queensland, floodwaters have receded in some places, but not in others, so the full extent of the damage to infrastructure and buildings is not yet known.
After many visits to flood-affected areas, Prime Minister Gillard said, "For me there's a lot of sorrow, a lot of sorrow, but also a lot of pride seeing how Australians responded and a lot of determination about how we're going to get through this and how we're going to rebuild from it."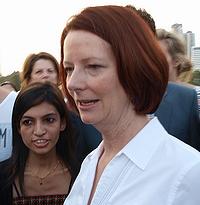 Prime Minister Julia Gillard with Brisbane residents, January 12, 2011 (Photo by Max Wedge)
Gillard had projected a federal budget surplus in 2012-2013 and today she said that surplus is still on the books, even with the expense of flood recovery.
"We will rebuild Queensland definitely, full stop," the Prime Minister said today. "We will rebuild Queensland and we will make the difficult decisions necessary to bring the budget to surplus in 2012-13. This is not either/or, this is both."
"Communities in Northern New South Wales are feeling the flow-on effects of severe flooding in southeast Queensland," said Gillard. "The flooding in these communities has caused considerable disruption, including the evacuation of thousands of people from their homes."
The Prime Minister is offering assistance in the form of a Australian Government Disaster Recovery Payment of $1,000 per eligible adult and $400 per eligible child to help flood-affected residents of all three states.
The federal government also is offering grants of up to $15,000 for small businesses and primary producers affected by flooding in New South Wales.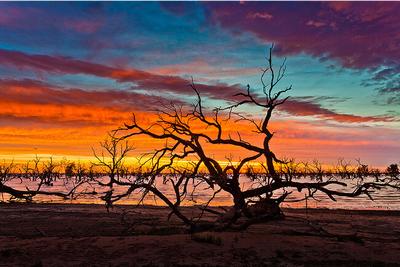 High water level in Pamamaroo Lake, Menindee, January 17, 2011 (Photo by Andy Chan)
As recently as a week ago, water officials in New South Wales were rationing water and urging conservation measures, but today, state Water Commissioner David Harriss said Menindee Lakes in the Lower Darling River Valley are already at 105 percent of normal capacity and large volumes of water will be released downstream.
"The recent very heavy rain in the Menindee, Wilcannia and White Cliffs area has resulted in inflows to the lakes that could not be planned for, even a week ago," said Harriss.
The wealth of water is good news for parched areas that have been drier than normal for years, but the NSW government has declared some disaster areas and thousands of people have fled their homes.
In Victoria, Premier Ted Baillieu said today, "These are the worst floods ever to hit northern and north-western Victoria. They have caused widespread devastation to local communities and massive long term assistance will be required to help these communities recover and rebound."
Government clean-up grants for flood victims such as businesses, not-for-profit organizations and primary producers will increase to $25,000 from $15,000 and will be made retroactive to include those affected by the floods last September and December, Baillieu said.
Victoria Minister for Agriculture and Food Security Peter Walsh said a statewide Incident Management Team has been established by the Department of Primary Industries to co-ordinate urgent flood recovery efforts for Victorian farmers.
"DPI officers will travel through the affected areas as they become safe to do so, to identify urgent animal welfare requirements such as animal health needs, feed for livestock and carcass disposal. They will also be providing details on support packages available," Walsh said.
EPA Victoria's Tim Eaton warned, "The burning of dead stock must be avoided," due to health and environmental issues. Eaton said EPA would consider allowing disposal of animal carcasses in licensed landfills or the agency might issue one-off approvals for burial in large pits.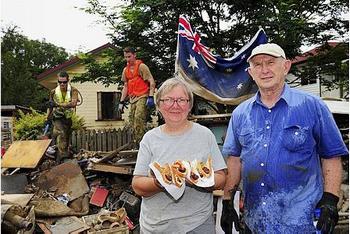 Soldiers from the Royal Queensland Regiment help Brisbane residents Barbara and John Iwanko clear debris as part of the Australian Defence Force Operation Queensland Flood Assist, January 16, 2011. (Photo by Cpl. Janine Fabre courtesy ADF)
Prime Minister Gillard announced Tuesday that her government will establish a Business Taskforce chaired by Wayne Swan, deputy prime minister and treasurer, to support the immediate recovery effort.
The Business Taskforce will gather 10 Australian business leaders from a range of industries to mobilize business efforts across the country, leverage corporate donations of dollars and in-kind donations, and use Australia's best business expertise to help with business recovery and rebuilding efforts.
Business Council of Australia President Graham Bradley said today, "Our CEO members, many of whose staff, customers and operations have been directly affected by the floods, are part of these communities. They are both professionally and personally committed to the reconstruction of those communities."
"While the devastation reinforces the importance of maintaining a strong economy to withstand such drastic unforseen events, it also shines a light on the role large businesses can and should play," Bradley said.
Companies are contributing to the logistical effort in accordance with their particular strengths, said Bradley. "Companies are deploying equipment and personnel to clean up sites; transporting food and other essentials into affected areas, and providing tailored support measures to affected staff and customers."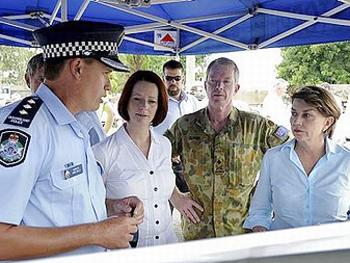 From left: Queensland Police Inspector Mark Kelly briefs Prime Minister Julia Gillard, Head of the Queensland Flood Recovery Task Force Major General Mick Slater, and Queensland Premier Anna Bligh in Grantham. (Photo by PO Damian Pawlenko courtesy ADF)
Gillard is calling for consistent definitions in insurance policies across the country between companies and across states to help solve the problems of people who had been paying their insurance premiums for years, believing that they had flood coverage and are now finding out that the definition in their flood policies does not cover the flood that they had.
In Queensland, Premier Anna Bligh has established a Royal Commission of Inquiry to examine the state's devastating and deadly floods, government preparedness and the emergency response. The $15 million inquiry, to be headed by Justice Cate Holmes will investigate the adequacy of forecasts and early warning systems, particularly regarding the flooding in the inland city of Toowoomba and the Lockyer and Brisbane valleys.
Premier Bligh issued an appeal for funds to help flood survivors in her state that received a boost on Sunday from Powderfinger, a Brisbane band that played its last show together in November. While declining pleas to reunite to raise money for flood relief, Powderfinger said the band will release a previously unheard song to aid the Premier's Flood Appeal.
Premier Bligh said that some areas are "all clean and starting to look normal again, but behind everyone's doors people are in clean houses with nothing. No furniture, no clothes, it's a long, long road here and we need everyone to be helping out."
Australian Conservation Foundation President Professor Ian Lowe is warning that the current floods as well as the devastating bushfires that swept Victoria in 2009 are both "what climate science has been warning us about."
"The Queensland floods are another reminder of what climate science has been telling us for 25 years," said Lowe. "As well as a general warming and increasing sea levels, it predicted more frequent extreme events: floods, droughts, heatwaves and severe bushfires."
"It is still too early to say with certainty that climate change is responsible for the strong El Niño event which brought devastating drought to eastern Australia and the equally strong La Niña event which has produced the terrible floods," Lowe said. "But they are exactly what climate science has been warning us about. If we don't want to see more events like the 2009 Victorian bushfires and the floods now happening, we need a concerted program of action to reduce greenhouse pollution."
Copyright Environment News Service (ENS) 2011. All rights reserved.
Environment News Service (ENS) © 2011 – 2012 All Rights Reserved.