Flash Floods Kill 16 in Arkansas
LITTLE ROCK, Arkansas, June 11, 2010 (ENS) – Flash floods today claimed the lives of 16 people caught unawares by on two Arkansas rivers – the Caddo and the Little Missouri – Arkansas State Police have confirmed.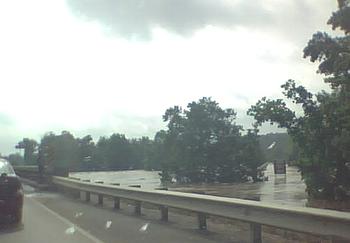 The flooded Caddo River, June 11, 2010 (Photo by Halalah)
Heavy rain last night caused the rivers to rise rapidly to 20 feet above their normal levels, overwhelming campers and hikers attracted to the Ouachita Mountains by the lakes, mountain trails and whitewater adventure opportunities.
Worst affected is the Camp Albert Pike area, about 75 miles west of Little Rock on the Ouachita National Forest. Search and rescue teams from the state police and Arkansas National Guard are combing the area for survivors or victims' remains.
The Arkansas Guard has deployed a UH-60 Blackhawk helicopter and crew to the Albert Pike Campground to help flood victims.
"We don't know how many are in the area," Arkansas State Police spokesman Bill Sadler told reporters. "This isn't a camp where you check in."
Officials have brought in a refrigeration unit to use as a temporary morgue for the recovered bodies, none of which have yet been identified. They are being moved to funeral homes in Mena, a small town to the west of the national forest.
The National Weather Service says the heavy rainfall has now moved off to the northeast of the affected area, and sunny skies are predicted for this afternoon.
This evening, President Barack Obama and First Lady Michelle Obama offered their condolences and prayers to the families and friends of the dead and missing.
"State and local first responders continue their critical life saving efforts on the ground," said the President. "I have instructed FEMA to be in close contact with Arkansas Emergency Management officials and to report back concerning any unmet needs; and I will ensure that FEMA continues to coordinate with our state and local partners throughout this tragedy."
Copyright Environment News Service (ENS) 2010. All rights reserved.