WASHINGTON, DC, July 18, 2012 (ENS) – Federal ocean authorities are making $250,000 in grants available to five states hit by debris from the March 2011 Japanese tsunami.
Alaska, Washington, Oregon, California, and Hawaii will receive up to $50,000 each from the National Oceanic and Atmospheric Administration, NOAA, to use toward marine debris removal efforts. The funds could be released as soon as the end of July.
"We continue to actively work with the states and other Federal agencies to address the challenges associated with tsunami debris," said Nancy Wallace, director of NOAA's marine debris program. "We are pleased to be able to contribute funds to support states' efforts to respond to and remove marine debris, including disposal fees, cleanup supplies, and dumpster rentals."
NOAA and other federal agencies have been assisting the West Coast states in planning how to handle above normal amounts of marine debris. Federal partnership efforts also include collecting and sharing data, assessing the debris, and mitigating risks to navigational safety.
The government of Japan estimates that the tsunami swept about five million tons of debris into the Pacific Ocean and that about 70 percent sank in Japanese waters shortly afterwards.
The remaining 1.5 million tons dispersed far across the North Pacific Ocean in an area roughly three times the size of the lower 48 states.
Computer modeling indicates that most of the debris is scattered and may continue to disperse north of the Main Hawaiian Islands and east of Midway Atoll.
Some of the debris has already reached U.S. and Canadian shores, and more is expected to continue over the next several years.
In addition to supporting state planning, NOAA has established a public email reporting system for suspected pieces of tsunami debris. As marine debris is an on-going problem, it can be difficult to determine the source of debris without unique identifying information, and NOAA is working with the Japanese government to identify such items when possible.
As of July 12, NOAA has received 529 reports, of which just 10 have been confirmed as originating from the tsunami event.
NOAA has held series of public briefings on the Pacific Coast and in Hawaii for local officials, nongovernmental organizations, and the general public.
The agency has established monitoring sites along the coast and partnered with commercial and recreational shippers and fishers to report any debris at sea.
Members of the public are asked notify local authorities of any sightings of marine debris at sea or on shore, and also may report such information to disasterdebris@noaa.gov.
Types of hazardous debris from Japan may include containers of chemicals or fuel, flares or medical waste such as syringes.
People are particularly asked to report any piece of debris containing marine plants or animals so that authorities can determine if they are native or invasive species.
Aside from the debris from the Japanese tsunami, there is so much other debris in the Pacific that authorities have filled debris removal vessels to the brim with tons of derelict fishing gear and plastics every year since 1996 as part of a coral restoration effort.
The NOAA Ship Oscar Elton Sette arrived at its homeport of Honolulu on Saturday after a month in the Northwestern Hawaiian Islands, now protected as the Papahanaumokuakea Marine National Monument.
The team of scientists aboard collected nearly 50 metric tons of marine debris, which threatens monk seals, sea turtles and other marine life in the 140,000 square mile coral reef ecosystem.
"What surprises us is that after many years of marine debris removal in Papahanaumokuakea and more than 700 metric tons of debris later, we are still collecting a significant amount of derelict fishing gear from the shallow coral reefs and shorelines," said Kyle Koyanagi, marine debris operations manager at NOAA Fisheries' Pacific Islands Fisheries Science Center and chief scientist for the mission. "The ship was at maximum capacity and we did not have any space for more debris."
This year, marine debris was loaded onto the 224-foot-long ship from around the northernmost islands and atolls: Kure Atoll, Midway Atoll, Pearl and Hermes Atoll, Lisianski Island and Laysan Island.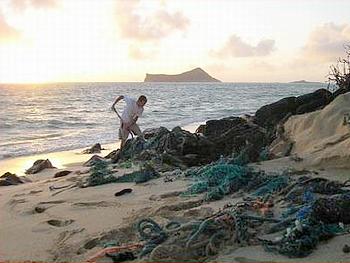 Clearing derelict fishing nets from a remote Hawaiian beach (Photo courtesy NOAA PIFSC Coral Reef Ecosystem Division)
The NOAA team did look for debris from the 2011 tsunami in Japan but found no debris with an explicit connection to the tsunami. Scientists monitored marine debris for radiation in partnership with the Hawaii Department of Health out of an abundance of caution and to gather baseline data.
"While we did not find debris with an obvious connection to last year's tsunami, this mission was a great opportunity to leverage activities that had already been planned and see what we might find," said Carey Morishige, Pacific Islands regional coordinator for NOAA's Marine Debris Program. "It's also an important reminder that marine debris is an everyday problem, especially here in the Pacific."
Marine debris removed during this project is used to create electricity through Hawaii's Nets to Energy Program, a public-private partnership.
The nets are transported to the facility of Schnitzer Steel Hawaii where they are chopped up at the City and County of Honolulu's H-Power energy-from-waste power plant run by Covanta Energy. All services and transport are donated free of charge.
Since 2002, more than 730 metric tons of derelict nets have been used to create electricity – enough to power 350 Hawaii homes for a year.
For more information about tsunami marine debris, including the latest computer models estimating the location of the majority of the debris and state-by-state debris reports, visit the NOAA marine debris Japanese tsunami website at: http://marinedebris.noaa.gov/tsunamidebris/
Copyright Environment News Service (ENS) 2012. All rights reserved.