Five Cities Win Grants to Develop Gardens, Green Spaces
WASHINGTON, DC, January 19, 2012 (ENS) – Five cities have won grants of $25,000 each to develop community gardens and green spaces, awarded by a new partnership between the U.S. Conference of Mayors and the lawn and garden care company ScottsMiracle-Gro.
"Over the last several years, the Conference has pushed for cities to develop community gardens to enhance the health and quality of life in our neighborhoods," said Conference President Los Angeles Mayor Antonio Villaraigosa. "This new Grant Awards Program shines an important spotlight on mayoral efforts to support innovative gardens and green spaces."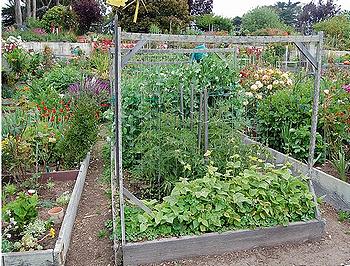 Community garden in San Francisco (Photo by peahayes)
The winning cities were selected by a panel of former mayors and national garden experts from a pool of more than 80 applicants, and the grants were announced today at the U.S. Conference of Mayors' 80th Winter Meeting in Washington, DC.
This year's winning cities of the 2012 GRO1000 Garden and Green Space awards are:
Baltimore, Maryland – Mayor Stephanie Rawlings-Blake Upton Edible Garden is a new mayoral initiative to create community vegetable gardens that will serve as educational sites where residents can learn about growing and cooking healthy food. The site consists of 32 city-owned vacant lots, totaling almost three-fourths of an acre, located in the historic Upton neighborhood. The Upton neighborhood is a "distressed" community and has not yet seen a project like this devoted to producing local, healthy food.
Columbia, South Carolina – Mayor Steven Benjamin I-126/Greystone Boulevard Interchange Beautification Project will enhance the green space entrance into the Riverbanks Zoo and Garden, one of the primary gateways into the City of Columbia. A mid-sized facitity, Riverbanks Zoo and Garden attracts up to 1.2 million visitors a year. The grant project consists of a 6,773 square foot planting bed on the south side of the on-ramp and an adjacent area of about 2/3 that size along the north side of the on-ramp. Residents and visitors will learn about regional native plants and how composting aids gardening.
Cleveland, Ohio – Mayor Frank Jackson Located in Cleveland's Lower Kinsman Neighborhood, the Urban Agriculture Innovation Zone will repurpose 26-acres of vacant, formerly residential land for urban agriculture. A park will be created to welcome visitors to the Urban Agriculture Innovation Zone, including signage identifying the Zone, seating, flower beds and decorative landscaping, and a staging area for a farmers' market and special events.
Corpus Christi, Texas – Mayor Joe Adame The Lindale Park Community Garden will feature a raised garden area with 20 plots, a turf demonstration area, rainwater harvesting barrels and compost bins. Lindale Park, located along the main thoroughfare, Staples Street, is used by low to middle income families and many of the children qualify for reduced or free lunch at school. Families and organizations can take garden plots to cultivate and harvest vegetables for their own meals or to share or sell at the community events that take place at the park.
San Francisco, California – Mayor Edwin Lee The Quesada Gardens Initiative is an expansion project to create a new gardening education area and public gathering space with the potential for food swapping, distribution and vending. The project will take place in a diverse and traditionally underserved community immediately adjacent to one of the city's major transportation arteries, which is also the neighborhood's primary commercial corridor.
Copyright Environment News Service (ENS) 2012. All rights reserved.