First Philippines Typhoon of 2010 Proves Deadly
MANILA, Philippines, July 14, 2010 (ENS) – At least 20 people have lost their lives and 57 others are missing following the first typhoon to strike the Philippines this year.
Typhoon Conson hit on July 13, knocking out power for more than 40 million people on the main island of Luzon, closing roads and bridges, and destroying hundreds of homes in coastal areas, the Philippines National Disaster Coordinating Council reports.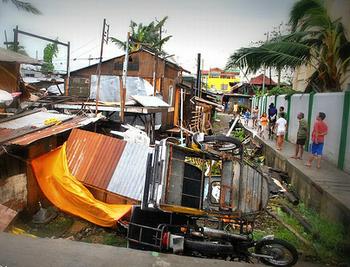 Houses knocked flat by Typhoon Basyang (Photo by Biboy3)
The storm, known locally as Typhoon Basyang, is moving in a northwesterly direction and is expected to hit Laoag City on the northwest coast of Luzon island tomorrow afternoon.
During an emergency meeting with NDCC officials today, President Benigno Aquino ordered the interior department to conduct an inventory of areas affected, account for vulnerable people, and ensure that the needs of affected populations are attended to," said NDCC chief Benito Ramos.
Many of those killed were fishermen, so President Aquino has ordered the Philippines Coast Guard to come up with a "recall system" for fishermen at sea during weather disturbances.
Aquino also directed government agencies to ensure the safe return of evacuees especially to potentially hazardous areas.
Residents of low-lying and mountainous areas are warned to take precautions against flash floods and landslides. Twenty evacuation centers are providing temporary shelter to 1,911 people.
Flights and ferries were canceled, schools are closed, and at the South Luzon Expressway in suburban Manila, a construction crane collapsed.
Meanwhile, rebuilding from last year's storms in the typhoon-prone island chain is moving forward.
More than 600 families, who were left homeless when typhoons Ketsana, Parma and Mirinae lashed the Philippines in late 2009, now have homes with the assistance of the Philippine Red Cross, supported by the International Federation of Red Cross and Red Crescent Societies.
"The Red Cross is there for you before, during, and after the storm," said Gwendolyn Pang, secretary general of the Philippine National Red Cross, speaking during a relief distribution in Laguna earlier this month, which doubled as a ceremony to mark completion of the homes.
Many of these families were living in poverty before the typhoons struck and could not afford to rebuild their homes or replace property lost to the typhoon, said Pang.
The 630 families are among the first to finish building their own transitional shelters after receiving building materials from the Red Cross. The construction of 1,600 more shelters is underway or in the planning stage.
Copyright Environment News Service (ENS) 2010. All rights reserved.