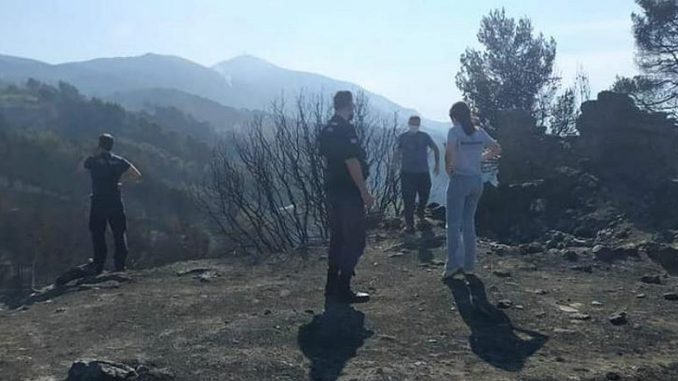 ATHENS, Greece, May 24, 2021 (ENS) – Six villages and two Orthodox Christian monasteries have been evacuated ahead of a giant wildfire raging in Greece's Geraneia mountain range about 90 kilometers (55 miles) west of the capital, Athens.
Greece's first major forest fire of the season broke out Wednesday in a forested area in the village of Schino, near the resort of Loutraki, by someone burning vegetation in an olive grove, the civil protection agency said.
Fanned by gusty winds, the blaze has spread to the Geraneia mountains and now hundreds of firefighters backed by water-dropping helicopters and some military units are fighting the flames.
The fire is "one of the biggest in the past 20 to 30 years, and has come early in the season," Fire Chief Stefanos Kolokouris told ANT1 television.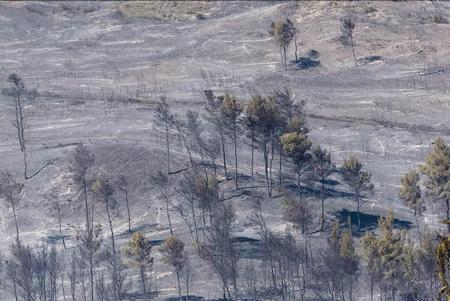 The main front of the outbreak came mostly under control late on Friday, he said, but there remain "several active and scattered" blazes.
Several houses have been destroyed by the flames, but they were not occupied at the time, fire officials said.
Vassilis Vathrakogiannis, a fire department spokesperson, told the Athens-Macedonian News Agency, "The fire brigade is doing everything possible to get this large fire under control, which due to the westerly winds is heading towards the Geraneia Mountains. Until now, we do not have official data on damage to homes, most of which are holiday homes and are not currently inhabited," he said.
The fire has burned more than 55 square kilometres (21 square miles) of pine forests and agricultural land and the blaze is not yet completely under control.
Roughly 54 percent of the dense and protected pine forests have been burned, the Avghi Daily newspaper said. A little more than six percent percent of the mountain range is part of the European Union's Natura 2000 network of nature conservation sites.
Euthymios Lekkas, professor of environmental disaster management at the University of Athens, is worried about what could happen in the aftermath of this fire.
"It's a huge ecological disaster that needs work to avoid landslides and terrible flooding in the autumn," he told ERT public television.
An animal rescue group called Caesar's Paradise has been working with pets and farms animals trapped by the flames, collecting donations to fund food, water and veterinary care for them.
In a Facebook post, the group wrote, "Full of sadness and sorrow, we returned home tonight to fill our batteries a little. Tomorrow we will go back to the fire area, hoping to save even more animals. This is an experience we will never forget. Both the images we saw and the smell of ashes will haunt us for the rest of our lives. We faced burnt ponies, dogs, cats, birds, chickens, turtles, deer etc. Fortunately, we managed to rescue several of them because we had the necessary supplies and volunteers."
After Caesar's Paradise posted an appeal for financial assistance, they said local vets took the initiative to offer fire animal diagnostic tests for free. Now donations can be used to cover the costs of medical care, vaccines, drugs and hospitality for these animals.
Featured image: Animal rescuers from the Green nonprofit Caesar's Paradise look out over the smoking Geraneia mountains, May 2021 (Photo courtesy Caesar's Paradise)