First Clean Energy Ministerial Builds Global Low Carbon Future
WASHINGTON, DC, July 20, 2010 (ENS) – Ministers from 24 governments took part in the first-ever Clean Energy Ministerial in Washington Monday and Tuesday, launching 11 new initiatives to accelerate the global transition to clean energy.
The event concluded with the announcement that these programs will avoid the need to build more than 500 mid-sized fossil fueled power plants worldwide over the next 20 years.
The initiatives will cut energy waste; help deploy smart grid, electric vehicle, and carbon capture technologies; support renewable energy markets; expand access to clean energy resources and jobs; and support women pursuing careers in clean energy.
Utility-scale Dry Lake Wind Power Project in Arizona (Photo courtesy Iberdrola Renewables)
U.S. Energy Secretary Steven Chu, who hosted the event, said, "The Clean Energy Ministerial has brought together leaders from around the world to take unprecedented actions to deploy clean energy technologies – from energy efficiency to renewable energy to smart grids to carbon capture. These steps will promote economic growth, create jobs and cut greenhouse gas emissions."
"What we've seen here is that working together, we can accomplish more, faster, than working alone," Chu said.
Ministers from Australia, Belgium, Brazil, Canada, China, Denmark, the European Commission, Finland, France, Germany, India, Indonesia, Italy, Japan, Korea, Mexico, Norway, Russia, South Africa, Spain, Sweden, the United Arab Emirates, the United Kingdom, and the United States took part in the event.
The 24 participating governments represent more than 80 percent of global energy consumption and a similar portion of the global market for clean energy technologies.
The United States helped lead the development of several initiatives as part of a Global Energy Efficiency Challenge. These projects will cut energy waste around the world by deploying super-efficient appliances, improving industrial and building efficiency for large-scale facilities, implementing smart grid technologies, and helping to put millions of electric vehicles on the roads.
Under the Super-efficient Equipment and Appliance Deployment Initiative, governments will work with the private sector to transform the global appliance market. The program will address both ends of the efficiency spectrum – incentivizing the deployment of super-efficient appliances while implementing and enforcing stronger appliance standards that push the most inefficient appliances off the market.
The program will initially focus on televisions and lighting – two globally-traded products that together account for about 15 percent of household electricity use. Leading experts estimate that international efforts to improve the efficiency of televisions alone could reduce energy use equal to about 80 power plants by 2030.
As part of the Global Energy Efficiency Challenge, governments also joined the United States to improve efficiency in the buildings, industrial and vehicles sectors. The Global Superior Energy Performance Partnership will help large buildings and industrial facilities measure and manage their energy use, which will save money and reduce greenhouse gas emissions.
Under this public-private partnership, governments will establish internationally-recognized certification programs to recognize facilities that adopt approved energy management systems and achieve significant and independently validated efficiency improvements over time. To start, eight companies representing over $600 billion in annual sales and the Massachusetts Institute of Technology will pilot the program.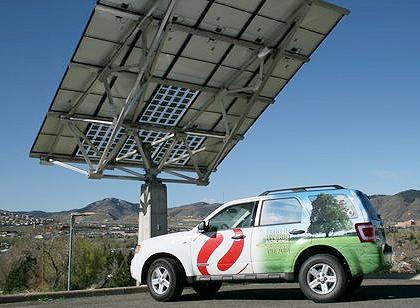 Plug-in hybrid Electric Ford Escape recharges at a solar array at the National Renewable Energy Lab in Golden, Colorado. April 2010. (Photo by Dean Armstrong courtesy NREL)
In the transportation sector, the United States and other countries are participating in the Electric Vehicles Initiative to enhance global cooperation on the development and deployment of electric vehicles. Through sister-city partnerships, high-level discussions, and information-sharing on electric vehicle investments and best practices, EVI will help countries deliver on their respective deployment targets.
According to the International Energy Agency, this initiative will help put participating countries on the path to deploy at least 20 million electric vehicles by 2020 and reduce global oil consumption by approximately one billion barrels over the next decade.
To further accelerate the introduction of electric vehicles, improve the reliability of the electrical system, promote the growth of renewable energy, and help consumers and businesses better measure and lower their energy use, 15 governments also joined the International Smart Grid Action Network.
This partnership will accelerate the development and deployment of smart electricity grids around the world by facilitating cooperation in key areas, including smart grid policy, regulation and finance; standards policy; technology research, development and demonstration; workforce skills and expertise; and consumer engagement.
An additional seven initiatives will support the growing global market for renewable energy and carbon capture technologies; bring solar LED lanterns to more than 10 million of the world's poorest citizens by 2015; launch virtual Clean Energy Solutions Centers to help developing countries transition to low-carbon technologies; and encourage young women to pursue careers in clean energy.
At the conclusion of the meeting, the United Arab Emirates offered to host the second Clean Energy Ministerial in spring 2011. The United Kingdom offered to host the third Ministerial at a date to be determined.
Copyright Environment News Service (ENS) 2010. All rights reserved.