Fire Shuts Down BP Oil Containment Operation
GULF OF MEXICO, June 15, 2010 (ENS) – A ligtning strike is believed to have caused a fire that broke out this morning on the ship in the Gulf of Mexico collecting the oil being brought up from BP's damaged Deepwater Horizon wellhead.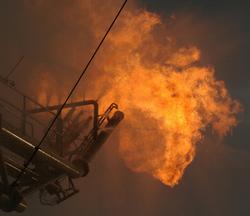 On the Discoverer Enterprise, gas brought up from the wellhead is flared off. (Photo courtesy USCG)
The fire was quickly extinguished and there were no injuries, BP said in a brief statement.
At approximately 9:30 am local time, a small fire was observed at the top of the derrick on the drillship Discoverer Enterprise.
The U.S. Coast Guard indicates the fire was caused by a lightning strike, according to their preliminary review.
All procedures were followed and all safety systems operated as designed but, as a precaution, BP shut down the oil containment operation, which is currently handling approximately 15,000 barrels of oil per day.
Gas and oil from the wellhead are brought to the Discoverer Enterprise through a tube placed inside the damaged pipe. The oil is collected for transport to a refinery onshore and the gas is flared off.
The company says final safety and operational assurance inspections are underway and operations are expected to recommence this afternoon.
Owned by Transocean, Ltd, the Discoverer Enterprise is currently operating in the Gulf of Mexico under contract to BP.
Copyright Environment News Service (ENS) 2010. All rights reserved.
Environment News Service (ENS) © 2010 – 2012 All Rights Reserved.