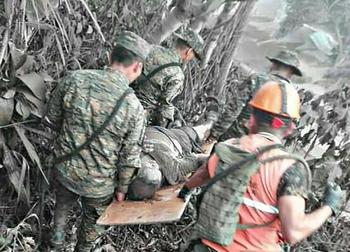 GUATEMALA CITY, Guatemala, June 4, 2018 (ENS) – Eruptions from Guatemala's Fuego volcano that began on Sunday have claimed the lives of at least 69 people, including three children, Guatemala authorities now say.
Nearly 300 others are injured in the most violent eruption of the volcano called Fuego, "fire," in English, in more than four decades, officials said.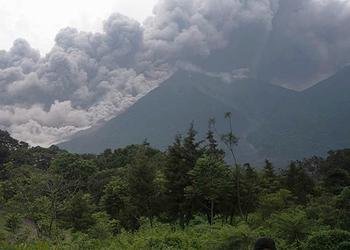 Volcanologists report the eruption, which sent ash up to 10 kilometers (6.2 miles) into the air, is now over.
Disaster officials said the eruption has affected more than one million people, with 3,100 evacuated from areas around the volcano and 20 injured people taken to health centers.
Thousands of people are being housed in temporary shelters. Close to 1,400 people spent Sunday night in makeshift shelters set up in schools and government buildings.
La Aurora International Airport was forced to close on Sunday due to the ashy risk, but re-opened Monday.
Crews are helping people in Escuintla, Sacatepéquez and Chimaltenango provinces, and carrying out search operations for the missing.
The Fuego volcano remains one of the most active in the world.
"It's a river of lava that overflowed its banks and affected the Rodeo village. There are injured, burned and dead people," National Disaster Coordinator Sergio Cabanas said on the radio. "We are evacuating and rescuing people."
Cabanas said four people were killed in the village of El Rodeo when lava set their house on fire, and he told the Associated Press that two children burned to death on a bridge while watching the eruption.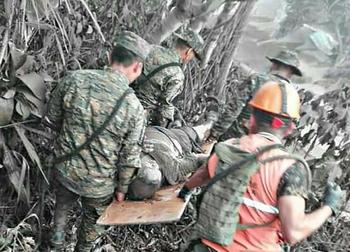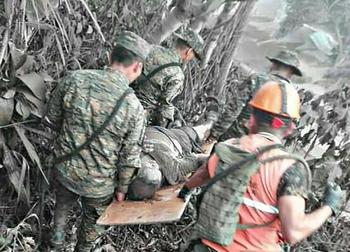 Fuego is located about 44 kilometers southwest of the capital, Guatemala City, and is close to the city of Antigua, a popular tourist destination.
The volcano shot out a five-mile stream of lava and a thick plume of black smoke and ash that was seen in the capital, Guatemala City.
The eruption also generated pyroclastic flows – fast-moving mixtures of hot gas and volcanic matter – that flowed down the slopes, engulfing communities.
Many communities on the southern slopes of the volcano were buried under a mixture of hot mud, ash and rocks as the volcanic explosions kept going off for more than 16 hours straight.
Walter Cotte, regional director of Americas for the International Federation of Red Cross and Red Crescent Societies, said, "This disaster is very serious, and the situation may get even worse – as well as the ongoing eruption, communities are also at high risk of mud avalanches."
"Guatemalan Red Cross volunteers and staff are on the ground now, and IFRC's regional and global disaster response systems are on standby to give support where it is needed," Cotte said.
Fresh lava flows hampered search and rescue efforts on Monday, forcing emergency services to withdraw from the area. Hundreds of people remain unaccounted for.
Speaking Monday, the head of Guatemala's National Forensic Sciences Institute said only 13 of the dead have been identified because the bodies were so badly disfigured by lava flows that reached temperatures of 1,300F (700C).
Rescuers in helicopters were able to pull at least 10 people alive from ash drifts and mud flows that were up to the roofs of some homes. First responders used sledgehammers to smash the roofs to see if anyone was trapped inside.
President Jimmy Morales convened his ministers late Sunday evening and declared a state of emergency in the departments of Chimaltenango, Escuintla and Sacatepéquez.
Copyright Environment News Service (ENS) 2018. All rights reserved.