FedEx Funds Conservation International to Reforest Panda Habitat
WASHINGTON, DC, March 25, 2010 (ENS) – Two of America's best known organizations have joined forces to help reforest giant panda habitat in a region of China's Sichuan Province devastated by a severe earthquake in 2008. With fewer than 1,600 individuals left in the wild, the giant panda is one of the planet's most endangered species.
FedEx will donate $600,000 to the nonprofit Conservation International to run community conservation projects that will reforest areas of south-central China that were destroyed by the May 2008 earthquake. The 8.0 magnitude earthquake took over 69,000 lives and caused $124 billion in damage, including destruction of panda habitat.
Ten community conservation projects funded by the Fedex donation will plant native species such as bamboo, the animal's primary food source. The plantings also will restore and protect panda habitat.
"This alliance with Conservation International demonstrates not only a shared ideology between our respective organizations for the sustainability of our planet, but also our collective commitment to help in the rebuilding efforts of the affected region," said David L. Cunningham, Jr., president, Asia Pacific, FedEx Express.
"I am proud that FedEx employees will play an active role in the environmental awareness program to educate and convey conservation issues important to the communities where we operate," said Cunningham.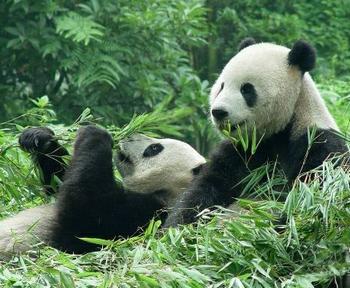 Giant pandas spend more than half their time eating bamboo. (Photo courtesy China Fact Tours)
Giant pandas occupy temperate mountain areas forested with dense stands of bamboo. They spend about 55 of their time feeding, mainly on bamboo, which makes up 99 percent of their diet.
Restricted and degraded habitat is the greatest threat to giant pandas, and their panda's range contracted as trees were removed in logging operations and land was cleared for farming. Populations of pandas became small and isolated, and confined to high ridges, hemmed in by cultivation.
They are now separated in six fragmented populations on six mountain ranges separated by agriculture, and within these, fragments of bamboo forest separated by patches of cleared lands and forest without a bamboo understory.
Chinese authorities have established a network of panda reserves, and linkages now exist among some of these, but small population size and small total range remains a threat to the viability of this species, according to the IUCN Red List of Threatened Species.
The bamboo plantings also will sequester the greenhouse gas carbon dioxide, benefit fragile local economies and protect the valuable Yangtze River watershed that supplies one half of China's agricultural production, including two-thirds of China's rice.
"FedEx support of these important projects in China enables CI and its partners on the ground to continue efforts to conserve important native forests as well as to help save the Giant Panda," said Justin Ward, vice president of business practices at Conservation International.
"We are also pleased to provide support to the FedEx employee environmental outreach program that will assist in carrying the message to communities in China about the importance of conservation," said Ward.
The employee environmental outreach program was developed by Conservation International for FedEx so that employees can share knowledge about the environment in their communities.
The conservation organization will train Fedex employees to give two presentations – one on ecosystems and the other on the forest area that makes up the panda habitat.
The training will help employees, and in turn their communities, understand how reforestation helps support more sustainable forestry practices and lower global carbon emissions.
Forest restoration activities include training sessions given by Conservation International, the forestry departments of Sichuan province and Pingwu county, government officials and other forestry experts.
By sharing their experiences, the forestry experts will teach local project leaders how to create jobs in sustainable industries such as ecotourism and honey production that will bring additional income to the local communities and lessen their dependence on timber products.
Conservation International will work with local the communities to have their forestry projects certified according to the Climate, Community and Biodiversity Standards.
Developed by the Climate, Community and Biodiversity Alliance, the standards are intended to ensure that each project has developed forest protection and restoration activities that deliver climate, local community and biodiversity benefits.
Under the standards, projects must also promote excellence and innovation in project design, and mitigate risk for investors and increase funding opportunities for project developers.
The alliance is a Conservation International convened partnership between international NGOs seeking to foster the development of forest protection and restoration activities that deliver climate, local community and biodiversity benefits. Alliance members include the nonprofit organizations CARE, Rainforest Alliance, The Nature Conservancy and the Wildlife Conservation Society.
Giant pandas are considered a threatened and precious species in China. They are given the maximum level of protection under the Chinese Wildlife Conservation Law of 1988 and are on Appendix I of CITES, which bans international trade. In 1989 the Chinese Ministry of Forestry and WWF drafted a joint national conservation plan for the giant panda, which was adopted by the Chinese government in 1992 and now guides panda conservation initiatives.
Copyright Environment News Service (ENS) 2010. All rights reserved.
© 2010 – 2012, Jim Crabtree. All rights reserved.