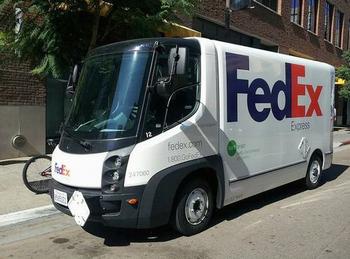 MEMPHIS, Tennessee, March 8, 2013 (ENS) – New hybrid and electric vehicles added to the Fedex fleet have helped the world's largest express transportation company achieve its fuel efficiency goal years ahead of schedule.
In 2008, FedEx set the U.S. transportation industry's first fuel efficiency goal – to make the FedEx Express global vehicle fleet 20 percent more efficient than its 2005 performance by 2020.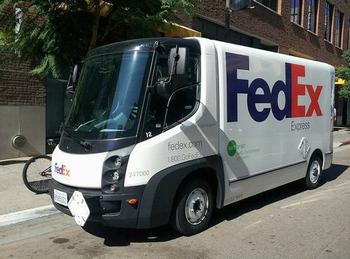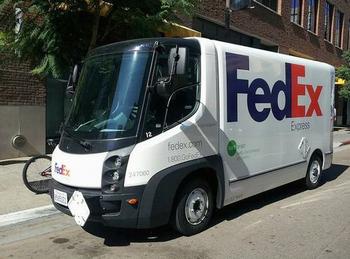 Now, Fedex is announcing it has reached this goal with 22 percent cumulative improvement, and it has gone ahead and raised the bar.
FedEx has a revised, more aggressive goal of 30 percent improvement in fuel efficiency for its global vehicle fleet by 2020, representing a 50 percent increase over the original goal.
"Today's announcements are major milestones, not only for FedEx Express and our sustainability efforts, but for the entire transportation industry," said Mitch Jackson, staff vice president of Environmental Affairs and Sustainability, FedEx Corp, on Wednesday.
"We are encouraged by the technological improvements, in addition to the commitment demonstrated by FedEx team members around the world, that have allowed us to reduce our impact on the environment and the communities we serve while maintaining excellent customer service," Jackson said.
In 2013, FedEx Express will have 360 hybrid-electric vehicles and 200 electric vehicles in its fleet. To date, these vehicles have traveled more than 15 million miles in revenue service.
Jackson says Fedex succeeded by pursuing advanced technologies, enlisting a variety of experienced manufacturers and optimizing vehicle operations.
FedEx Express has seen the biggest impact on overall fuel efficiency from its strategy of matching the right vehicle to each route. This initiative has not only accelerated progress towards the fuel efficiency goal, but it has yielded substantial economic and environmental returns as well.
FedEx Express expects to save approximately 20 million gallons of fuel this year through these efforts to increase vehicle fuel efficiency.
"FedEx Express follows a three-tiered strategy to improve the fuel efficiency of its fleet: Reduce, Replace and Revolutionize," said Dennis Beal, vice president of Global Vehicles, FedEx Express.
"This holistic approach to fleet management allows us to develop vehicle technologies for the future while maximizing the conventional vehicles we operate today," said Beal.
FedEx Express has accelerated its efforts in fuel conservation through the purchase of vehicles with right-sized engines like Mercedes-Benz Sprinter vans. FedEx currently has more than 10,000 such vehicles in service, comprising more than 35 percent of its U.S. pick-up and delivery fleet. Each Sprinter-type van is about 70 to 100 percent more fuel-efficient than the original truck it replaces.
Since 2011, FedEx Express has added almost 200 composite-body Reach vehicles into its global fleet and will add another 200 this year. The lower weight design, along with the engine, yields a 35 percent reduction in fuel consumption over most conventional walk-in vans.
Some 35 percent of the FedEx Express diesel vehicle pickup and delivery fleet has been converted to more efficient and cleaner emission models that comply with 2010 U.S. Environmental Protection Agency diesel emission standards.
FedEx Freight and FedEx Ground are currently testing new technologies, while also implementing vehicle innovations and modifications such as skirts and fairings to its trucks, tractors and trailers to improve the fuel efficiency of its fleet.
In November 2012, FedEx Freight launched a beta test of two new 18-wheelers powered by cleaner-burning engines fueled with liquefied natural gas.
The pre-production engine used in the new tractors is slated for limited release later in 2013. It is the only all-natural gas engine that begins to meet the size and power needs of Class 8 trucks.
FedEx Ground is testing hydraulic hybrid parcel delivery vehicles on local routes across the United States. These hydraulic hybrids eliminate unnecessary engine operation, which saves fuel and reduces engine wear and tear by up to 50 percent.
Copyright Environment News Service (ENS) 2013. All rights reserved.
PHOTO: Navistar E-Star electric delivery truck on the job for Fedex in downtown San Diego (Photo by So Cal Metro) http://www.flickr.com/photos/southerncalifornian/8139302079/