Federal Judge Recommends Scrapping Oregon Logging Plan
PORTLAND, Oregon, September 30, 2011 (ENS) – A federal judge Thursday recommended vacating a plan that would have opened up federal public lands in western Oregon to clearcut logging.
The Bush-era plan, called the Western Oregon Plan Revisions – known as WOPR and pronounced whopper – would have increased logging on about 2.6 million acres of forests in Oregon managed by the Bureau of Land Management.
The ruling came in a lawsuit filed by public interest law firms Earthjustice and Western Environmental Law Center on behalf of eight conservation and commercial fishing organizations.
"The judge confirmed what everyone's been saying for years – that BLM took an illegal short cut to avoid scientific scrutiny of its plan," said Kristen Boyles, an attorney with Earthjustice.
"This decision will finally clear the decks of the flawed WOPR process, return these public forests to scientifically sound management, and let us move forward with both timber harvest and environmental protection," said Boyles.
The ruling by U.S. Magistrate Judge Dennis Hubel found that WOPR was finalized without the required evaluation of federal fish and wildlife scientists on its impacts on threatened and endangered species.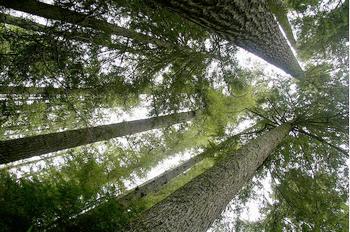 Tall trees on BLM land in southwestern Oregon (Photo by Joe Frazier)
Judge Hubel recommended that WOPR be vacated, a ruling that would reinstate the standards and requirements of the Northwest Forest Plan, adopted in April 1994.
Judge Hubel's decision is not final; there will be a brief period of time for the parties to raise any objections before a separate, reviewing district court judge.
WOPR covers the Western Oregon BLM Districts of Salem, Eugene, Roseburg, Coos Bay, and Medford, and the Klamath Falls Resource Area of the Lakeview District.
Present in the WOPR area are species listed under the federal Endangered Species Act, including northern spotted owls, marbled murrelets, and salmon and steelhead populations.
"Protecting these forests is key to recovering Oregon salmon and steelhead," said Chris Frissell, director of science and conservation for Pacific Rivers Council, one of the plaintiff groups. "BLM's original decision to issue WOPR was a legal and scientific mistake that we've finally been able to undo."
"This should be the final chapter in the WOPR saga and open the door to balanced forest management," said Joseph Vaile of Klamath-Siskiyou Wildlands Center. "These public forests protect our climate, produce clean water, and sustain world class salmon runs and recreational opportunities that contribute to Oregon's diverse economy."
WOPR has been controversial since 2003, when the Bush administration settled a long dormant timber industry lawsuit with the promise to issue a new plan that increased logging. WOPR was issued in late December 2008.
The plan revision was administratively withdrawn in 2009 by the Obama administration, but several timber industry organizations, including Douglas Timber Operators and the Carpenters Industrial Council, filed suit in the U.S. District Court for the District of Columbia to challenge BLM's withdrawal.
Earlier this year, the DC court ruled that the withdrawal was invalid – a decision that reinstated the original Western Oregon Plan Revisions. The timber industry plaintiffs then called on the Bureau of Land Management to begin selling the 500 million board feet of timber each year that WOPR allows. They said Oregon lumber mills had to curtail production for shortage of logs, throwing people out of work.
But in the Portland court before Judge Hubel, lawyers for BLM admitted that the logging plan illegally ignored requirements designed to protect endangered species and their forest habitats.
While loggers and millworkers may be out of work, Judge Hubel's recommendation is good for the fishing industry, said Glen Spain of Pacific Coast Federation of Fishermen's Associations, one of the plaintiff groups.
"It's a good day for commercial fishing families and all the businesses up and down the Oregon coast that depend on our salmon, clean water, and fresh air," said Spain. "WOPR was always a bad idea and would have been disastrous for our industry and our jobs."
"Old growth forests with clean healthy streams drive Oregon's economic engine and prosperity," said Doug Heiken of Oregon Wild, a plaintiff group. "With WOPR and its flawed premises out of the way, we can fully commit to restoration thinning of these forests in a way that is supported by sound science and that protects the water, air, fish, and wildlife."
Plaintiffs in the case include: Pacific Rivers Council, Oregon Wild, Klamath-Siskiyou Wildlands Center, The Wilderness Society, Cascadia Wildlands, Center for Biological Diversity, Pacific Coast Federation of Fishermen's Associations, Institute for Fisheries Resources, and Umpqua Watersheds.
Copyright Environment News Service (ENS) 2011. All rights reserved.