Federal Agencies Restructured to Handle Offshore Oil Safety, Enforcement
WASHINGTON, DC, January 20, 2011 (ENS) – Two new, independent agencies will carry out the offshore energy management and enforcement functions once assigned to the former Minerals Management Service, MMS. Shown to be corrupt and incompetent, the MMS was converted to the Bureau of Ocean Energy Management, Regulation and Enforcement, BOEMRE, on June 21, 2010.
Secretary of the Interior Ken Salazar and BOEMRE Director Michael Bromwich Wednesday announced the structure and functions of the new agencies.
The new Bureau of Ocean Energy Management, BOEM, will be responsible for managing development of the nation's offshore resources in an environmentally and economically responsible way. Functions will include: leasing, plan administration, environmental studies, National Environmental Policy Act analysis, resource evaluation, economic analysis and the Renewable Energy Program.
The new Bureau of Safety and Environmental Enforcement, BSEE, will enforce safety and environmental regulations. Functions will include: All field operations including Permitting and Research, Inspections, Offshore Regulatory Programs, Oil Spill Response, and newly formed Training and Environmental Compliance functions.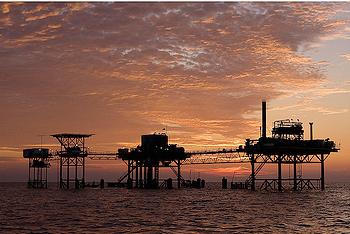 The sun rises behind Ship Shoal block 26, an oil rig platform off the coast of Houma, Louisiana. (Photo by Chris Ginn)
"We are moving ahead quickly and responsibly to establish the strong, independent oversight of offshore oil and gas drilling that is needed to ensure that companies are operating safely and in compliance with the law," said Secretary Salazar.
The reorganization of the MMS was triggered by the largest offshore oil spill in U.S. history, the BP/Deepwater Horizon spill that gushed 4.1 million barrels of oil into the Gulf of Mexico between April 20, 2010 when BP's Macondo well blew out and July 19, when it was finally capped.
On May 19, 2010, Salazar signed a Secretarial Order that divided the three conflicting missions of MMS into separate entities with independent missions.
MMS was renamed BOEMRE in mid-June as Director Bromwich was sworn in, to more accurately describe the scope of the organization's oversight.
On October 1, 2010, the revenue collection arm of the former MMS became the Office of Natural Resources Revenue.
"The former MMS was saddled with the conflicting missions of promoting resource development, enforcing safety regulations, and maximizing revenues from offshore operations," Bromwich explained. "Those conflicts, combined with a chronic lack of resources, prevented the agency from fully meeting the challenges of overseeing industry operating in U.S. waters."
"The reorganization is designed to remove those conflicts by clarifying and separating missions across the three agencies and providing each of the new agencies with clear missions and new resources necessary to fulfill those missions," said Bromwich.
In addition, Salazar and Bromwich are establishing a permanent advisory body through which scientific, engineering, and technical experts will provide input on improving offshore drilling safety, well containment, and spill response.
Secretary Salazar has asked former Sandia National Laboratory Director Tom Hunter to lead the newly created Offshore Energy Safety Advisory Committee. Hunter was a critical member of the scientific team that assist with the containment and capping of the Macondo well.
The 13-member committee, representing federal agencies, industry, academia, national labs, and research organizations, will provide advice on issues related to offshore energy safety, including drilling and workplace safety, well intervention and containment, and oil spill response.
Copyright Environment News Service (ENS) 2011. All rights reserved.
Environment News Service (ENS) © 2011 – 2012 All Rights Reserved.